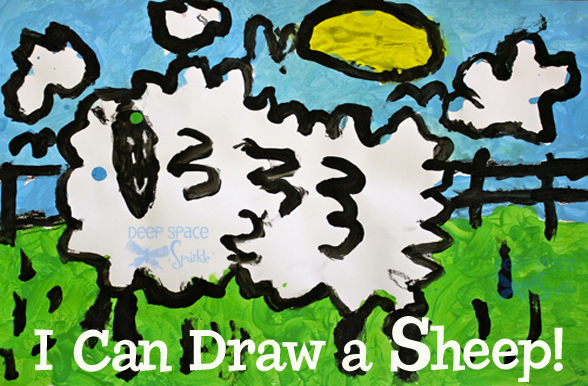 SUPPLIES:
Tempera paint
Sulphite Paper
Oil pastels
Small brush
THE SHEEP
Drawing sheep may seem like the easiest animal in the world to draw, but I found that they can pose a few problems for little ones. If I were to do this lesson again, I would most certainly chose an oil pastel and watercolor resist method. I love how the oil pastel acts like a little barrier for the watercolor, thus making the subject stand out a bit.
With these little sheep, we did indeed start with oil pastel, but then I got out my tubs of per-mixed tempera paints. Call me lazy, but I had them out for the previous Kinder class and figured they would work fine. Of course, they did work fine, but I like to optimize supplies and techniques and my choices were a little off.
We painted the background first, then the sheep. After the painting dried, we used a small brush and black paint for the outlining. This was hard for this group of Kinders. Perhaps a black oil pastel would have been better. We used a white oil pastel to draw the face.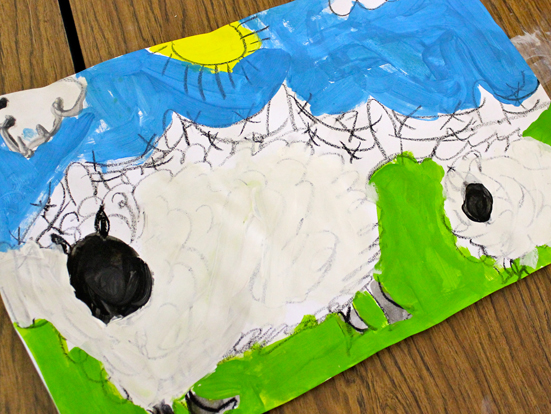 The problem can start in drawing the sheep. For Kinders, I emphasize enclosing lines to create shapes. It's hard to paint a circle that isn't closed. We work alot on this concept throughout the year.  For the face, we drew an oval. This worked fine. Then I showed them how to draw a puffy body and that's where things got a bit squirrelly. Instead of bumps, some children drew loops which made the sheep go on forever. So cute!!!
Anyways, we added rectangles for the sheep's legs after trying to identify where the underbelly was. Many children did well. There were a few who needed some help looking at the pictures I had of sheep and figuring out where to put the eyes, mouth, etc.
Regardless, the sheep project really was fun. The kids enjoyed it every step of the way.
---
FIND RELATED LESSON PLANS IN THE FALL & FARM BUNDLE INSIDE THE MEMBERS CLUB. CLICK BELOW…