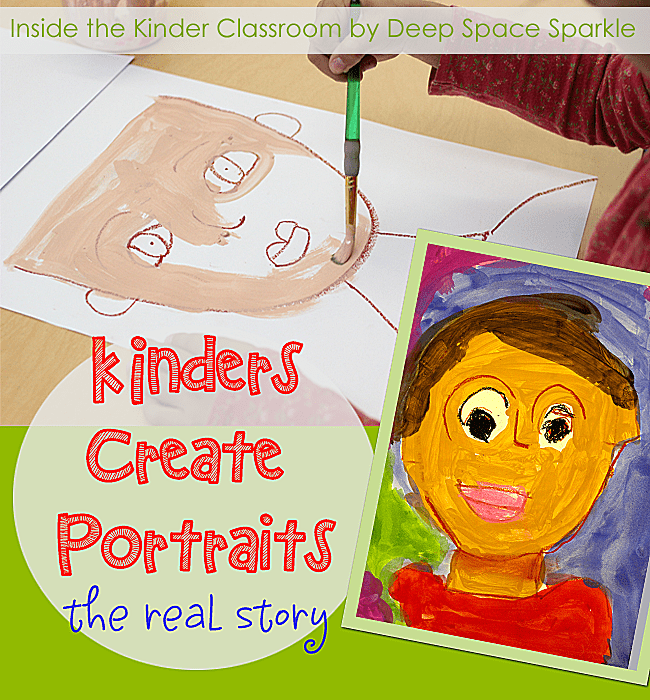 If you've been following my blog for any reasonable length of time, you know how much I love Kinders. I love their stubby fingers, their adorable faces and I especially love how much they embrace art. They are in fact, perfect little artistic beings. Which is why I get such a kick out of their portraits. No matter how many different ways you teach portrait making to Kinders, there is always a very predictable outcome of results.
Instead of showing you a tutorial, because I have a ton of portrait resources (this page, too), I'm giving you a glimpse into a typical day inside the Kinder classroom.
---
See how many of these portrait styles you recognize:
The It-Was-Going-So-Well Portrait….
You recognize this portrait: the child is following along, doing the best work he can, finishes up but doesn't know what to do next. So why not color his lips blue?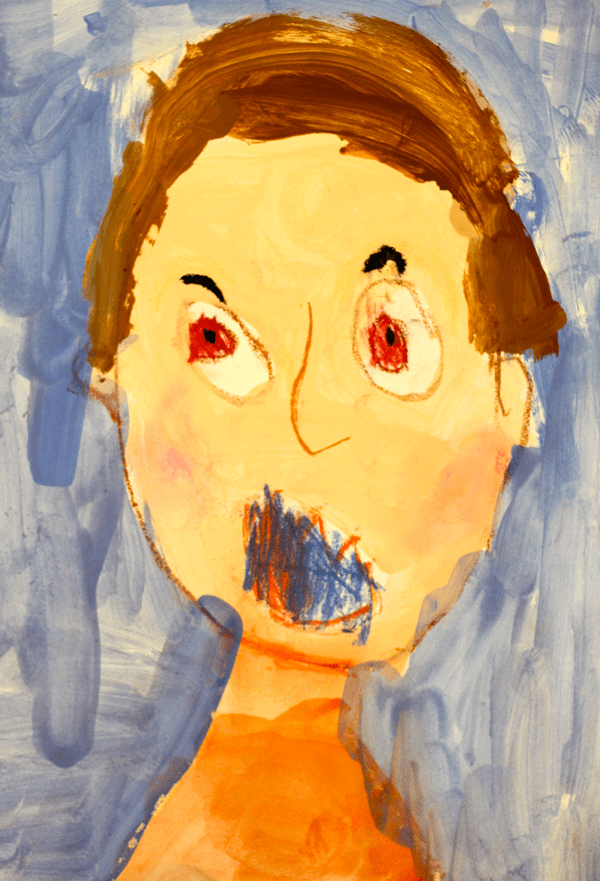 The "Little Miss Creative" award goes to….
We all have these little gems in our class. The uber-creative soul who takes notes from those sitting close-by and is determined to make her portrait the most unique. And she did!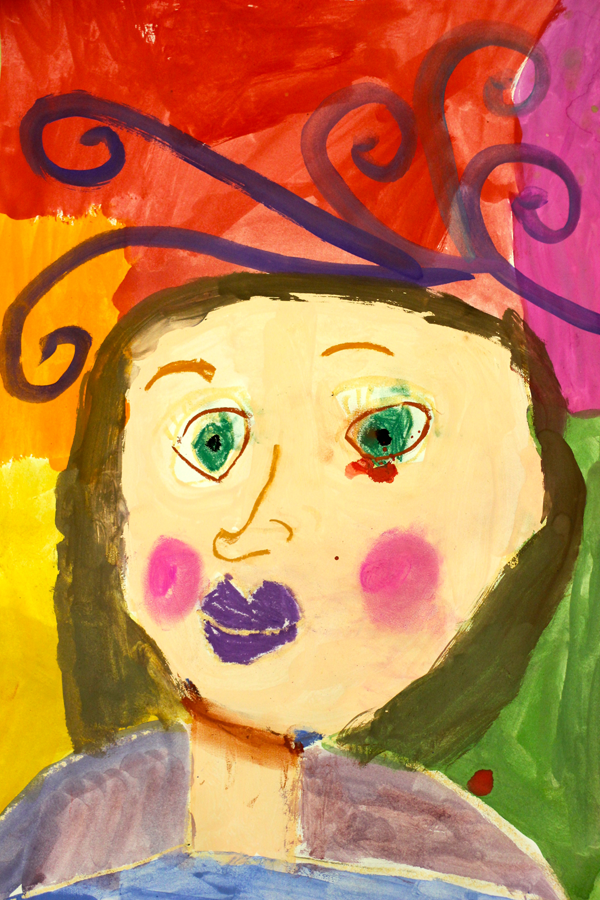 The Twin Portraits
The opposite of Little Miss Creative, these children (mostly girls….actually, ONLY girls) vow to make their portraits exactly the same.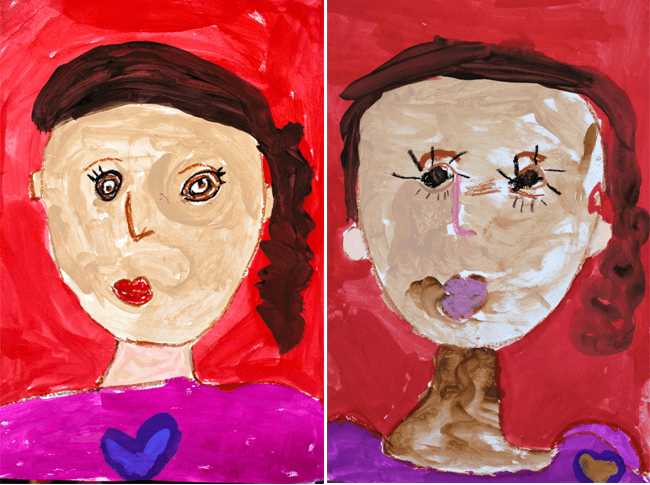 The Give-Me-More Paint Award goes to….
This is the kid who can't get enough paint, hates staying within the lines and is the future Jackson Pollock in the group.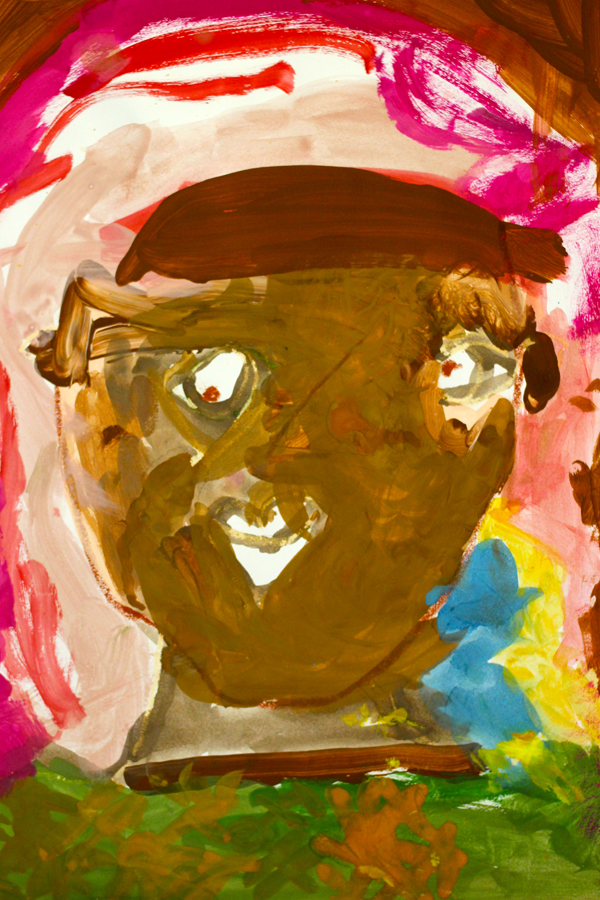 Color-Me-Crazy Portrait
Here's the thing I just figured out with these types of kids: they don't quite understand what you mean when you say "color in the circle". To them, coloring in the circle (look at the eyes) means going round and round and round the circle. Love the two-tone hair, too!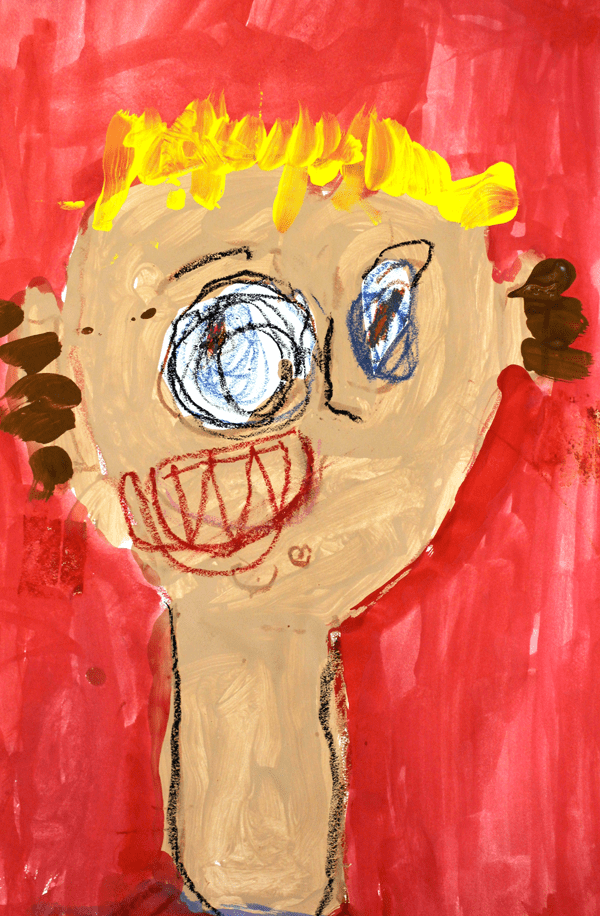 The Academic
These kids are the ones who sit, listen and watch. They follow along very well and create this amazing piece that makes you wonder what grade this kid is in. And they are quite intent on making everything factual. They require specific paint cool choices and often ask for detailed instructions on how to draw their hair.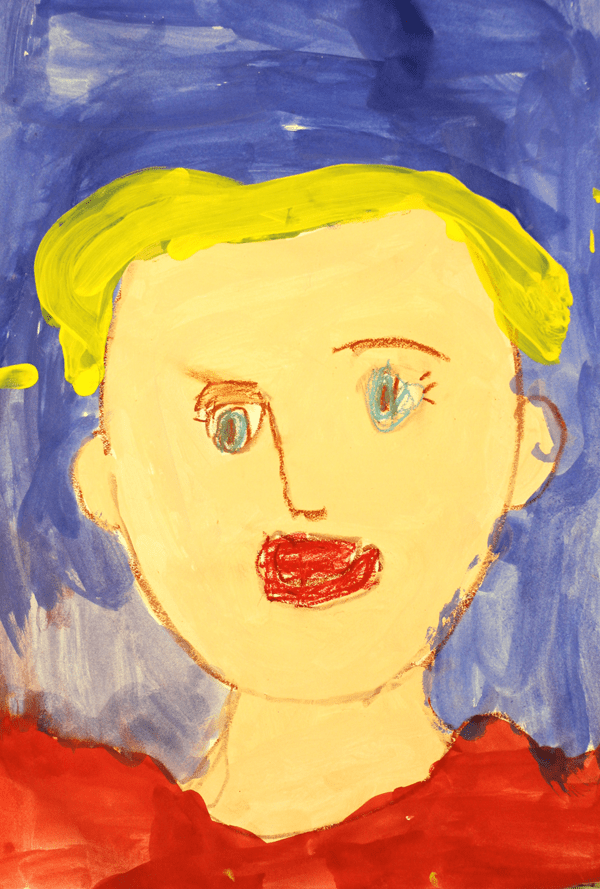 Mr. Expression
These are the portraits that make every teacher happy they chose teaching as a profession. Pure Joy. Period.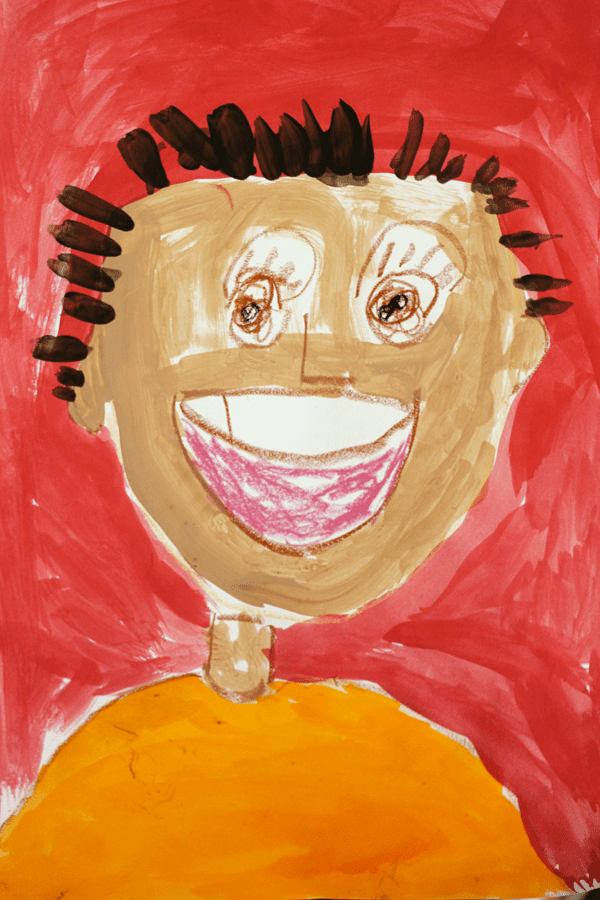 And then there are teeth….
I think this is his x-ray version of teeth.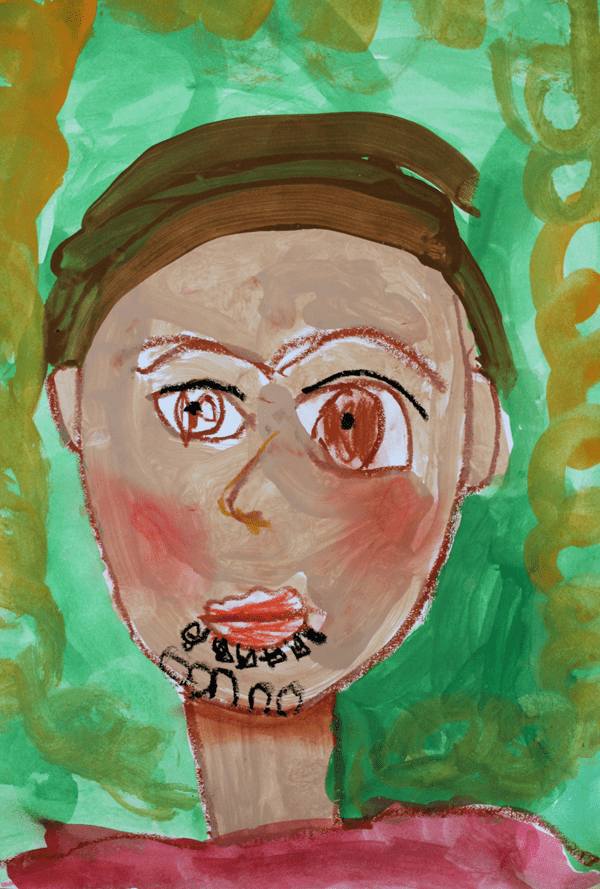 The Gift
These are the kids who add very specific details. They are the last ones to finish and they show artistic talent beyond most adults in the school. I mean, look at this piece? She is FIVE!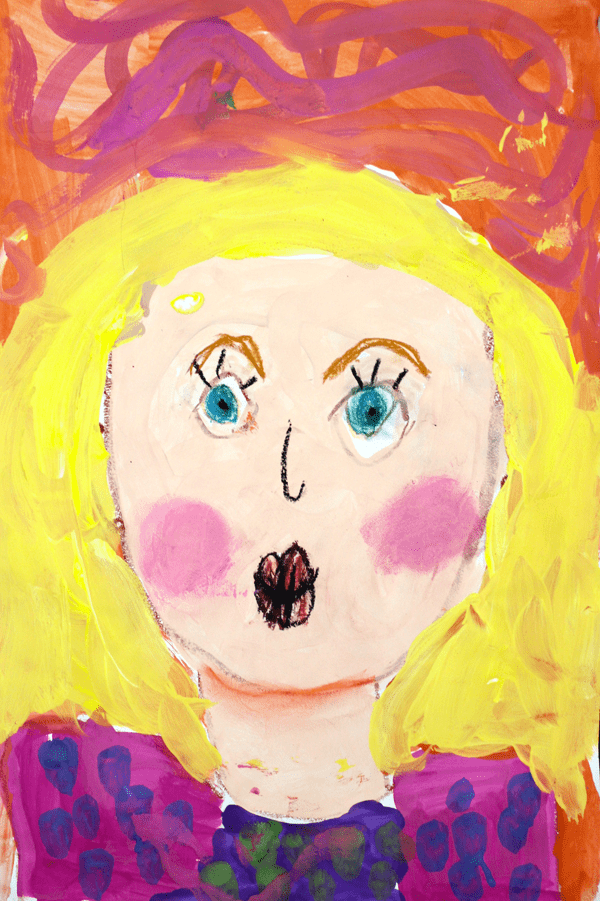 The Happy Accident
It's a bit hard to say if this child intentionally tried to make his artwork look like it could hang in the MOMA or not. These are the happy accidents that seem to bless children at random moments in their art-making. This to me is an incredible piece of art for any age let alone a 5-year old.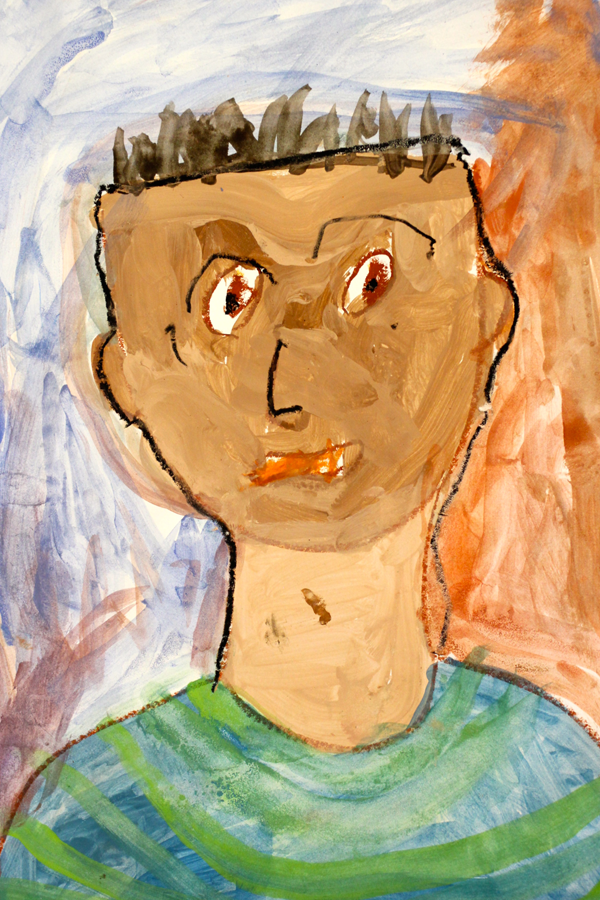 And finally, just to let you all know that my students are like everyone else's, I give you my sweetest one yet:
I'm-Trying-Really-Hard-But-I-Have-No-Idea-What-To-Do
Which one do you recognize?
---
DOWNLOAD A FREE ART RESOURCE: THE SCOPING & SEQUENCING OF PORTRAIT MAKING