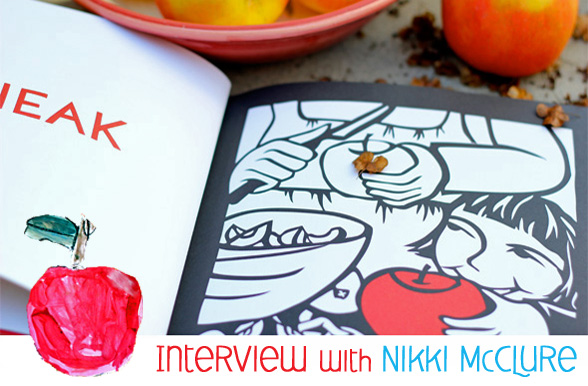 While searching for a literature tie-in for my Apple Art Lesson, I found Nikki McClure's exquisite book Apple
. This story takes you on a visual journey of the life cycle of an apple; from apple picking time to composting and re-birth. The children had fun anticipating what would become of the bright red apple.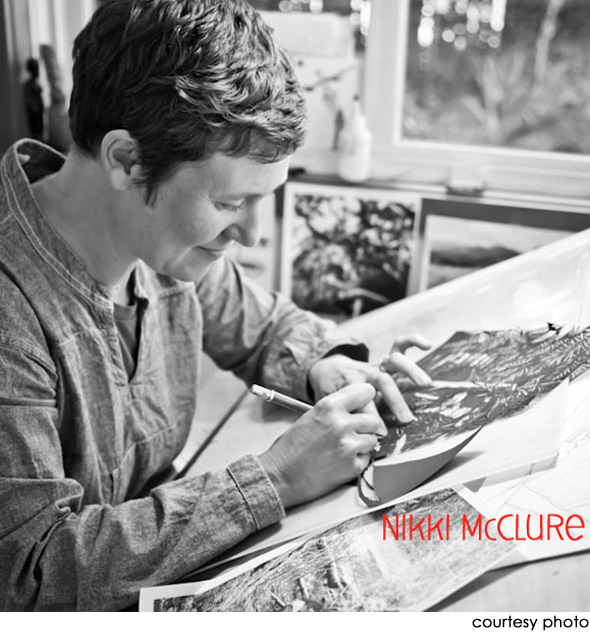 I asked Nikki if she would mind answering a few questions about her book.
Patty: When I first discovered your book, I was drawn to the starkness of the cover illustration. It's not often that we see a children's picture book created with a limited color palette. What was your thought process behind the colors?
Nikki: The red apple is a character. Color isn't used for decoration or to catch your eye…although it does with this cover. I use color to tell the story. The original artwork is black paper glued to a white backing. Adding color is an intentional alteration of the original art.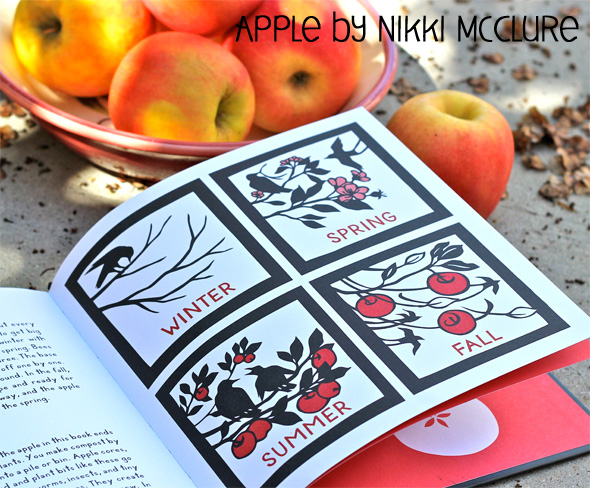 Patty: I knew this book would make a lovely companion to an autumn art lesson for my Kinders, but I didn't know how they would respond to the single word format of the book. I was thrilled to see that the children were enraptured! They loved filling in the empty spaces with their imaginations and learned quite a few words in the process. How long did it take to come up with the one perfect word for each page?
Nikki: That's what I love about wordless or almost wordless stories; the one word sinks in, but then the "reader" becomes the "teller" as they make up the missing pieces. They are encouraged to craft a thicker story in their mind. How long to come up with the words…well, it took 16 years to add words to the book. But once I decided to have words, they came quickly. Though not without editing! Some words were scrapped and others found.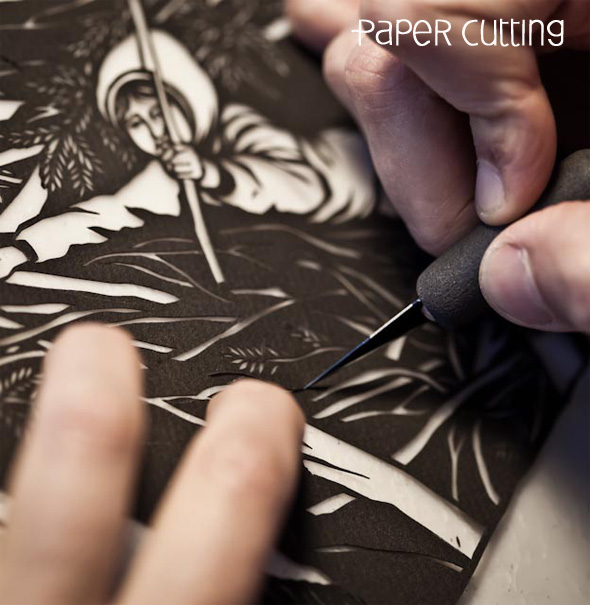 Patty: Can you describe your paper-cutting process? It looks really hard!
Nikki: I take a piece of black paper and draw on it with pencil with the picture that I want to appear. I then take an x-acto blade and start cutting. I do the part that I worry over the most FIRST, that way I get my mistakes and fears over with right away and can then enjoy the process and experiment. It takes about a week to cut a detailed picture.
Patty: Do you always work with a limited color palette?
Nikki: Yes. I would just like to make black and white books…but I also see the power in color. So I use color to tell the story. Plus, colored papers are never the perfect color and they fade over time. I like reducing everything to it's elemental form without relying on color to help me.
Patty: What were your favorite books as a child?
Nikki: Blueberries for Sal, The Secret Garden, Moominsummer Madness (pictures only then as the story was so crazy-but now I love all that Tove Jansson ever made)
Patty: Did you receive art lessons as a child? If so, when did you start and which ones were your favorites?
Nikki: I have only taken one art lesson. A cartooning class at age 12. I learned how to draw a face proportionately. I took art in high school …but I taught myself mostly. I was given the key to the supply closet and an empty classroom. I took natural history classes in college. I drew a lot, but very technical drawings and no instruction. I had that book "How to Draw 50 Animals" as a child. I drew all 50.
Patty: How often do you draw or create art?
Nikki: I try to work every day, but not all days are drawing days or cutting days. Those I have to parcel out to keep my arm happy. But deciding on dinner, raking leaves, sweeping the floor, reading thousands of kid books with my son luckily all count as creative work. So I make every day.
Patty: So true! Thanks so much Nikki for taking the time to answer these questions. Your books are delightful.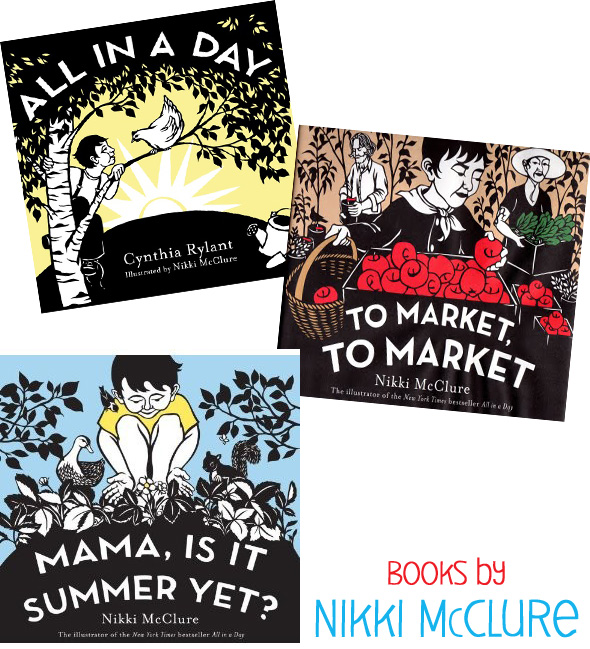 To learn more about Nikki McClure and her books, please visit her website.
Here is a wonderful, video that reveals so much about Nikki, her art and her inspiration.
Have you done an art lesson based on any one of Nikki's books?
Link to Apple
 on Amazon.com
*This post has affiliate links