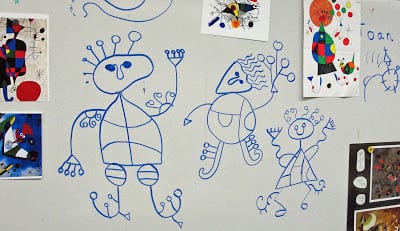 I'm always searching for one session lessons. You know the type: art projects that don't take two or three classes to complete.
This Joan Miró inspired lesson is one such lesson. I teach this lesson to first grade, but second or third grade would enjoy it as well. First grade students have a good laugh as I explain shapes and lines, and drawing lines on shapes and lines over lines that sit on shapes…. you get the idea!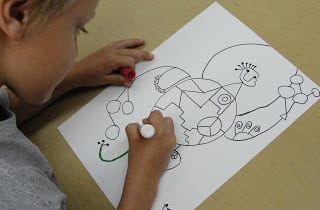 SUPPLIES:
Crayola broad tip and medium tip markers
Paper
CREATING THE FIGURE:
As you can see from my whiteboard, I display photocopies/print-outs/calendars of the artist's work, a sample of the finished lesson and then I demonstrate by drawing lots of examples. I always break the lesson down into bits and pieces.
With the Miró lesson, I spoke about Miró's art in terms of shapes and lines. Explain the difference, especially for first graders. I like to draw a curvy line and ask them what it is. They say a line and they're right. Then, I connect the curvy line so that it becomes a shape. This way the kids see how a line and a shape differ.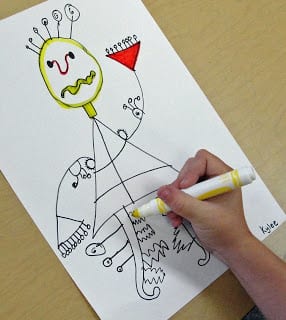 Big oval head or small triangle head or wiggly, squishy round head. Next draw all three and the kids can decide if they would like to copy or try their own version. Then, I do the same for the body, giving lots of options.
I set out Crayola broad tip markers and black medium tip markers and let the kids color. Because there are only a few large shapes to color, this lesson takes just one 40-minute session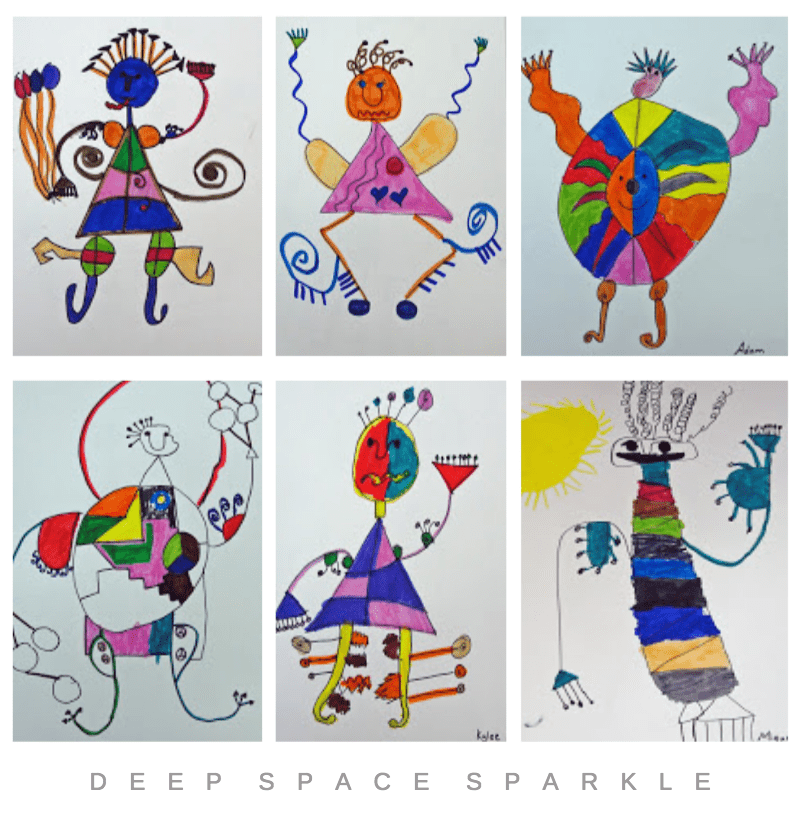 ---
FIND MORE SHAPE AND LINE ART LESSONS LIKE THIS ONE INSIDE THE MEMBERS CLUB. CLICK BELOW TO LEARN MORE…