The Statue of Liberty is a great subject for teaching art techniques; watercolor, collage, tempera, marker…pick any medium and the project will turn out great. The drawing itself is quite simple, especially if you stick to the head and shoulders.
---
OPTION ONE: STATUE OF LIBERTY WATERCOLOR
For this lesson, I panned out and asked my students to draw the entire length of the statue, complete with a city scene in the background.
Supplies:
12″ x 18″ white paper
Black waterproof marker (Sharpie Brand is great)
Colored markers (I use Crayola Brand)
Liquid watercolor (blues and a green/black)
Optional: Embellishments such as paper scraps, sequins, etc.

Drawing Lady Liberty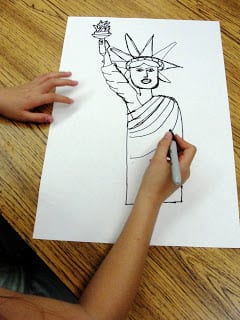 For this project, I decided against pencils and erasers. Fifth graders tend to be perfectionists and if given a pencil, will toil away for hours getting the draping just right. Of course, if you are doing this project at home and time is not a concern, go ahead, use a pencil. But in my opinion, learning to draw without an eraser is very rewarding.
I often ask my students to draw with just a marker. In order for this to work, you need to do a little work yourself. I demonstrate different ways to draw Lady Liberty on the whiteboard. I use a marker (or course) and prove that if mistakes happen, they can be "fixed". Try this yourself and make sure that not one of your finished Lady Liberty's are perfect. The drapes on the dress, the curls in the hair and points on the crown all yield well to mistakes, so really try to instill in your students that mistakes happen and you can still have great art.
Remember to mention that if the kids run out of room, it's okay to go off the page.
Painting Lady Liberty: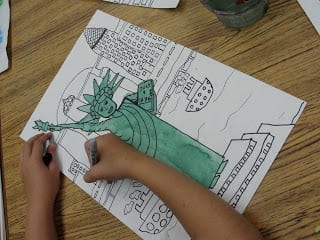 Once the students complete the drawing of Lady Liberty and the background, set out a limited palette of watercolor paints. I like to combine green and black liquid watercolors to achieve the patina of the statue. If you don't have liquid watercolors, use food coloring. It works great.
Suggest that the students consider painting the statue green (they don't have to paint it all) and the water and sky. Big spaces=watercolor. Little spaces=marker.
Coloring the Details:


Once the paint is dry, pull out the markers. If you are a teacher, finishing the watercolor will allow you to manage the completion of this project better. Students who have completed the drawing and watercolor parts, can return to this project anytime to finish the coloring. Pulling out markers is much easier than prepping watercolor paint.
If you have any embellishments in your art closest, bring them out now. Some kids like to use sequins in the crown or skyscrapers. Since I have tons of painted paper scraps, I allow the students to access that as well. Some will chose to embellish, others won't.
Fifth Grade Lady Liberty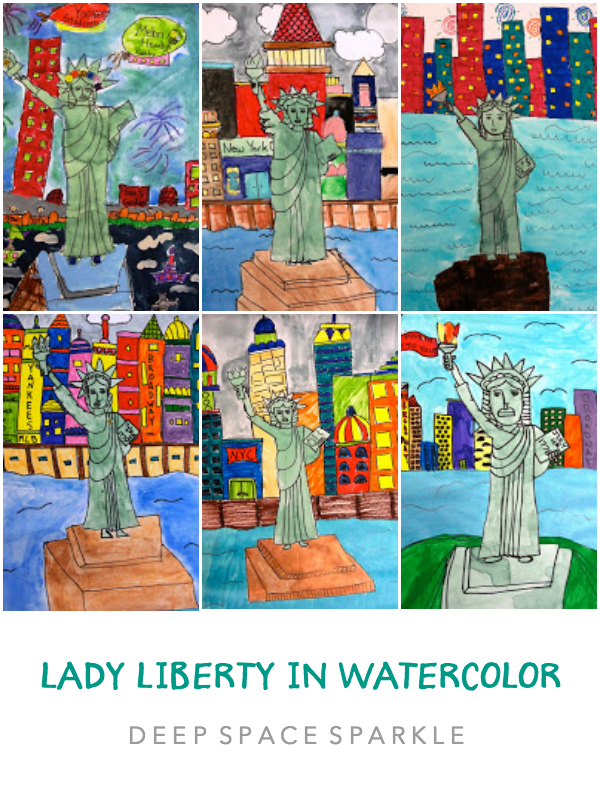 ---
OPTION TWO: LADY LIBERTY WITH NEWSPAPER AND FOOD COLORING
This lesson came from the summer '07 issue of Arts and Activities Magazine. Writer/Art teacher Debra Sweeney created a great project that tied American history with personal history. Her lesson involved researching family trees, but I decided to stick with the pure art possibilities of this amazing monument.
It all begins with a drawing of the Statue of Liberty.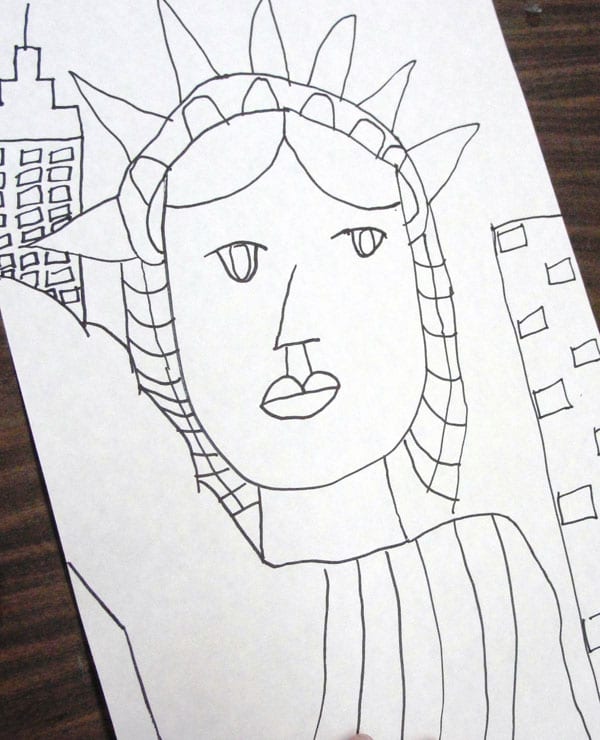 SUPPLIES:
Newspaper
Watercolor
Spray bottle
Oil pastel, tempera paint
Adding the newsprint
Before the class, I took a bunch of sections from the newspaper and sprayed it with a watercolor solution (green and black liquid watercolor diluted in water). This is best done outside unless you want green carpet or floors.
Using a light box (which works the best) or a sunny window, the students traced their liberty faces onto the green-tinged newsprint. They included the face, neck and shoulders only. The cut-out newspaper face is glued over the original drawing. Do you have to do this step? No. Perhaps it would be easier just to draw the face onto the newsprint. Next time, this is what I will do!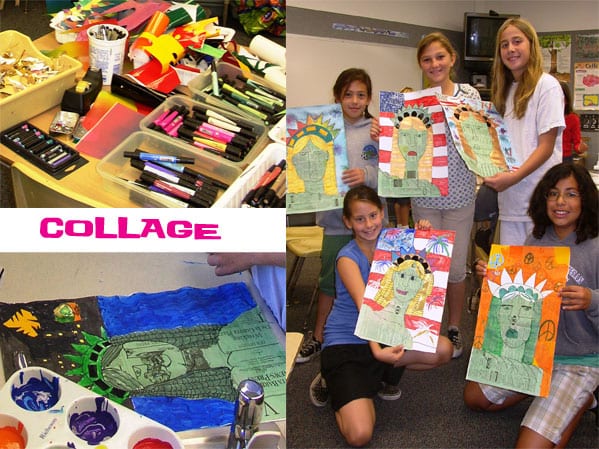 Adding color and embellishments
The students were instructed to think of scenes that symbolize America or New York City. Broadway, fireworks, American flag, skyline, etc. The different ideas were wonderful. Using markers (prismacolor markers are the best) the students colored in any section they wished. Some kids used oil pastel with watercolor washes, tempera paints and even translucent paper to create amazing effects for their background.
My fifth grade class had a great time demonstrating their unique art perspectives with this piece. No two were alike!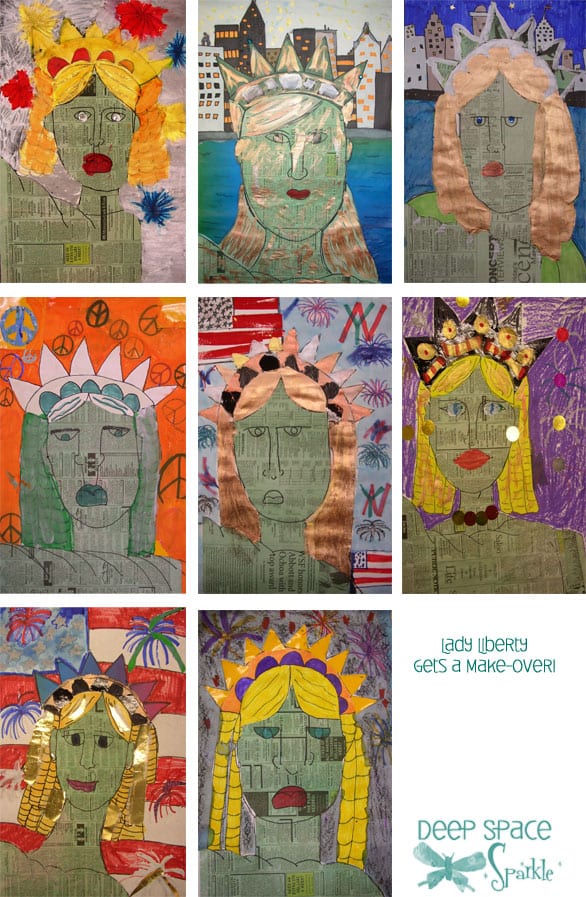 ---