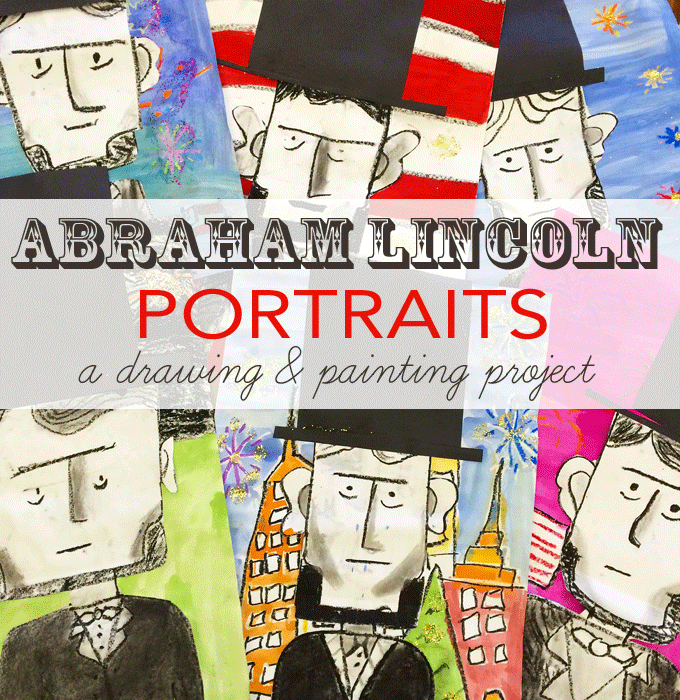 If you are looking for a great story to read to your students, Abe Lincoln's Dream by Lane Smith combines corny jokes, American history and great illustrations. The story alludes to the Lincoln's bedroom ghost story and comes from the POV of a young girl taking a tour of the white house. She discovers Lincoln's ghost and she assures him that the country has turned out just fine since he last left it. A readable story with clever illustrations make this one of my favorite reads so far this year.
Here is the publisher's promo video:
I did this lesson with a second grade class and a second/third grade combo. Both classes did a great job but the older kids were more confident in the open-end strategy I employed for the final collage component. I borrowed the Americana collage idea from a former lesson on Lady Liberty. Honestly, I was quite impressed with the variety of images my little seven and eight-year olds created.
Here's what you'll need:
1 sheet of 9″ x 12″ white sulphite paper
1 sheet of 12″ x 18″ white sulphite paper
16″ x 9″ black sulphite paper
Strips of black paper (about ½" thick)
Black oil pastel and black chalk pastel
Scissors & glue
Cake tempera paint
Colored oil pastels
Glitter (optional, of course!)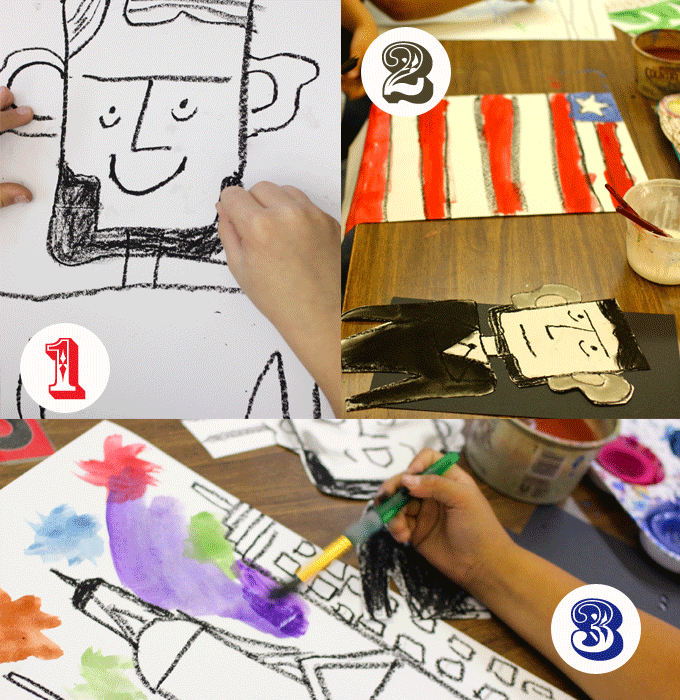 1. Drawing Abe Lincoln
The book features a simple Abe Lincoln illustration which makes it very easy for kids of this age to observe and draw. I used a simple directed drawing for Abe. It goes something like this:
Turn 12″ x 9″ white paper so that it is tall.
Starting at the top of the white paper, draw a line down from the top and down about ½ way, across and up again (angular letter U) to reach the top
Add two vertical lines for the neck
For the body: starting at the bottom of the paper, draw a line up one side, across the middle where the shoulders should be and down the other side. Make sure to touch the neck lines.
Back to the head: Draw a wavy line across Lincoln's forehead for one side of his hair. Draw another curved line for the other side of his hair.
Draw a horizontal line below the hairline. This is Lincoln's eyebrows.
Draw an upside down number 7 for the nose. Connect the top of the nose to the eyebrows.
Add two dots for the eyes and a curved line underneath each eye for his bags.
Draw a straight line for the mouth
Draw two large ears on either side of the face.
To draw the beard and create Lincoln's angular face, move oil pastel down below ear line. Draw a short horizontal line, move down then over and up again.
Color in the beard shape.
Fill in the jacket with a collar and buttons
Second and Third Grade Lincoln Collages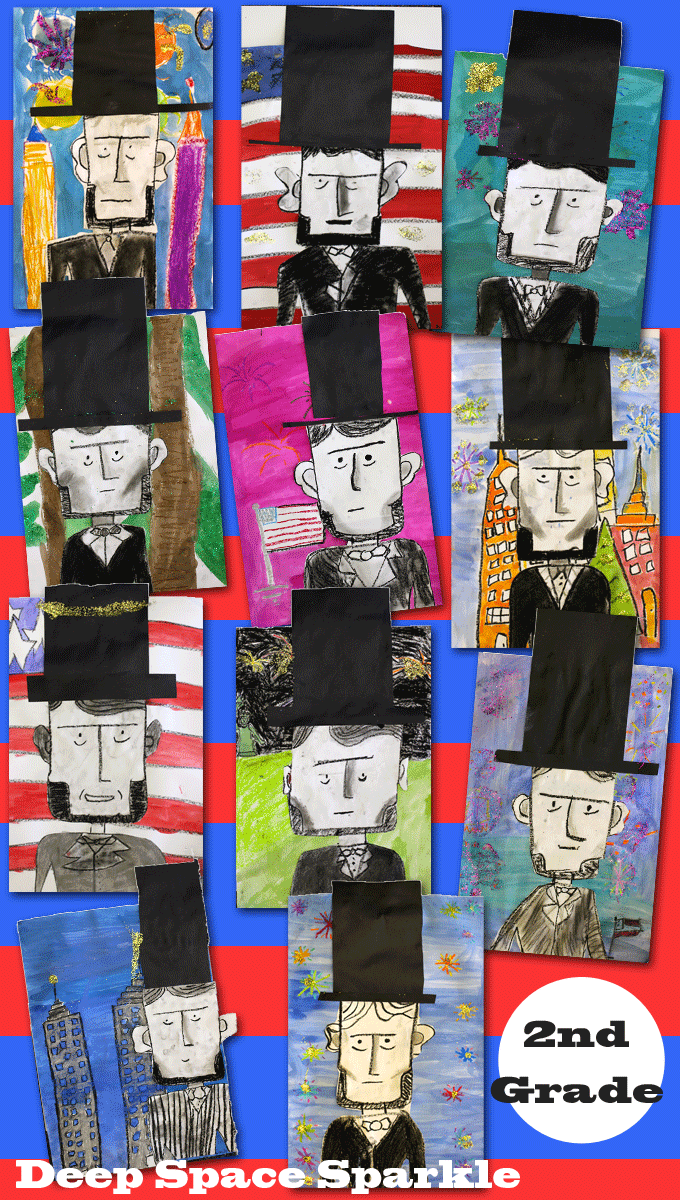 ---
You can view this art lesson in the Winter Art and Valentine's Day Bundle. Join the Members Club for access to these amazing art lessons. Click below to join the waiting list…