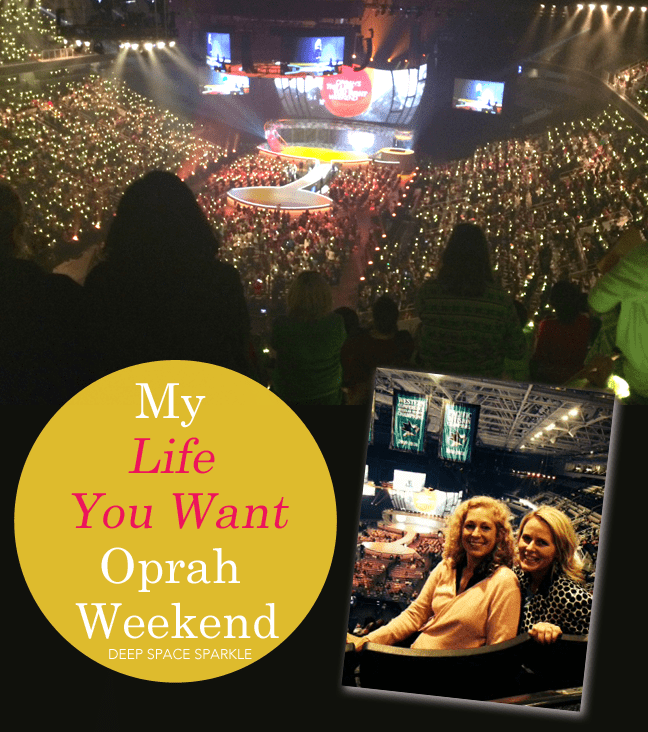 I just spent two days in San Jose at Oprah's The Life You Want Weekend. It was not a fireside chat with Oprah but rather one of ten thousand (mostly women) listening to her amazing stories of inspiration, courage and life lessons. I wanted to get my thoughts from this weekend down on paper but figured Deep Space Sparkle might be a better place. Of course, I realize that many people may not be Oprah fans or that you may prefer that I stick to art lessons, so this post is for all my readers who share my love of living a purpose-filled, happy life. 
It's no secret that I love reading. Books have been my best friend for as long as I can remember. Which was one of the reasons why I tuned into Oprah's tv show as often as I did. When she started her book club, I was a devoted fan. She brought new authors to my attention and encourage me to move beyond my typical range of interests.
When Oprah began her own network, my interests grew from literary fiction to spiritual and self-help. Those who know me really well, might be surprised to hear that reading Deepak Choprah, Eckhart Tolle and Mark Nepo was interesting to me. I love all books and for the last ten years or so have found my bookshelves sagging under the weight of amazing thinkers, authors and world leaders. I've come to know Maya Angelou, Daniel Pink, Malala Yousafzai, Julia Cameron, and Sheryl Sandberg better and feel so much more empowered by their opinions, perspectives and experiences.
Scroll to the very bottom of this post to see is a list of books I love.
So when I learn that Oprah was coming to San Jose, a mere 5 hour drive from my house, I bought two nose-bleed section tickets and called my other Oprah-loving friend.
After a full day wine tasting in beautiful Paso Robles, and a peaceful drive up California's central valley, we arrived in San Jose. We spent Friday afternoon hanging around O-Town which was a collection of sponsors offering freebies and chances to win prizes.
Then onto the big event….
All those years seeing Oprah on television did not prepare me for how amazing she was in person. With no editing, she stepped on stage and became everyone's best friend. It was like she was truly talking to each one of us. So authentic, funny and real. Her Friday night talk lasted two hours. She spoke about her childhood and her early days of reporting and then through her Oprah show years and the OWN network.
And she spoke about this…
How to be still with your thoughts.
How to recognize when you have gone down the wrong path.
How to be great at being you and not an imitation of someone else.
To be brave with our talents and share them with the world.
To live with an attitude of abundance.
To reach for dreams but know when to release them.
To pay attention to the whispers (your wonderful instinct).
To chose your language carefully.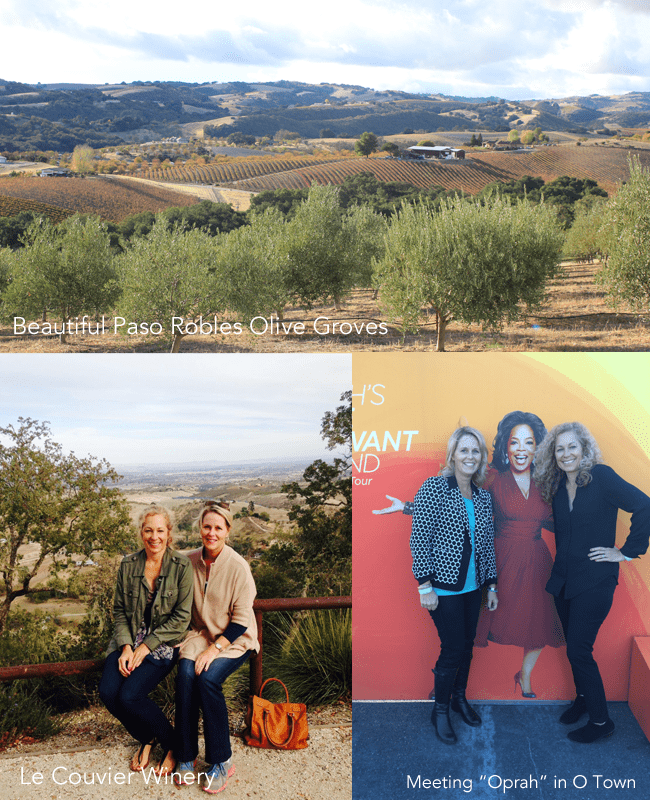 Saturday started off with a lesson in meditation with Deepak Chopra then another talk from Oprah and this time she had an exercise for us.
Exercise 1
She asked us to close our eyes, think of someone we love and think about what we wish for them.
We were given a few minutes to write as many things down. For the lucky folks sitting on the ground floor, Oprah walked around and peeked over their shoulders to pluck a few participants to share their wishes. Glad I wasn't sitting down there.
After reading all the things we wanted for our beloved, she revealed that what we wrote down were things we desire for ourselves.
True?
Lesson Learned: We can't change anyone else, we can only change ourselves. Or, we can't give to others what we don't have.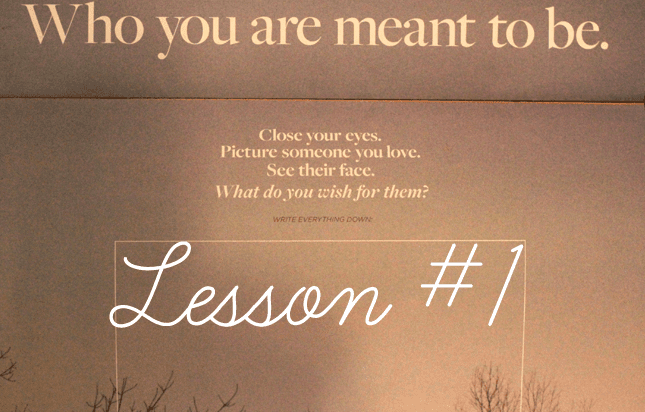 Elizabeth Gilbert of Eat, Pray, Love fame spoke about life quests and tied-in her own quest with Joseph Campbell's The Hero's Journey. After studying fiction writing for ten years, I know The Hero's Journey well and enjoyed Gilbert's parallels. She wrote one of my favorite novels of all time, The Signature of All Things. I have no idea if anyone else feels the same way, but I think this might be the most perfect novel I've ever had the pleasure of reading. Her novel was articulate, spiritual and academic with authentic characters and a perfect plot and so it's no surprise that her talk was as well. She is one smart cookie and shouldn't just be known for crying on her bathroom floor.
Exercise  2
This time we got to be a little creative and take inventory of our lives. In our lovely handbook, we were asked to divide our life's pie-chart into areas of most importance to least importance. Or we could categorize in any number of ways which many people did. We were to give big slice of pie to what we value most like friendships, home, body/health/well-being, money, etc and then a small pice of pie for the things we don't value much at all.
Then, we were asked to rate how well we thought we were doing in each category.
This little overview of your life helps you gain clarity of what you value and to place your energies there.
[quote] Having the best things is no substitute for having the best life. When you can let go of the desire to acquire, you know you are really on your way–Oprah[/quote]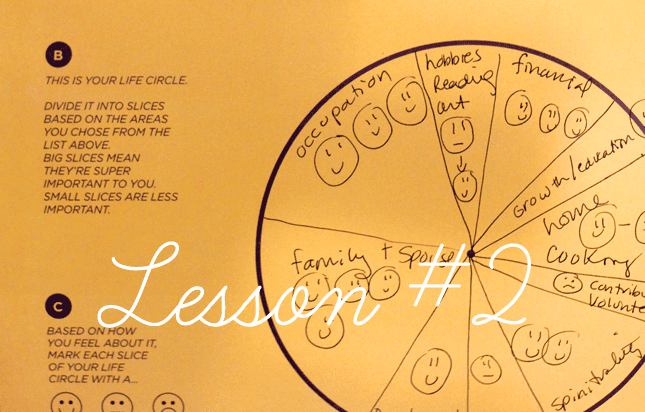 After the exercise, Rob Bell, a very cool, hip pastor living in Southern California gave an inspiring talk about spirituality.
I think he was my favorite because his message is so relevant: the tiny, small things you do in your everyday life can be elevated to the highest purpose.
He spoke a lot about his children and how he lives each moment with purpose, such as using the good china for Sunday morning pancakes and not waiting for the holiday dinner. Sounds like a good plan.
Exercise #3
The last exercise sheds light on how our negative or positive self-talk determines our story. We all know this to be true, but if we really analyze what we say, how we say it and the energy behind it, we have the potential to dramatically change our lives.
I know this to be true.
I'm a very positive thinker and I lead a positive life. It's not luck or coincidence. It's a choice.
If this is a hard one to figure out, ask a friend to help. This can turn sensitive in a big, fat hurry, so make sure your friend has good intentions. Ask her to point out whenever you talk negatively and positively. Write them down. See which column gets the most attention.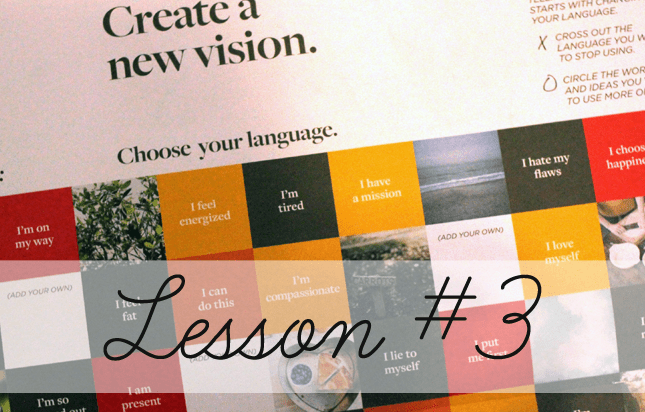 In the end, Oprah asked us to think about what we wish for in our lives (exercise #1), to reflect on our life circle that we want to build (exercise #2) and to use new language (exercise #3) in order to create our own vision for the life we want to live.
Ahhhh. What a weekend.
Coming home is always a wonderful time to cement what changes you intend to make. To bring clarity to what needs fixing and areas in your life you want to enhance. The funny thing about the weekend that my iPhone went a little password funky and I couldn't reply to emails. And I had a lot of emails this weekend with people having trouble accessing the site and stuff like that.
I couldn't respond. And you know what? It was lovely.
If you ever get the opportunity to attend a retreat, an Oprah weekend, a gathering…anything to remove you from the mundane, do it.
Have you been on any amazing retreats lately? Do you have one to share?