When children create art and find real way to connect to an artist or a painting, the experience is both magical and impactful. Many artists felt the same way when they were creating their masterpieces. They felt better when they could express how they felt in the every day moments while they painted.
Here are a few ways you can help your students connect to Paul Cézanne:
• He painted ordinary, everyday scenes in his still life and landscape paintings.
• He loved nature and using bright colors.
• He used color to show form and depth.
• He was inspired by the food he bought at the open-air market in his hometown of Aix-en-Provence.
• He wanted to capture the beauty of his hometown.
Just like in Cézanne's time, open-air markets continue to be an important tradition of French everyday life. Markets are a great way to buy fresh food directly from farmers, and also give shoppers a chance to talk to the farmers and visit with each other, creating a sense of community.
On market day, Aix really comes to life. Imagine being Cézanne walking through the market; he smelled the aromas of the cheese, observed the bright colors, tasted the tangy fruit. The next time you go shopping, think about what Cézanne might have heard, smelled, tasted, and seen.
After shopping, Cézanne would return home, arrange the fruits and vegetables on his table and paint them. This arrangement is called a Still Life Painting. He would walk all around the table and paint what he saw from all sides and angles. He wanted to paint how he felt seeing the bright color and tasting the sweetness of the food.
Here are a few ways to help your students make real connections with Cézanne:
What to THINK about:
What are your favorite foods?
Where do you shop for food? What smells, colors and sounds come from this place?
What is special about your hometown?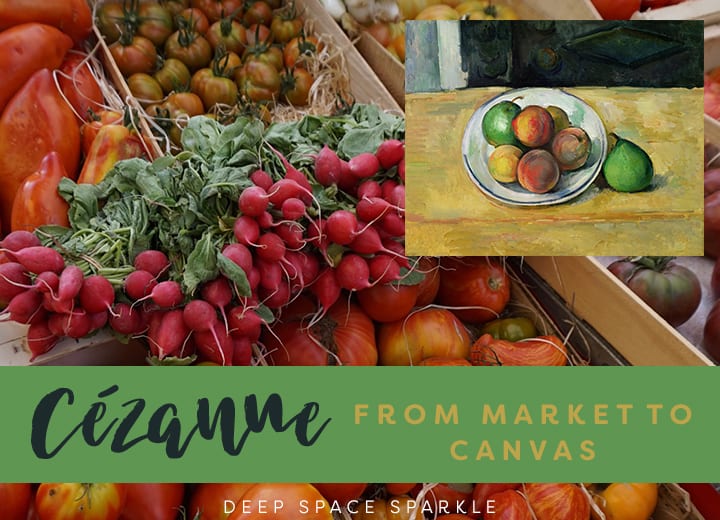 Key words to use when talking with students: inspiration, expression, feelings, experience, seeing, everyday, ordinary, food, fruit, market, shopping, color, still-life
What to ASK during a painting critique:
• What do you see in the painting?
• What do you like or dislike about the painting?
• What do you think the artist was feeling when he created it?
• What do they feel when looking at it?
• Do the colors show an emotion?
• Is there a story that can be told?
---
DOWNLOAD A FREE PAUL CÉZANNE TEACHER RESOURCE GUIDE >
Thank you to Sparkler, Lexi Conrad for submitting this article on Paul Cézanne.