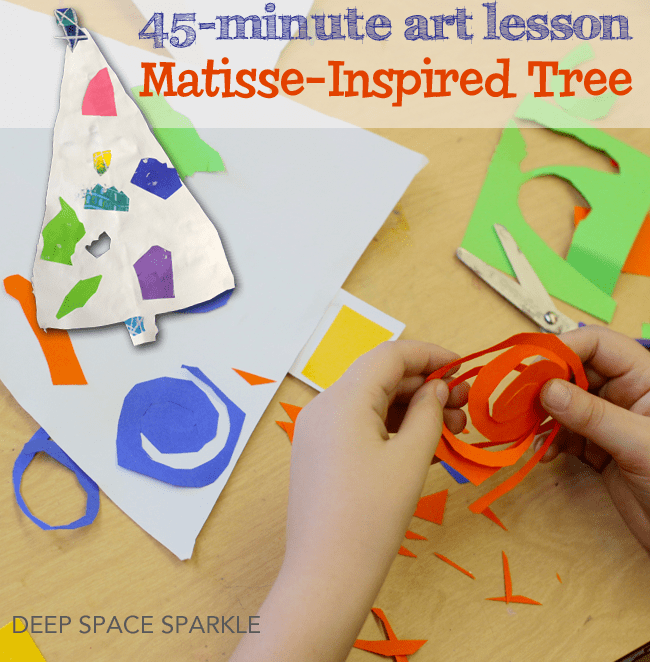 I wasn't planning for this project to take one class period, but that's how it turned out. Sometimes it's tricky gauging how long it will take children to complete a project.
I was a little off on this one.
My goal was for my first grade class to create a symmetrical coniferous tree (or a Christmas tree!) and add Matisse-inspired shapes for decoration. I anticipated two, 40-minute class periods.
Truthfully, I'm not completely familiar with my art rotation yet. This is the second time this year that I've seen my 1st-4th grade classes. I'm still trying to assess classes for art abilities. This particular class is a bit young so they have less interest in cutting detailed stars, triangles and spirals. By the fifth shape, most were done.
But of course, I just realized this today.
To start the lesson, I read the book, Henri's Scissors by Jeanette Winter to introduce Matisse to the students. They enjoyed the book and so did I. It's a great book for the art room as the story is succinct and the images relate well to art projects.
Then I demonstrated how to cut a symmetrical tree. They loved this part and did super well at it. I used 12″ x 16″ white sulphite paper for the trees and a 12″ x 18″ colored sulphite paper for the background.
After the children splatter-painted their backgrounds with white paint, they glued on the trees.
Now the interesting part: Matisse-like shapes.
Using posters of Matisse paintings, I pointed out where Matisse used organic shapes and where he used geometric shapes. I showed how to cut wobbly shapes, spirals and stars. They were all quite good at stars and spirals but less so at wobbly shapes. Go figure.
In the end, this lesson took 40-minutes. I could have used 50 so all kids could finish adding their colorful shapes. If I were to do this lesson again, I would either need 10 more minutes for first grade, or up the grade level. Third graders would be amazing with this project!
Enjoy!
ARE YOU A SPARKLER? Access 0ver 300 art lessons, videos, resources & trainings for one low monthly fee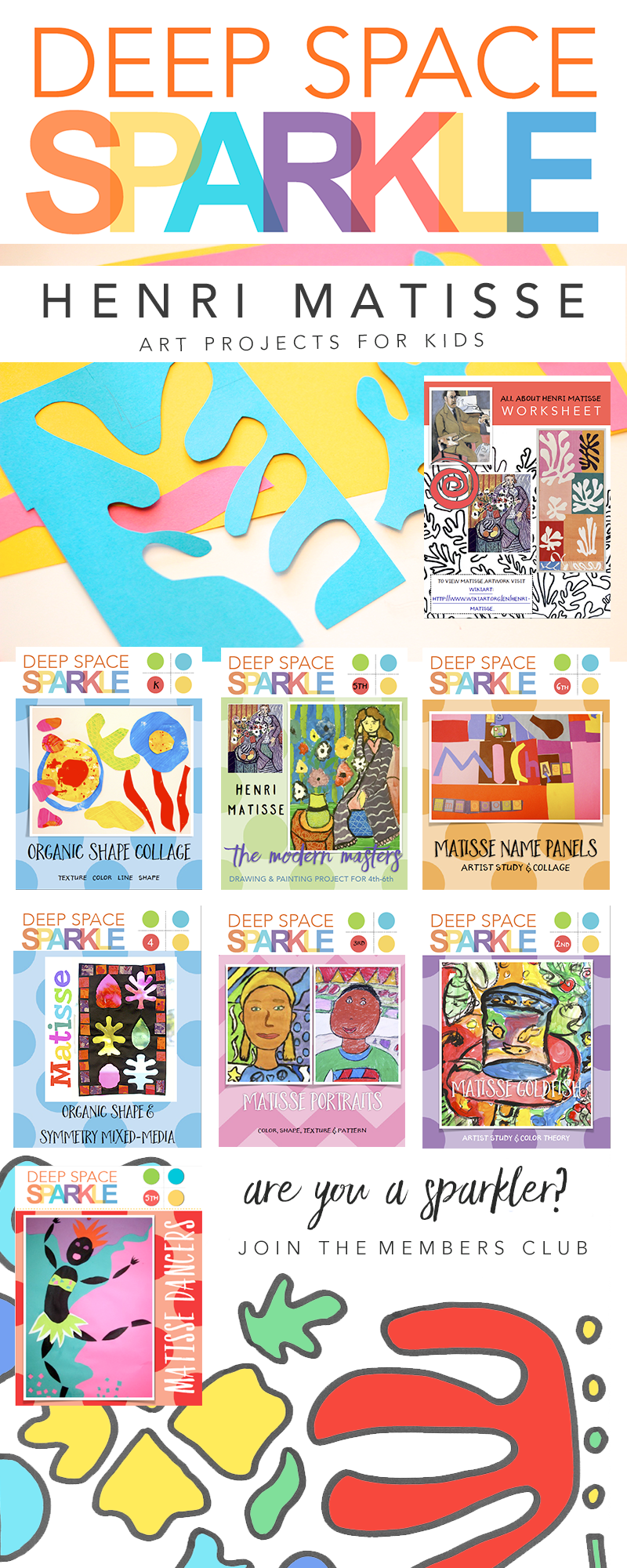 ---
Want more lesson ideas for the holidays? Download this free lesson guide by clicking the yellow button below and I'll send you my 5 Non-Religious Projects for the Holidays!