This lesson was discovered on the Incredible Art Department website. This lesson was submitted by Michelle Peacock of Mohave Middle School. Thanks Michelle for sharing!
This is a perfect lesson to do with fifth graders at the beginning of the school year: it reinforces names with faces and gets the children warmed up with cutting, pasting, color and composition. I have many posters of Matisse's artwork for inspiration, but if you don't, simply talk about how cutting paper can express movement and emotion.
What you'll need:
6″ x 18″ sulphite paper (regular paper cut in half horizontally)

Scraps of colored paper (solids, crafts, printed, etc)
Scissors and glue sticks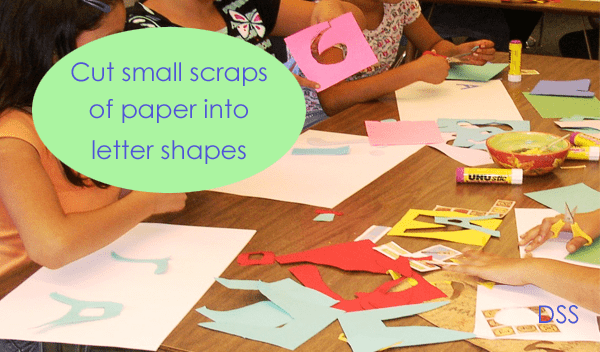 Give each child a piece of white construction paper. On each table, place scissors and glue sticks (regular white glue is too messy for this project). At the back of the art room, arrange scrap paper in tin foil trays.
Note: This is also a great project to do towards the end of the school year when your recycled paper box is very full.
Instruct the students to cut out the letters in their name plus something that is unique to them. I demonstrated that by reducing a large sheet of paper to a smaller rectangle or square. This way, the letters are easier to cut out. This can be a challenging lesson, and many kids will balk at not using a pencil, but don't give in! I think being encouraged to "see" the shape and cutting it is beneficial. Of course, I stress that any shape, size or style is perfect.
We discussed the benefits of cutting all letters out first, then the back ground shapes and playing with the arrangement before gluing. Some kids will rush this part then be caught having to pull up their letters.
5th Grade Gallery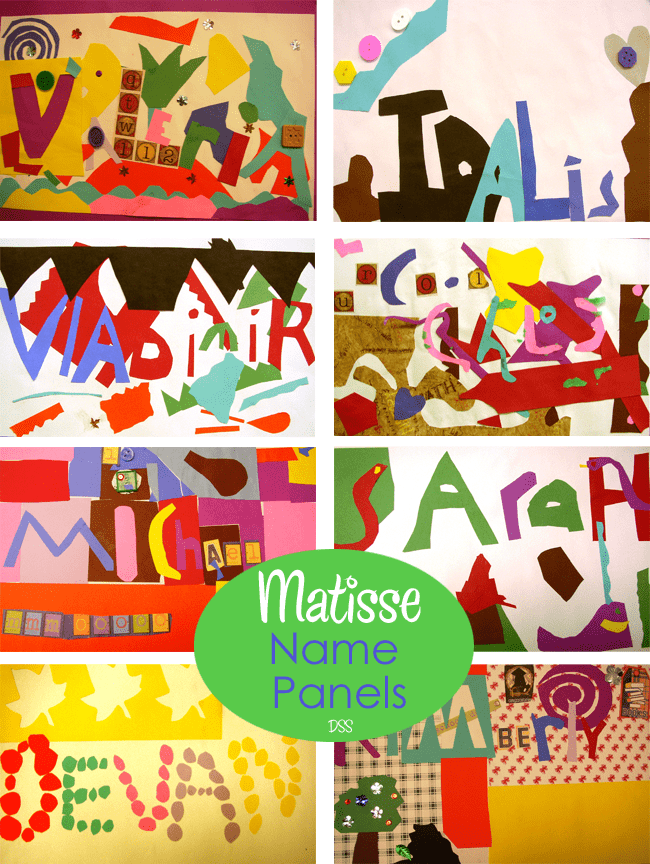 ARE YOU A SPARKLER? Access 0ver 300 art lessons, videos, resources & trainings for one low monthly fee