Teach your kids how to draw a robot and use fun metallic paints and pastels to add polish and shine. No doubt using shapes to draw you robots allows for a great connection with math but that's not my motivation. For me, it's all about the imagination.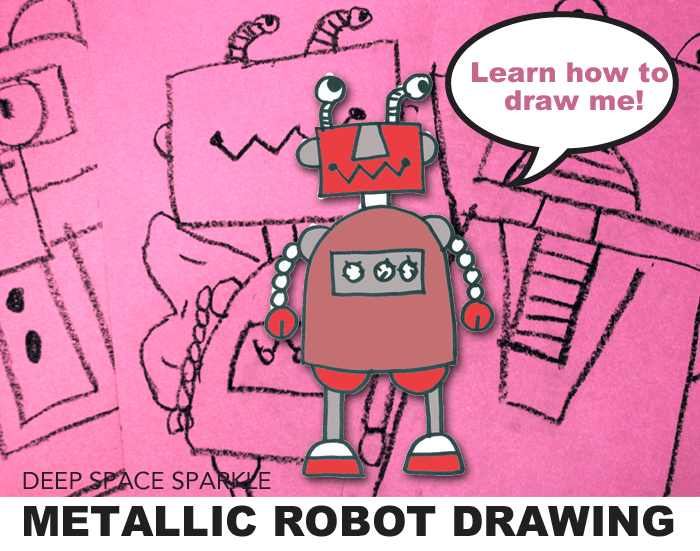 I have two robot books that I love:
Robots: Spaceships and Other Tin Toys
The Robot Book
I place these books on the ledge of the whiteboard as I demonstrate the lesson. As I talk about the basic part of the robot, I'll pick up the "tin toy" book and show a few (bookmarked) ideas for heads, bodies, etc.
If you are doing a robot lesson that demonstrates shading like my Value Robots, the photographs are particularly good as they show great contrast.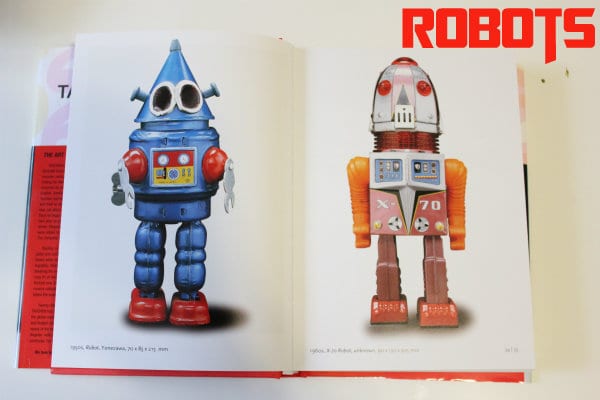 Here's What You'll Need:
12″ x 18″ colored drawing paper ( just happened to have a lot of eggplant colored paper at the end of the year!)
black oil pastel for drawing (crayons are fine)
Metallic oil pastels or metallic tempera paint
Regular oil pastels (optional)
Drawing the Robot
Start with the head. Leaf through the book to show the head shape possibilities.
Show the kids how to start near the top of the page. They need to leave a bit of room for antenna, etc. For very small kids you may even want to control their first shape by using a template. It could be a playing card or any rectangular shape. This helps establish the size of the drawing so that the rest of the body remains large. This is just a suggestion.
Draw the body next: an oval, square, rectangle, trapezoid, etc. Many kids looked through the book to see the different shape of a robot's body. Most often it is larger than the head but it doesn't have to be.
Add a "connector" shape between the head and body.
Without adding a connector shape, draw a pelvis. This part is optional but many robots have this as a separate shape. Draw a connector shape (accordion shapes are popular).
Draw legs and arms. The trick with these appendages is that the shapes shouldn't curve. So, to make them bend, you'll need to draw a connector piece like a circle (ball), accordion shape or even a wire.
It's fun to add half-circles before adding the arms and legs as placement points.
For a bit of drawing help, photocopy the Robot Drawing Guide below: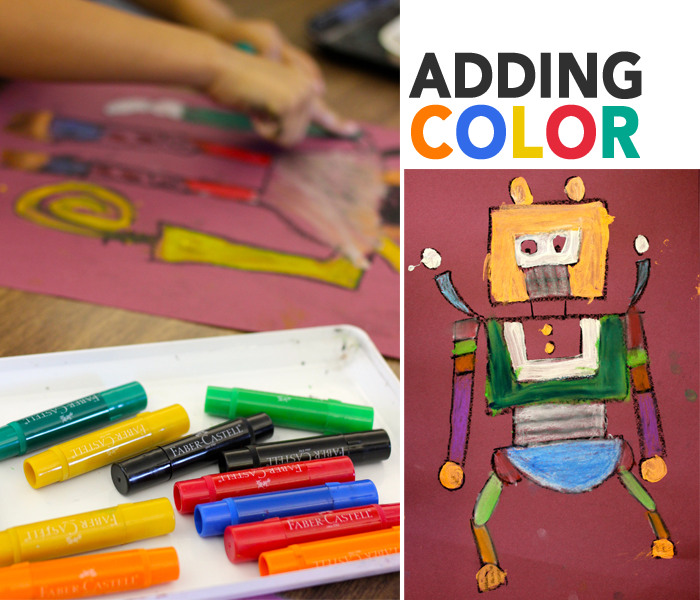 Coloring the Robot
I used Faber-Castell Gel Sticks for this project. They color like oil pastel but blend like chalk pastel. You may have to demonstrate how to blend if you are not used to using oil pastels that blend well. I had to introduce this technique to my students. The metallic version of these Gel Sticks are a great choice for this project. I also placed some metallic tempera paint on the tables. Lots of choices!
First Grade Gallery