Joan Miro, a Spanish artist who studied in Paris, is best known for his whimsical abstracts. Many of his paintings combine lines and colors that create wonderful shapes that may or may not tell a story–depending on your perspective!
I love teaching Miro as his art is so engaging. For little ones, I like to implement a basic line technique that teaches children that when you bend and curve lines, they form shapes.
For my older students, the fun wasn't lost on them. I displayed a few Miro paintings and we talked about whether or not they were appealing to us. Then, we dissected the lines and shapes to see if we could identify the story that Miro wanted to tell. The children really identified with Miro's style and created their own stories from lines, shapes and color.
Here's what they did:
On a sheet of 12″ x 18″ white paper, children painted lines and shapes with a small tip brush and black tempera paint. Only the basic shapes were added. Detail lines can wait for now. This is a wonderful, expressive way of creating line (no pencils here, please) so try it even though it can be a little bit messy.
Then, using a tray of dry tempera cakes (regular tempera is fine, but I used the cake trays for simplicity) children painted inside all the shapes. We talked about white space, whether or not to paint a background and the saturation of Miro's color palette. Once the paint colors were applied, children went back over any black lines that disappeared under the colored paint.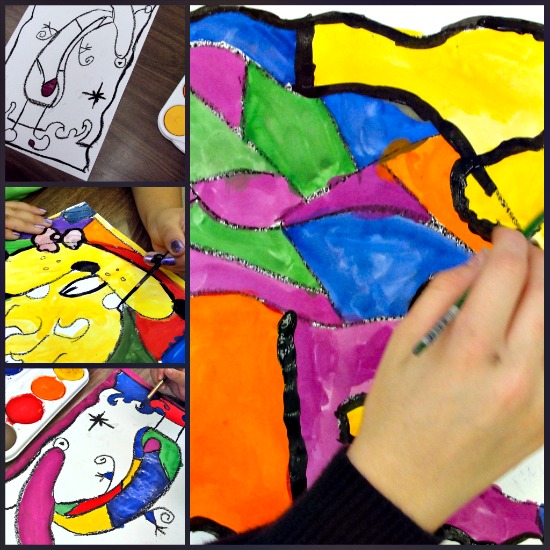 Although I did this lesson with my sixth grade students, it can easily be introduced to earlier grades. The focus here is creating lines that form shapes and being able to express yourself through line and color. It's really empowering for children to create a work of art that resembles nothing familiar.
Sixth Grade Miros!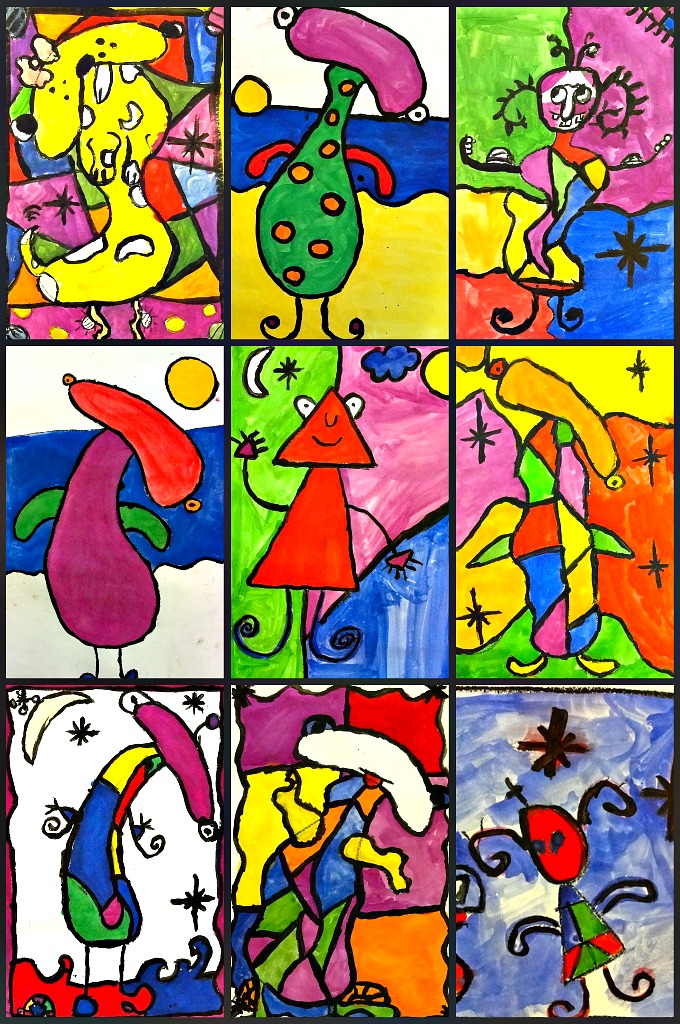 ---
ARE YOU A SPARKLER? These lessons and over 300 art lessons are available inside the Members Club. Access to videos, resources & trainings for one low monthly fee.
CLICK THE IMAGE TO SIGN UP FOR NOTIFICATION OF OUR NEXT ENROLLMENT