Concluding our special 3-part series on teaching art to children with special needs, Team Sparkle's Rachelle Smith shares her expertise to help you navigate the nuances of teaching art to children with various degrees of special needs —
Children with special needs are unique individuals. There isn't a one-size-fits all solution for teaching them because their needs can vary from mild to severe.
Children may have physical differences that make it hard to hold art materials and tools. Some children have hearing or visual differences. While others have tactile sensitivities, which can cause them to be tactile defensive to certain materials – meaning there are certain things they just don't want to touch.
Some may have learning disabilities and cognitive delays or be on the autism spectrum. And of course, some children have multiple disabilities, which can further increase the complexity of how to approach art with them.
In this post, I'm breaking the process I use to take an existing lesson plan and break it down or alter it to adapt to our special needs students.

If you missed the first or second post in our series of teaching art to children with special needs, you can read them here:
Part I: Teaching Art to Children with Special Needs
Part II: Teaching Art Remotely to Children with Special Needs
Click the yellow button below to download our Resource Guide PDF:
What to do before you open up a lesson plan…
Regardless of what differences your children with special needs may have, the most important thing you can do is take time to get to know each child's personality.
What interests do they have?
What are they afraid of?
Make some careful observations of your children with special needs when they are in a relaxed setting.
What kinds of behaviors are you noticing?
What do they like to do?
From these observations, you can begin to develop a plan.
Adapting Art Materials
I get it. You find a project that you think will work for your students but some of the art supplies required may not be the best for your students. The truth is, many children find certain materials unpleasant to touch. You may notice that they retract their hand quickly from a specific material. This can be due to a real aversion to the material or it can be a result of little to no previous exposure to the material.
If the second case is true, don't give up! Provide opportunities for the child to gain more exposure to the material. Introduce it in a small session while the child is relaxed. Provide a small reward or positive feedback when the child interacts with the material.
Over time, you should notice that your child will have less aversion to the material.
If your child refuses to touch the material and has a strong negative reaction to it that does not lessen over time, it could be due to the way their brain is processing that sensation.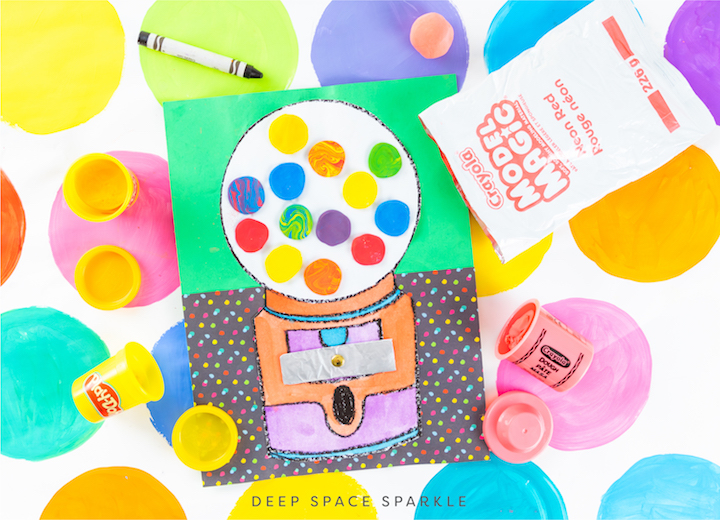 In these cases, you may need to find an alternative material to substitute. Try different versions of the same material. For example, a child may not like the feel of kiln-fired clay, but they may be okay with play dough or Model Magic.
If they don't like the feel of chalk pastel, try a paint stick. The point is to keep trying.
Increasing a Child's Engagement and Attention Span
Another challenge that may be present with special learners is a short attention span and a lack of engagement in a given activity. This is where a consistent routine will work magic. When children know what to expect, they feel safe and comfortable. Having a consistent routine will help your children with special needs to have a positive experience each time they do art.
Here's one example you can use and modify to fit your child's needs:
Opener: Sing a song or read a story
Warm up: Color or practice making shapes with a crayon
Activity: Break the activity or project down into smaller steps and only focus on one or two steps each session
Wrap up: Summarize what you did and give plenty of positive feedback
Modifying a Lesson for a Visually Impaired Student
If you have a child who has a visual impairment, you can modify the lesson to include more tactile materials. If the lesson involves drawing or coloring in the lines, you can use hot glue or puffy paint to create an outline for your child.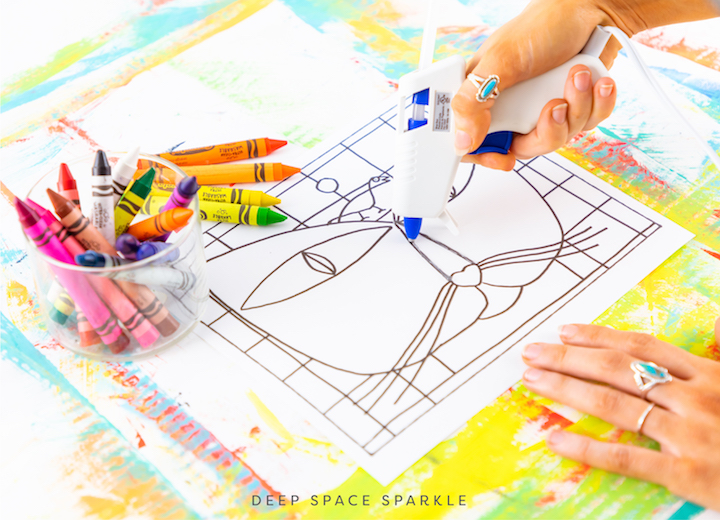 GLUE TRACING
I prefer to use hot glue because it has a less sticky texture. Hot glue also dries a lot faster than puffy paint and kids can start coloring as soon as it cools down.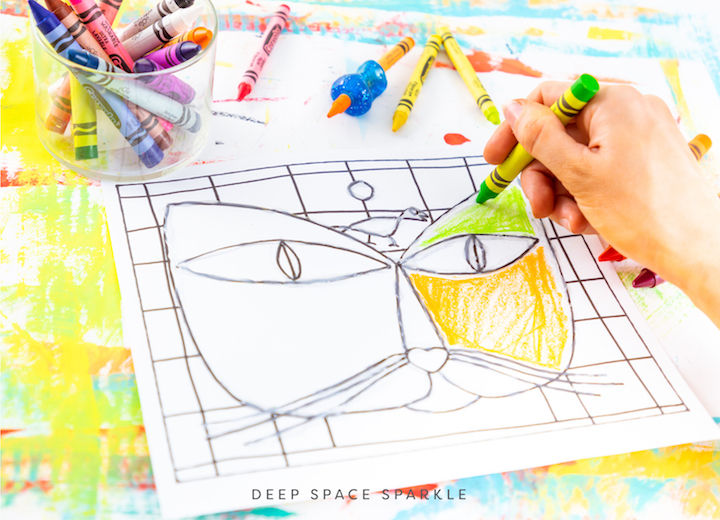 Consider incorporating materials that have interesting textures. Corrugated cardboard has a nice ribbed texture if you pull off the top layer. Think about what materials might go along with the project you are doing. If a project has clouds, you could use the cotton from cotton balls as a material. If the project has an animal, you could collage in some soft felt or fabric.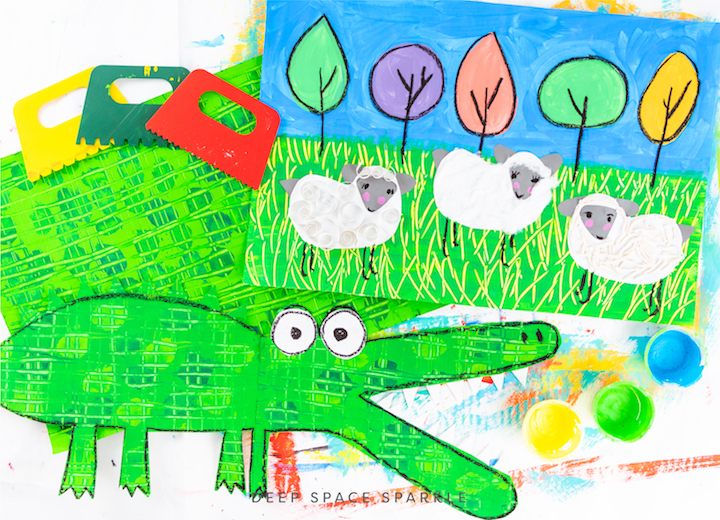 Modifying Materials or Tools for Children with Cerebral Palsy or a Physical Handicap
Some children don't have the full use of their hands and arms. This can make it challenging to complete art activities. But no need to worry, there are many ways you can adapt tools and materials so that your children with physical disabilities can participate.
If your child has trouble grabbing onto small materials like crayons, there are a couple of fixes for this. You can purchase larger crayons. Try Crayola's My First Palm Grip Crayons. There are also companies that make grips that can be added to regular crayons or you can get creative and make your own.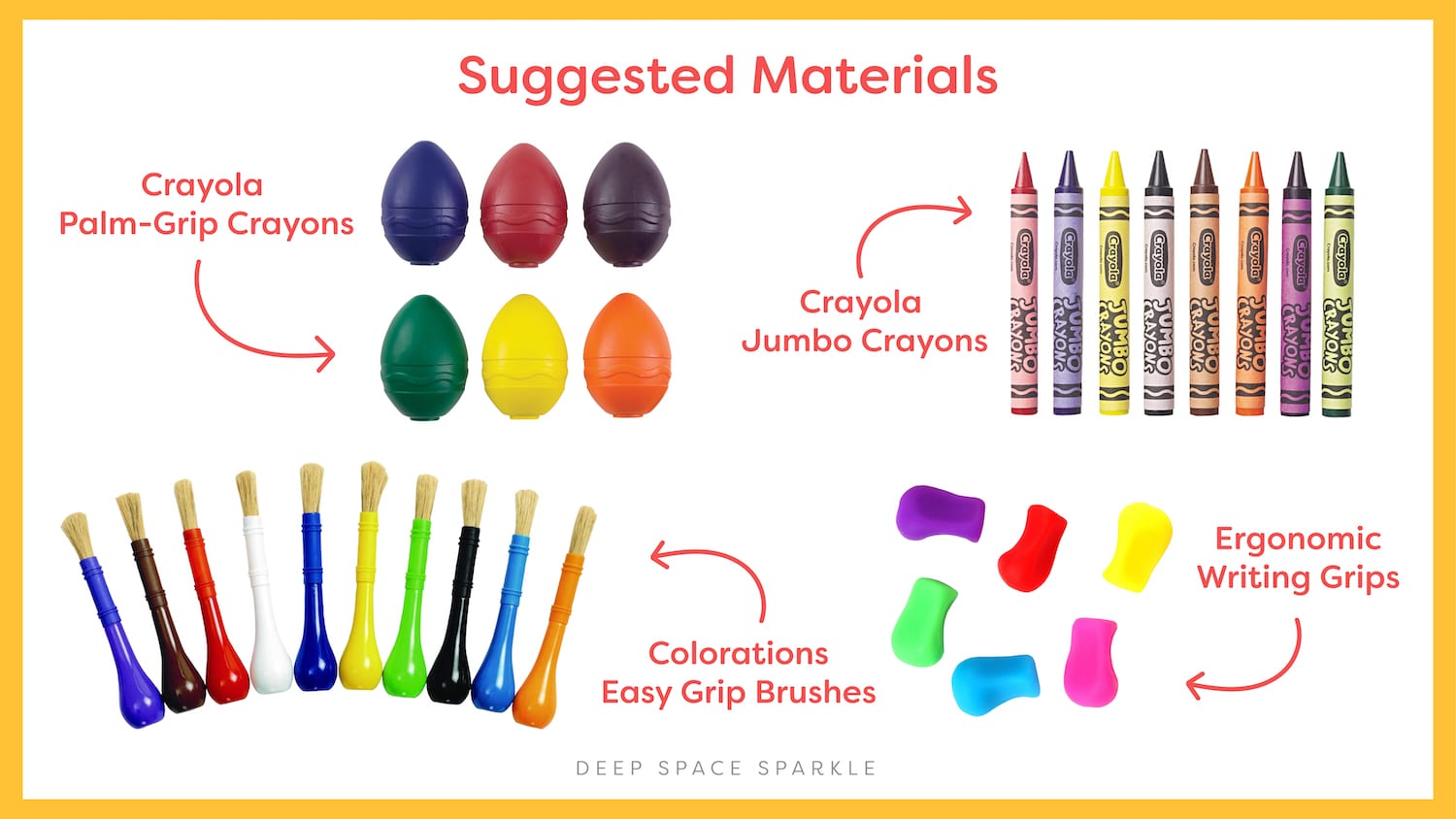 Regular paint brushes may also pose a challenge to children with physical disabilities. Look for paint brushes with larger handles or adapt a handle to create a larger grip.
You can try inserting a paint brush handle through a stress ball. First, puncture a hole through the center of a stress ball with scissors, then insert the paint brush handle. This type of grip will be more comfortable for your child and will also provide the added benefit of physical therapy.
For my many years working in the classroom with children with special needs, I have learned that each child is uniquely different and I have to customize my instruction, materials and environment to meet each child's needs.
Whatever challenges your child may be facing while creating art, Deep Space Sparkle is here to help! Let us know what your specific concerns are, and we can help you figure out a solution that will help your child have the best art experience possible. Leave your questions or tips below and I'll be sure to respond. And don't forget to download the Teaching Art to Children with Special Needs Resource Guide!