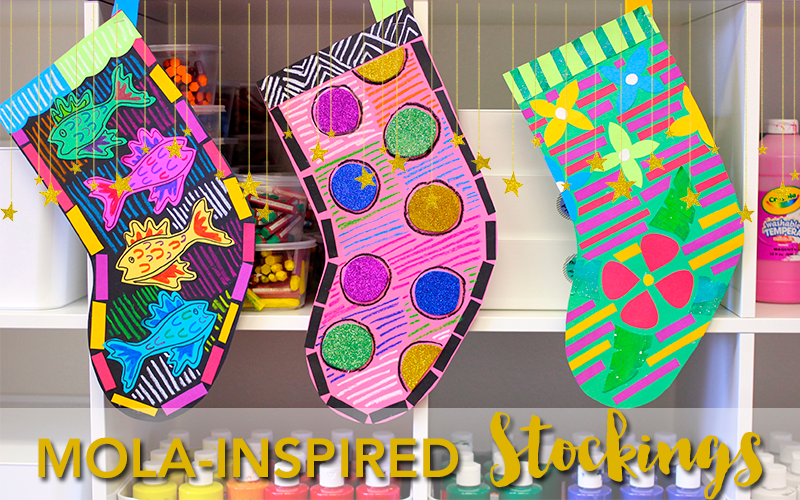 Part culture, part color theory and all fun, this Mola-inspired Holiday Stocking will keep the kids busy drawing, cutting and composing their own colorful stockings.
ABOUT MOLAS
Molas are cloth panels that form part of a blouse for the Kuna women of Panama. They use a quilting technique called reverse appliqué to create the designs in the fabric. Because I used to be (and hope to be again!) a quilter, I know all about reverse appliqué. It's pretty fun to do but darn hard to explain to kids. After a few attempts I decided that it's just best to say that a Mola is a fabric panel with colorful strips sewn in.
USING MOLAS IN THE ART ROOM
Art teachers all over the world incorporate Mola art into their curriculum to help children connect with the process and purpose of creating art. Sometimes art becomes abstract for kids if all we do is teach our students that art is about history and famous artists. Art can be found all around us: where we live, our clothing and everyday objects.
Watch the YouTube tutorial video below…
WHAT YOU'LL NEED:
– 12″ x 18″ large colored paper
– Glue
– Scissors
– Scraps of assorted colored paper
– Markers
– Mola examples designs for display
– Optional embellishments: glitter paper, rick-rack, pom-poms etc.
STEPS TO MAKING A MOLA-INSPIRED PROJECT:
– Draw a Mola image with basic shapes and rainbow or echo lines.
Molas are made up of basic, recognizable shapes: turtle, sun, flower, fish, etc. Notice that the Mola has a basic center shape and then lines are drawn around this shape to create the recognizable image. In the Mola above, the turtle starts our as an OVAL. Lines are drawn around the oval to create the head and four legs.
– Repeat the drawing of lines until you have the shape desired.
– Add vertical or horizontal strips of paper to achieve the decorative background. This can also be achieved using construction paper crayons or oil pastel.
– For a visual step-by-step instruction, check out the Mola Inspired Holiday Stockings VIDEO above.
I can't wait to see what your students have done!
What is your favorite part of this project?
---
DOWNLOAD A FREE MOLA STOCKING PROJECT
---
ARE YOU A MEMBER?
The Mola-Inspired Stocking full project tutorial plus hundreds of lesson plans, art resources and videos is included with your monthly membership.
Enrollment opens in January and August.