If there were a prize for the best art genre for kids, I'm pretty sure Paper Mache would get the votes. It's a quintessential art project and most everybody remembers getting sticky with newspaper and paste at some point in their elementary art career. There is a good reason why it's been a popular medium for decades: it's cheap, teaches creative thinking and fosters imagination. But, there can be drawbacks…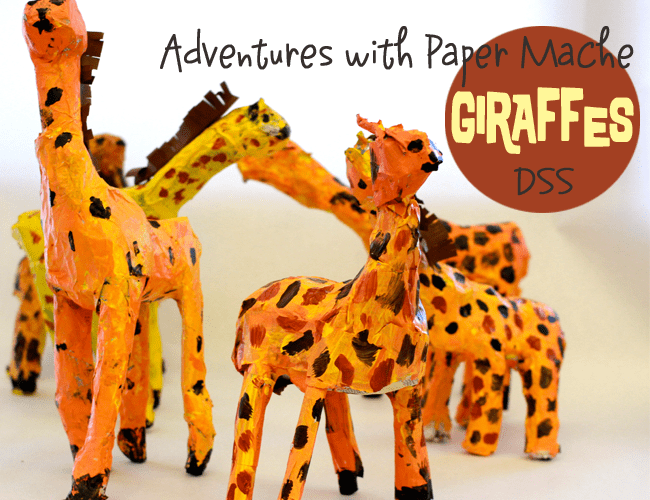 Art Class: 2004
When I first began teaching, I couldn't wait to start a paper mache project. I had seen an amazing lesson from a school art site of paper mache dinosaurs that went way beyond my experience, which was limited to globes and hot air balloons. There were no instructions with the images but I figured they couldn't be too hard if fourth graders created them. I brought in balloons, boxes, tape, flour, water, a whisk and heaps of newspapers and started the project with my 4th graders. Within the first 30 minutes, I learned the following:
Children love to bury their hands in flour goop

Some children are allergic to flour goop
Tape alone does not hold up long dinosaur heads. For extra long anything, you need aluminum foil
Kids love to scrunch aluminum foil and throw across the room
Flour goop does not come out of carpet
By day three, I learned this….
Building the armature can take 2-3 classes and most every kid will need help
An extra heavy application of flour goop can take over a week to dry
You need lots of storage for paper mache projects especially if you don't limit size
Tempera paint will crack and chip off when dry
Kids are generally bored of their paper mache projects unless you have a plan and finish the project within 5 class sessions.
Sounds a bit negative, right? Well, let's just say that it took 7 years….SEVEN YEARS….to try paper mache again.
Art Class: 2012
When I began planning my lessons last year, I knew that I wanted to try projects that were out of my comfort zone as an art teacher. Projects that either didn't interest me or used a technique I wasn't familiar with. Many of my readers have asked me for years to develop more form based art projects, but I had resisted. And given my last paper mache dinosaur experience, I felt I just wasn't qualified.
But the mission statement was learning how to teach more advanced techniques, and if I wasn't willing to do it, how could I motivate others? I also thought about my students and knew how much they would get out of a really good form-based lesson, so I tried again. This time. I really, really thought about what projects I would do. I read Julie Voigt's posts (Art for Small Hands) on paper mache and liked her approach. I read how Phyl from There's a Dragon in My Artroom approached paper mache and quite honestly, I almost gave up. She is truly the Queen of Paste!
I experimented on my own and eliminated some steps and added others. By the time the kids came to art class, I had a plan. My main goal was to offer the child the opportunity to build a form based project on his perception of the object. I came up with a pretty good strategy. Here are a few general nuggets to share with all of you:
Use photographs and/or 3D models to use as inspiration rather than illustrations

Use Elmer's Paper Paste. So darn easy and CHEAP
Plan on two full days for armature building and keep it small. Make your sample small. Pick small objects. Do anything to keep things small. Trust me on this one
Forget brushes; use hands/fingers for applying paste to small bits of paper
Use either white paper towel or white copy paper for the final layer of paper mach so newspaper print won't show through
Use acrylic paint over tempera paint as acrylic paint won't chip. It also dries to a shiny finish
If you must use tempera, apply a layer of Mod Podge for a shiny finish.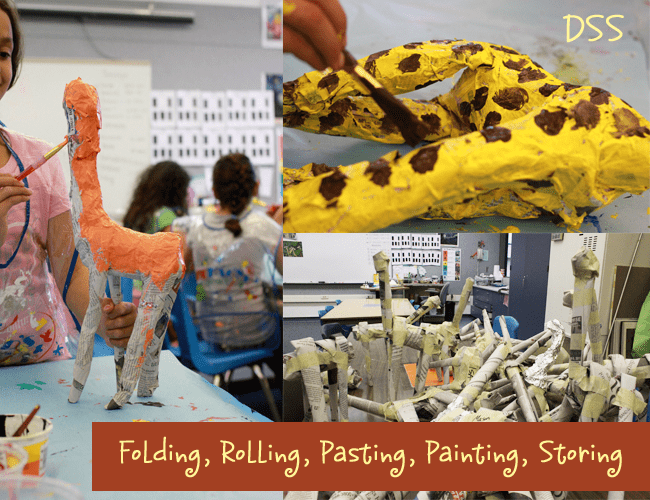 The time factor…
The other point, worthy of noting is that it may not be worthwhile to do a paper mache project if you don't see your students on a regular basis. Paper mache projects require time. If you have a limited amount of this (like me) there are other projects more worthy of the time investments. I see each of my classes 15 times per year, so 5 sessions is 1/3 of the year. Ceramics, for instance, generally takes me 2 art sessions to complete. That's a whole lot better than the 5 sessions it took for my camels and giraffes.
The learning factor…
Building a paper mache form based on a familiar object is truly worth the effort. My students had to really think how to balance the legs, body and in the case of the giraffes, the necks. It required thought and in some cases, working through frustration. I sat with many kids brainstorming how to get the giraffe to stand upright. In many cases, the kids figured it out and were pleased with their solutions.
Art Show
The art show at my school has been a bit of a cramped effort in the last two years. Form-based projects don't get the display space. So if the kids spent 1/3 of the year working on a project and don't get to show it off, well, I think that's a bit of a shame. I'm trying to sort through that problem this year, but that's another post!
Your turn…
Now, it's your turn. Do you love paper mache and do a project every year? What do you think is the perfect grade level for introducing paper mache? What has been your biggest roadblock?
I'd really love to hear how you've worked through a problem. I know there are other teachers out there sitting on the fence decided whether to tackle paper mache. Let's help them out…
---
ARE YOU A SPARKLER? Access 0ver 300 art lessons, videos, resources & trainings for one low monthly fee.