Nutcracker Art Lesson
Most everyone has either read The Nutcracker and the Mouse King a story written in 1816 by German author E. T. A. Hoffmann, or seen the ballet by Tchaikovsky. I was fourteen when I saw the ballet and forever deemed the Christmas event as the ultimate holiday tradition.
When I was an art teacher, I didn't create a Nutcracker lesson for my students. My association of the story, theme and characters was always so grand, and creating a grand art lesson during such a busy time of year seemed way over the top–basically overwhelming.
Now my desire to help other art teachers find lessons that are not only doable, but rich in art techniques and creative possibilities, has paved the way for a very easy Nutcracker activity.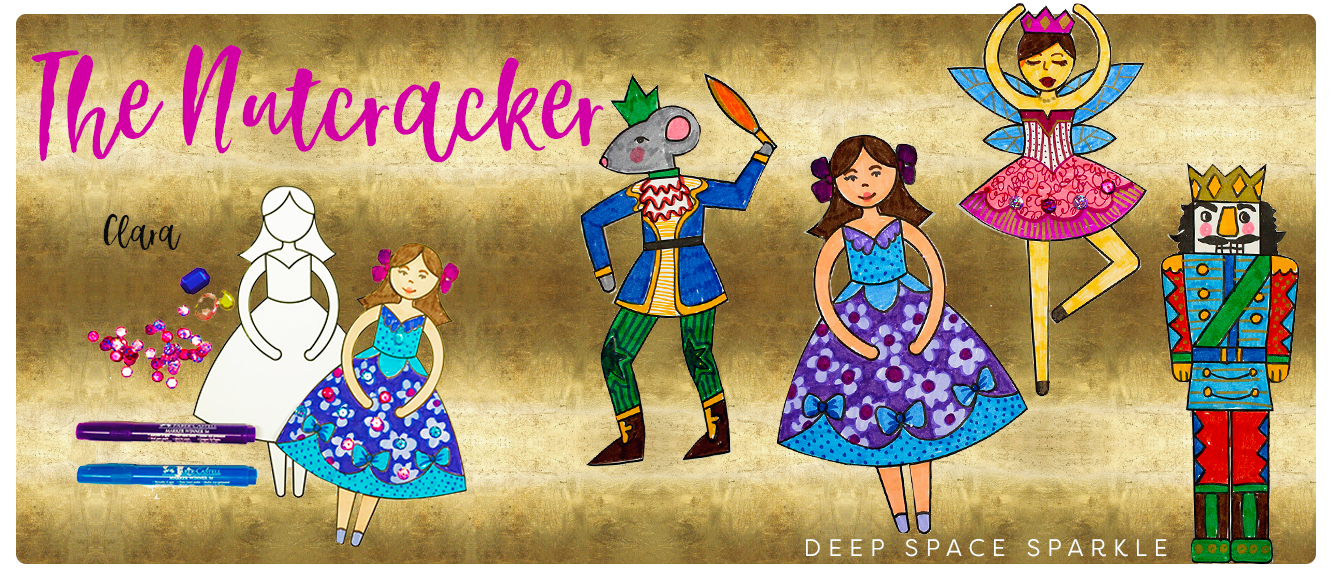 Watch the YouTube tutorial video below…
BACKGROUND CHOICES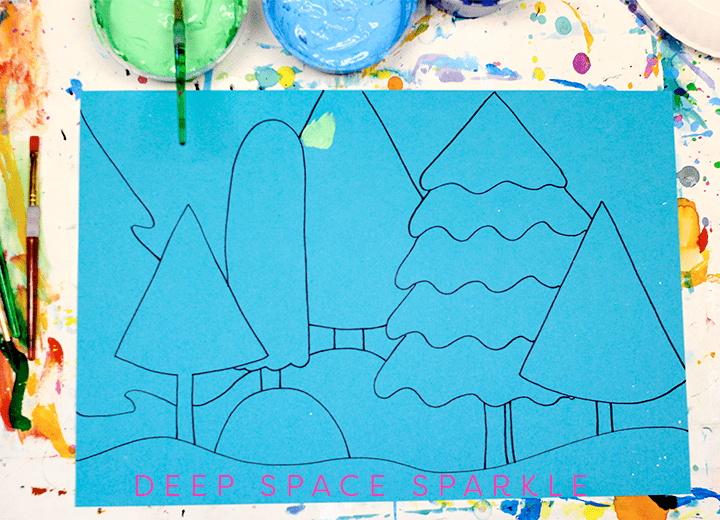 It's important to note that creating a background is totally optional. BUT, if you have 40-minutes, some Crayola acrylic or tempera paint, then adding a wintery forest is really a lovely addition.
Here's what to do:
Draw a snowy forest floor with a black sharpie marker across the bottom of the paper.
Add a variety of large tree shapes above the forest floor. You can be fanciful or realistic.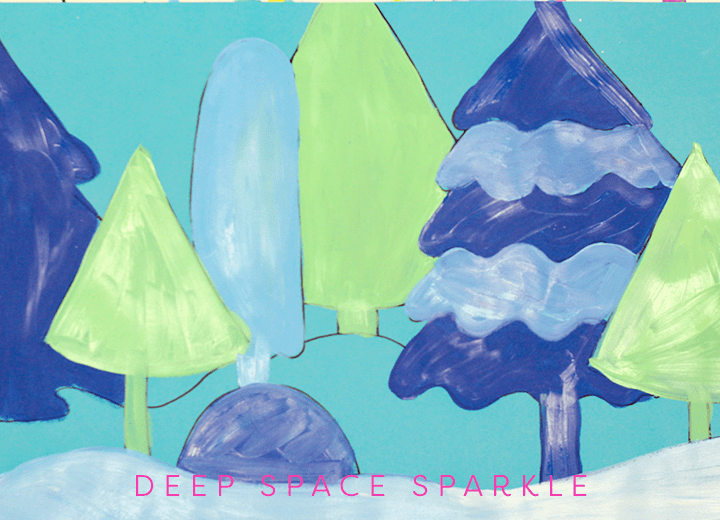 Pour Crayola acrylic paints (I LOVE this stuff) into a few small, plastic containers and start painting. try not to use too much water as the thicker this paint, the more beautiful it is.
Adding white teaches children about color theory and creating TINTS.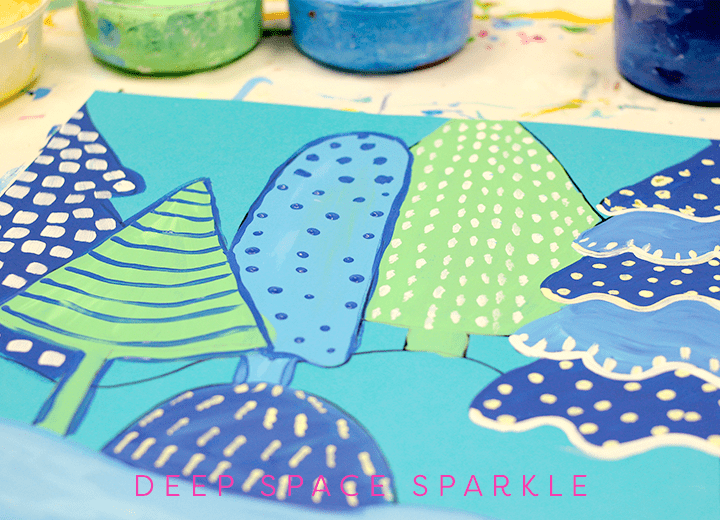 After the acrylic dries a bit (15 minutes or while you are working), use white and a few darker colors to add spots, dashes or stripes.
Use a q-tip, back end of a brush and a small brush to make the marks and patterns.
You can also take some time to splatter paint snow, add a blanket of glitter or create other types of snowflakes.
ADDING THE CHARACTERS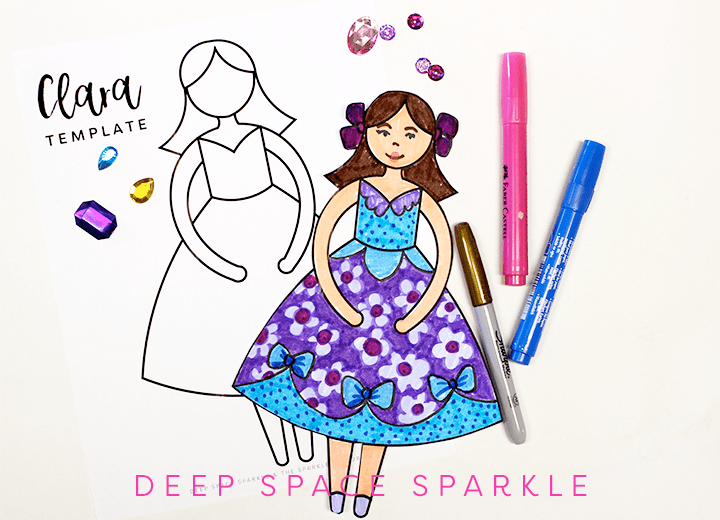 You can skip the background and go directly to this step if you wish.
Print out the templates or drawing guides onto white cardstock. Make sure to click the YELLOW box in the image below so you can add your name and email to the form. We'll send you a PDF with all 4 templates to your email.
Use colored markers, metallic markers, sequins, glitter, and colored pencils to encourage children to make their paper character their own.
The character templates are designed to be simple so children can draw their own uniforms, dresses, faces and details.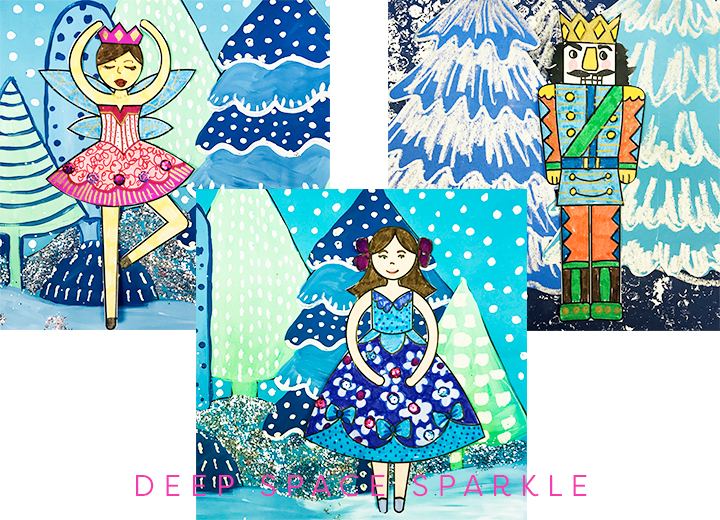 For more holiday art lessons to teach to your children at home or classroom of students, click HERE
---
DOWNLOAD THE FREE NUTCRACKER ART CHARACTER TEMPLATES PDF
If you want to watch my full Facebook live tutorial on this lesson, click HERE.
I'd love to see what your students have created!