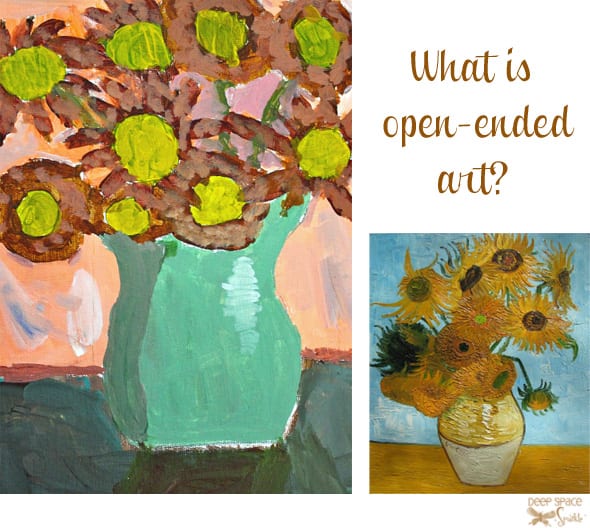 Teaching art is a joy to me. My pace is relaxed, my schedule is perfect, my school is wonderful and my students are lovely. I try very hard to teach children about the world of art and try to cover as many areas of art as I can: artist studies, art genres, techniques and the elements of art. No two lessons are the same and I must confess, that some lessons work out better than others.
Cookie Cutter Art?
Recently, I read an online review of Deep Space Sparkle. It was written by an art education student needing to fulfill a school requirement. The reviewer had many positive things to say about the navigation of the site but then the reviewer said that most of my projects were cookie-cutter projects! Oh, it was like being stabbed in the heart.
In truth, I do use single images to inspire art lessons and yes, many of the student's works end up looking similar. But the goal is to teach a technique, a strategy for painting, or a study of an artist. Implying that my projects are cookie-cutter cheapens my efforts and my goals of teaching art to children. I mean, doesn't "cookie-cutter" say so little about one's efforts and mission?
Okay, so enough about feeling defensive. Let's get to the purpose of this post. The student pointed out an area of my website that he thought was weak. Critiques are what make you better and opinions are what force you to think, move and grow. So how did I apply what he said?
Well, first I needed to figure out what the opposite of "cookie-cutter" art was and I figured it was open-ended art. I've read a bit about open-ended art, but to be honest, I really didn't know how to translate the concept into an art lesson. So I asked my DSS facebook readers:
How would you describe open-ended art?
Here are a few responses:
Open ended art is having no expectations about the product – it is all about the process. Showing a student what something should look like is closed-ended because there is a specific product in mind that does not allow for individuality. I never show "examples" because I think it stifles creativity.
The best open-ended projects are on-going and student-driven. I have my junior high students keep an art journal throughout the semester. They are given guidelines, but each journal is about their own artistic journey and helping them find what inspires them.
I think open-ended is the way all art should be! – though I am guilty of 'trying' to get kids to complete their art project in a certain amount of time… and have items 'finished' to take home – but LOVE it when parents understand that a child's own direction and initiative is more important than if it is finished or 'looks as good' as the child's beside them.
Something that gives kids the opportunity to do it their way. I run a creative reuse nonprofit, and kids get to take 7 items from our art truck, and make whatever they want (except a weapon!). It is amazing how many ways their mind can go.
I would say that it is a lesson where the child can choose their medium and decide how to convey their idea. I do an abstract art project that is "open ended" and it is very exciting to see what the students come up with. They really enjoy experimenting with the different art materials.
Responding to Criticism
Aren't these responses great? I love the open-ended art process (as described above) and I spent most of my life in my own little open-ended world. But what about teaching art in a school environment where standards are imposed and classroom management valued? Is allowing children to choose mediums, supplies, subject, etc., teaching them art? Should every art project be open-ended? How does an art teacher do this?
After reading the review, I went in to teach for the day. In fifth grade, we were working on painting a clipper ship. As I sat the group of fifth grade students around me, and began to demonstrate the techniques, the words "cookie-cutter" kept creeping into my head. I tried to push them away, but they were stubborn! You see, I used an image I found through an artist's website of a beautiful clipper ship sailing towards the viewer. I looked at the painting and saw ample opportunities to teach wet-on-wet watercolor, an artist study on Winslow Homer, and a cool technique to make the sails. But as the children were completing their projects, I knew that my single image prevented the children from creating their own clipper ship perspective. This haunted me for a while until I realized that not all my projects are like this and that the students learned so much. Is this bad? I certainly hope not, because I thought that each child made such an exquisite piece.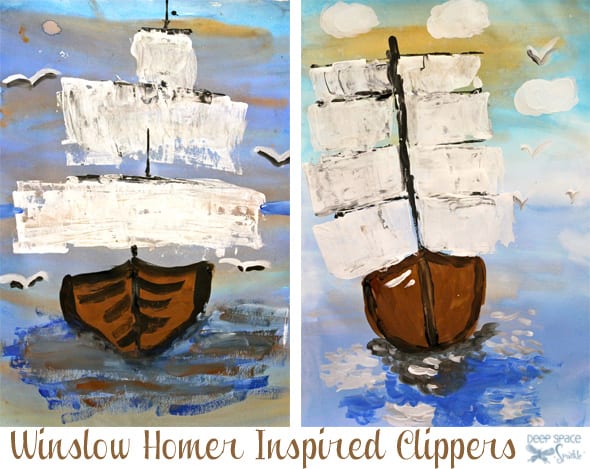 Art teachers are creative individuals and need to teach (at least mostly) what is authentic to them. You must come into your art room excited beyond measure about your projects or else the children won't be. My dear daughter sat through her entire seventh grade year doing open-ended art projects where she could choose colored pencils or markers and draw whatever her little heart desired. The teacher had no expectations, no curriculum, no instruction and worst of all, no passion. My daughter chose not to do art this year as she felt it was a waste of time. So while the teacher might have assumed that she was doing right by her students by not giving any instruction, I couldn't help but think of all the things I would do with 50 minutes a day with each class.
But in defense of open-ended art, I would like to point out that I do value open-ended art (on occasion!) Watch this.
So what's your take on open-ended art. How often do you use it and in what context? Can you teach a lesson on Van Gogh using this concept? I'm quite curious and excited about your responses…it's so fun learning new things!
---
Download our free management, set-up, drawing & painting guide, to help you teach art from your home!