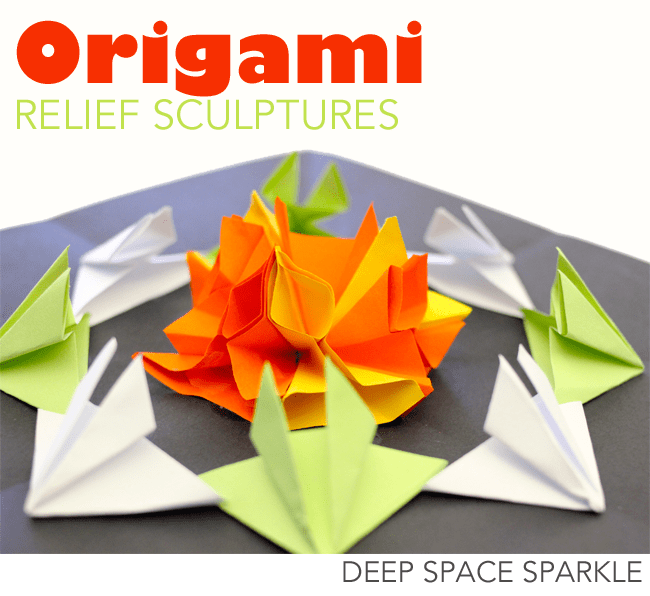 Incorporating a relief sculpture into your art curriculum is super easy now that so many art teachers have given wonderful tutorials on origami making.
Not my strong suit, origami is the practice of folding papers in a precise manner in order to resemble an object. Being "precise" with anything usually scares me off but when I was perusing my art ideas folder for paper sculptures, I came across this symmetrical origami project by Art. Paper. Scissors. Glue and figured it looked too engaging to ignore.  I placed it in my to-do file.
Then, earlier this year, Ms. Gram from Art With Ms. Gram created an AMAZING video tutorial that solidified the process for me and empowered me to take this paper folding lesson to my fifth grade class. I practiced a few times before I felt comfortable teaching the (very simple) method to kids. Since I generally create art like a kid, practicing the sequence gave me insight as to where my students would most likely have problems.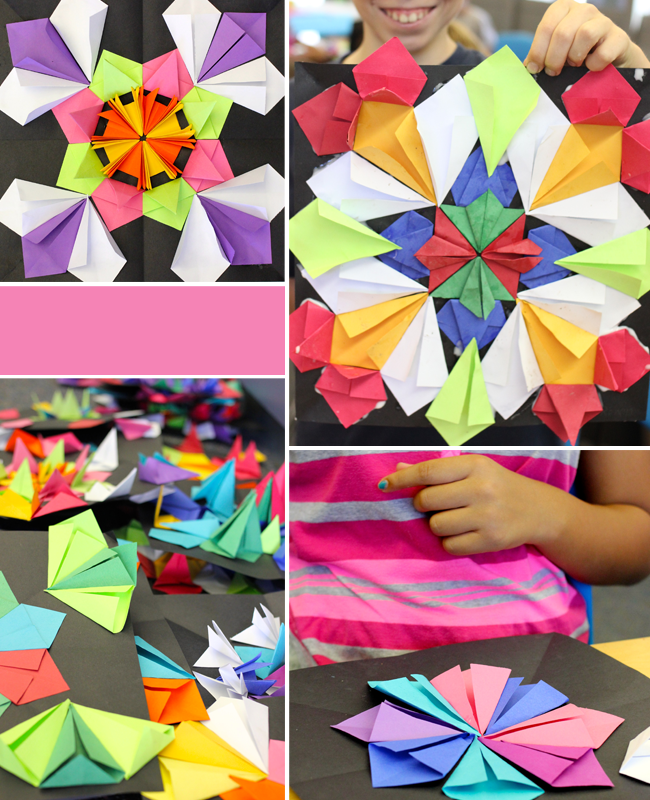 Ms. Gram gives very good instructions on how to make this sculpture, so I won't give you my run down but I will point out a few areas of potential problems and how I set up for the project:
Having already done this project and placed it on display in my art room, now that it is off the wall, these beautiful projects have no place to go. I keep all of my student art in portfolios, and these sculptures just don't fit. Prepare for this by planning to send the project home and keeping only the projects a child might want to present in the art show.
You'll need to pre-cut 100's of basic construction paper into 3″ x 3″ squares but it's not necessary to be perfect.
Place a tray of colored paper squares on each table so kids can access paper easily.
Demonstrate the techniques by folding each of the 3 designs together with the class. Have the students keep the samples on their table for reference. Then they can make as many of each design as they want.
Make sure you give the kids enough time to glue the pieces down before the end of class. It's very hard keeping non-glued down pieces paired with background paper.
To eliminate lost pieces (see above), encourage the kids to start in the center, fold a few pieces and then glue down. A child doesn't want to get to the end of the class with 50 origami squares and non of them glued down.
Some kids won't understand the relationship between the folded lines created on the black paper and their origami pieces. For them, the black paper is just a canvas. I sat down with these kids and showed them up-close and it really helped. Lots of "aha" moments.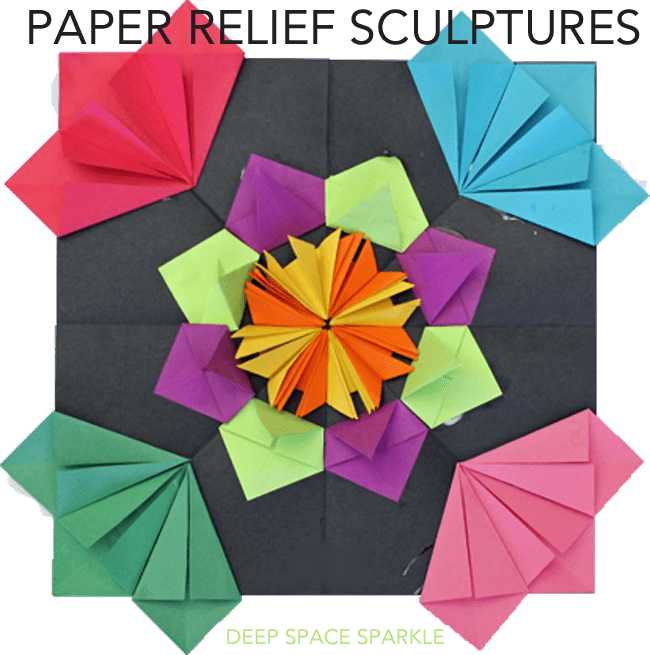 Have you trie this lesson? What tips would you give?