As much as I love creating a big mess with paint, I wasn't inspired to create a Jackson Paint Like Pollock art project until I saw this post.
I knew the technique of dipping yarn into tubs of paint would be a huge hit with my first graders. And it was. Plus, I could finally read Action Jackson!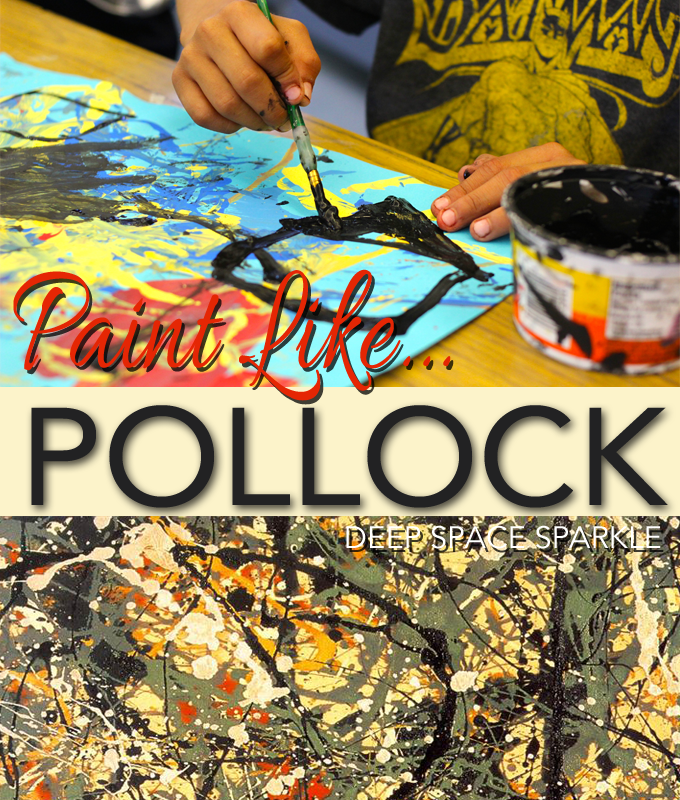 If you don't have this book, it's a must-read about Jackson's painting process, not to mention a perfect read for the art room, which I define as the right amount of text to illustration ratio.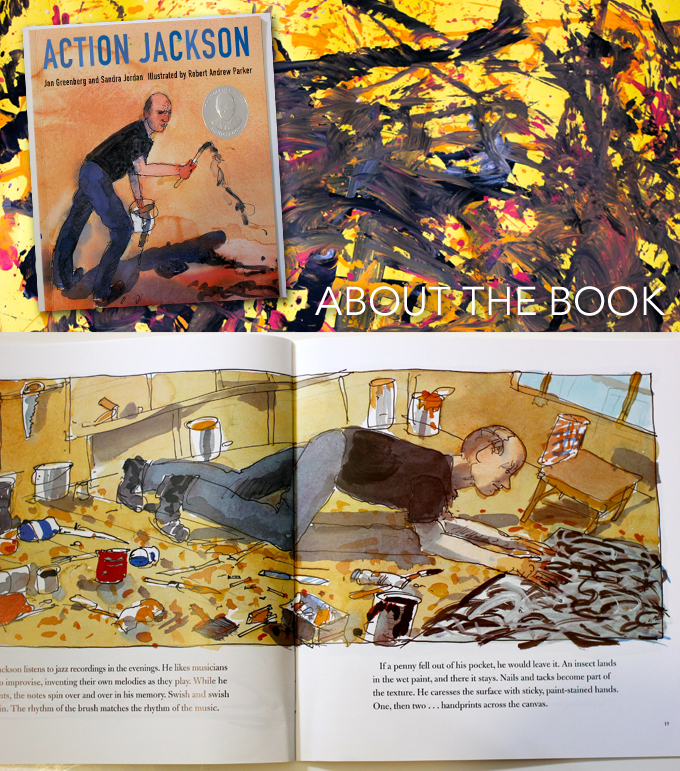 To start:
Place 18″ x 24″ sheets of construction paper on the tables for placemats.
Mix 3-4 colors of tempera paint into tubs and place on the table. I use cafeteria trays to get all the supplies distributed and sorted before placing on tables. I used Crayola Washable paint but Laura from the blog, Painted Paper suggest Premier Tempera Paint. Worth trying!
I didn't have clothes pins like the Mrs. Seitz so I used a combination of masking tape and popsicles sticks. Clothes pins are a far better choice if you have them.
Place either a colored or black piece of construction/sulphite paper at each table setting.
Add small brushes to each tub of paint.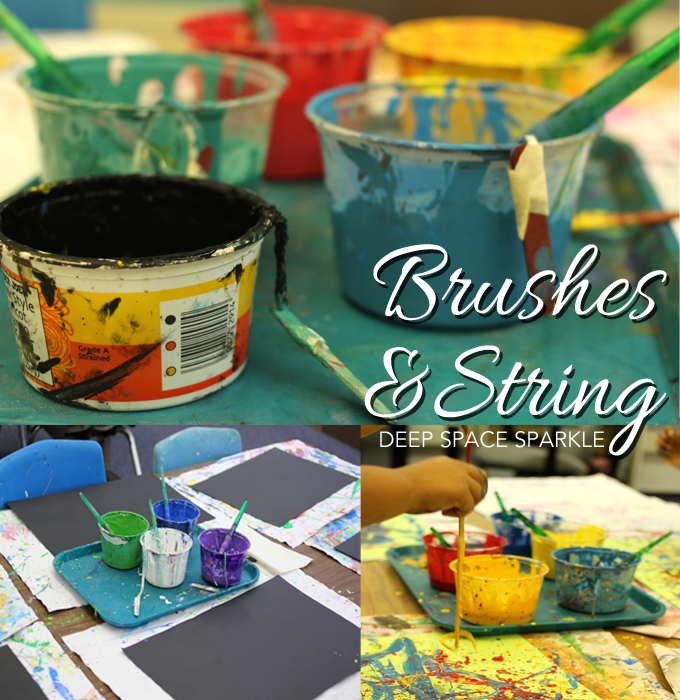 How to Paint Like Pollock:
Children are a bit hesitant at first but I remind them of Jackson's fearlessness with paint. This seems to loosen them up.
The idea is to dip the yarn into the paint tub and then drag or dribble the goopy yarn over the paper to create marks. This works, but the first time the children try to dip the yarn into the tub, it doesn't work. The yarn is dry and doesn't sink into the paint. This is why I make the brushes available. Give the yarn some help by using the brush to dunk into paint.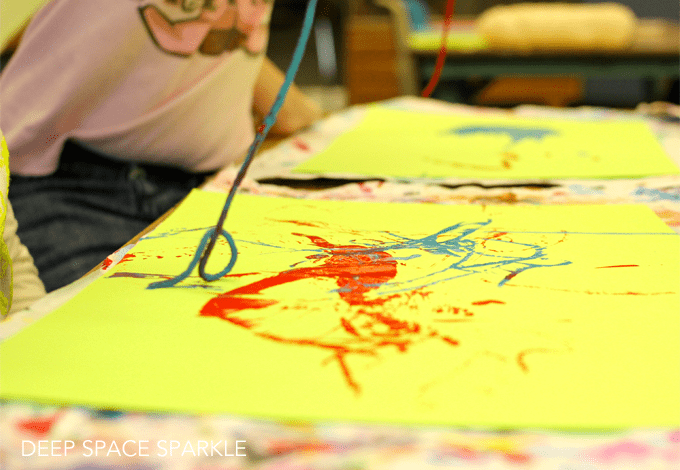 Have a little extra time?
To paint like Pollock takes very little time. Only about 30-minutes or so. The mess it creates takes a while to clean up so factor that into your prep time.
I used one 40-minute class with my first graders to finish unfinished projects. Many chose to add black paint markings to their dry Pollock Paintings. I gave absolutely no directions as to what to paint, only that they could add whatever types of lines, shapes, patterns or objects they wished.
They really got creative. I love their reflection and thought process throughout the last detail. In many ways, it really made the project.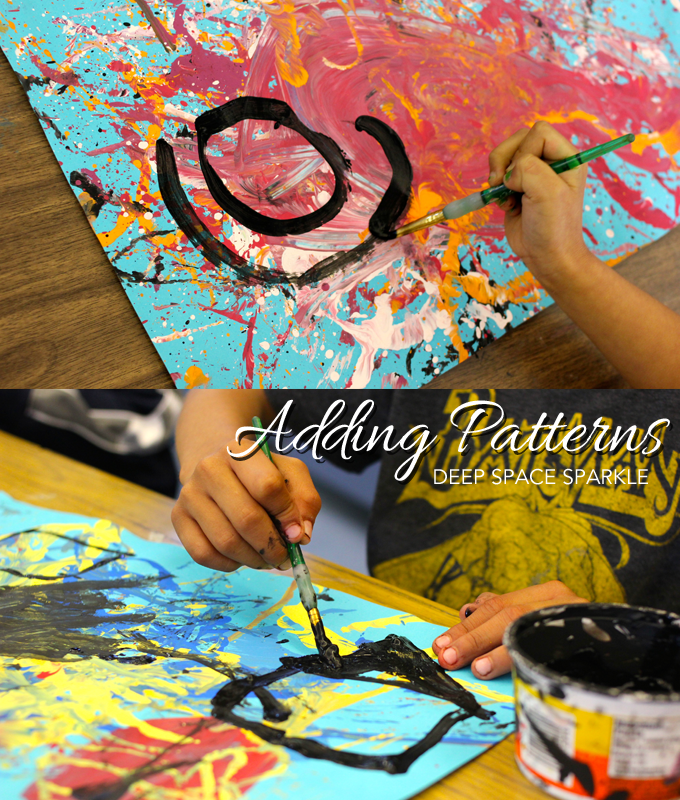 I'm always tempted to look at these paint-splattered papers and turn them into something else, like the cool guitars that I referred to in the link. But in the end, I decide that they were beautiful statement pieces all on their own.
What do you think? Leave them alone or turn them into something else?
First Grade Pollock Paintings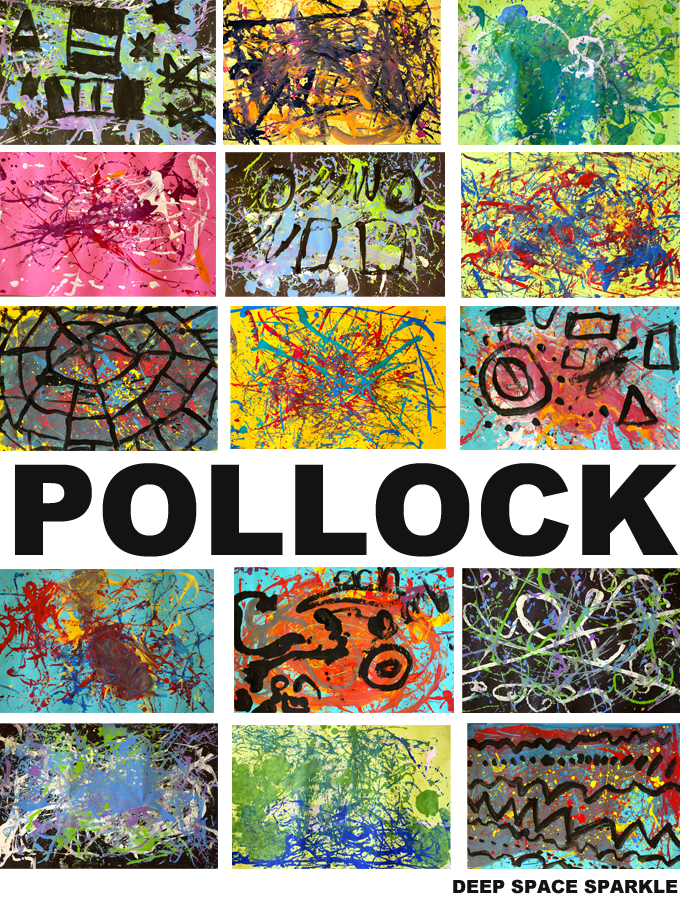 For more resources and information on teaching art to children, check out my podcast Art Made Easy by clicking HERE to learn more about what goes on inside the art room.