Are you getting ready to decorate your classroom for Valentine's Day? These painted hearts are quick and easy to make for most grade levels, and they make a great addition to your classroom's holiday decorations.
This lesson is based on the Big & Bold Painted Flowers from my book Draw, Paint, Sparkle. Draw, Paint, Sparkle is intended for doing art in the home, but many of the lessons, like this one, can be changed to work in a classroom or studio.
Let's get started…
What You'll Need:
– 18" x 24" white sulphite paper
– Liquid tempera paint OR Crayola acrylic paint (red, pink, orange, white)
– Medium-large brush
– Scissors
Creating the Heart Shape:
Using your paintbrush, scoop up your first color, any color is fine except for white. Starting at the center of the top of the paper, paint the two "humps" that will be the top of the heart. Next, using the remaining paint on your brush, paint a dot at the center of the bottom of the page, this will be the "point" of the heart. Connect the humps and the point to create the outline of your heart.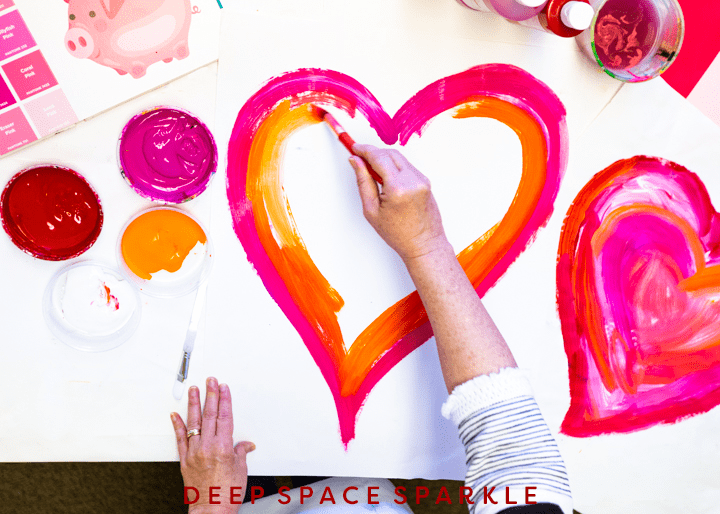 Painting the Heart:
Once you have the shape of the heart completed, it's time to fill it in. Without cleaning the brush in water, dip the brush in another color, at this point any color is fine, including white. Starting on the outside edge of your heart, using long brushstrokes, paint around the edges of the heart, slowly working your way in toward the center. Continue to pick up different colors of paint without washing your brush until the heart is completely filled in.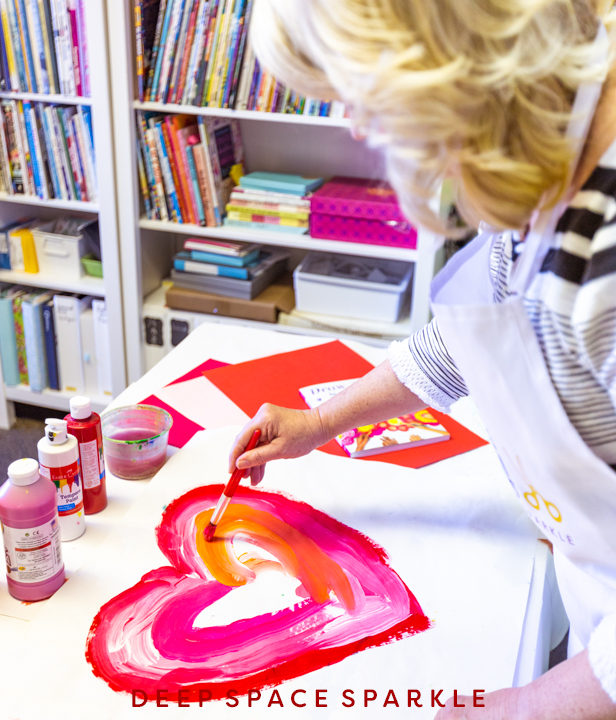 Optional: Adding Details:
Once your heart is completely filled-in, you have the option to add design details. I used dots and dashes in white and red paint to define the shape of the heart.
Once your hearts are painted, set them aside to dry. When completely dry, cut out the hearts and display around your art room.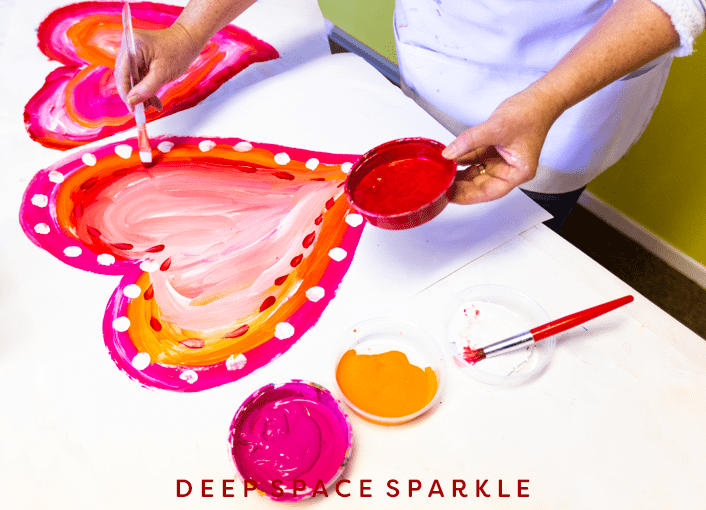 Watch my tutorial demonstrating how to create these Painted Hearts.