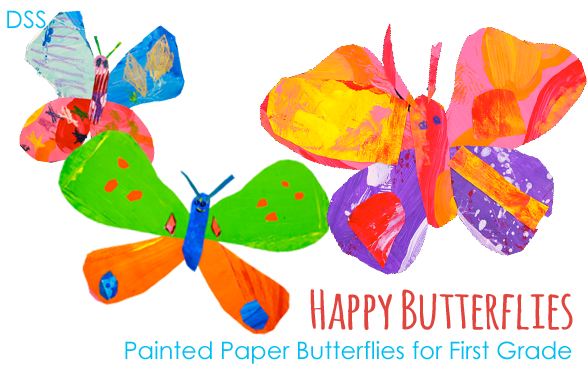 I love happy art lessons. The ones that engage children right from the get-go. These painted paper butterflies are a perennial favorite in my art room. My first graders make painted paper and then use the paper to create butterfly wings.
I set out wing templates but encourage the children to make their own wing shapes. If the children draw their own wings, they usually end up with very tiny butterflies. This is not a bad thing, but sometimes its preferable to have larger wings so the children can decorate the insides with little struggle and more freedom.
Here's the secret to avoiding tiny butterflies: ask the children to use one template for one set of wings and ask them to create a second pair of wings of their own creations. Once the children get a feel for tracing and cutting out the larger set of wings, they can understand the scale required for the second pair of wings.
Children learn how to create texture with paint, how to blend and mix colors, develop fine motor skills, understand symmetry and learn a bit about butterflies. And did I mention that they had fun?
 Here's What To Do: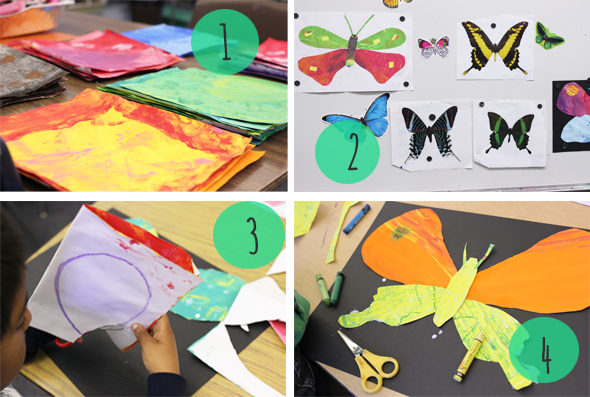 1. Create Painted Paper on sheets of 12″ x 18″ white sulphite paper using liquid tempera paint. Cut papers in half for more manageability.
2. Place photographs of butterflies on a display board.
3. Using templates (I used the wing templates, trace templates (or draw wings) on the back of the painted paper.
4. Glue wings and body to black or white paper.
First Grade Butterflies
Lesson time required: Three @ 40-minute sessions including making painted paper.