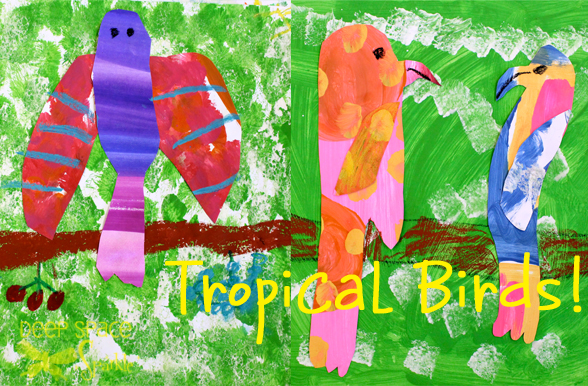 Even though by the end of the year my art room is overflowing with painted paper scraps, I couldn't resist using up my stashes of mixed paints to create this colorful assemblage of painted paper birds. My first graders created these birds in two, 40-minute sessions. A bit of a race I must say, but we created 2 pieces of painted paper (background plus bird) each on day one, and had fun cutting and pasting on day two.
Painted Paper for Background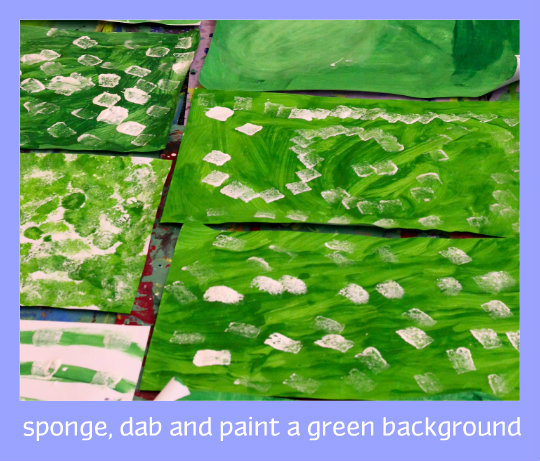 To create painted paper, you'll need 2 sheets of 12″ x 18″ white construction paper per child, tempera paints (liquid tempera is best), big paintbrushes, oil pastels and some plastic forks. Place a layer of newspaper over your workspace, lay down one sheet of paper, set out small tubs of tempera paint and roll up your sleeves!
For the background sheet, place green, yellow and white tempera paint in small plastic containers (yoghurt containers are great). Paint entire sheet with the yellow and green paint, mixing paint and dabbing as you go. There is no right or wrong way to apply the paint, so have fun. Once the base layer is applied, dab or splatter some white paint over the surface. Click here for more painted paper instructions.
Set background aside to dry. Each child should have one background piece.
Painted Paper for Birds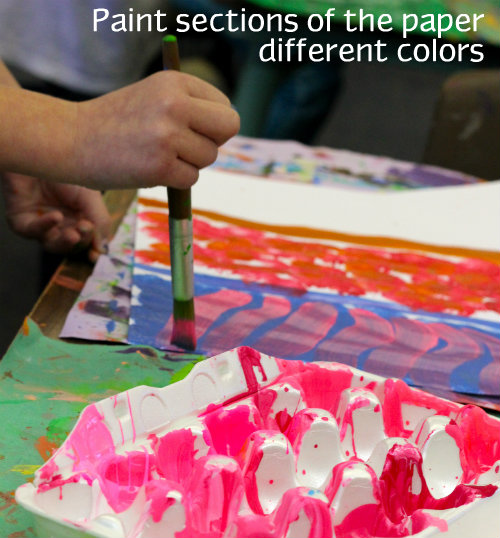 Set out a few more tubs of yellow, blue, pink or red tempera paint. If you have styrofoam egg cartons, they make a great palette for mixing paints. To make more than one painted paper, you can cut the 12″ x 18″ paper in half to form to 12″ x 9″ sheets of paper. If there is more than one child, have them create 2 sheets of painted paper and then share the papers with their group.
Layer one color of paint over the paper and then dip paint brush into another color to make swirls, stripes, dots or zig-zags. Drag a plastic fork through the wet paint to create lines. Adding a layer of paint splatter is always fun, but make sure to do it last.
Creating the Tropical Birds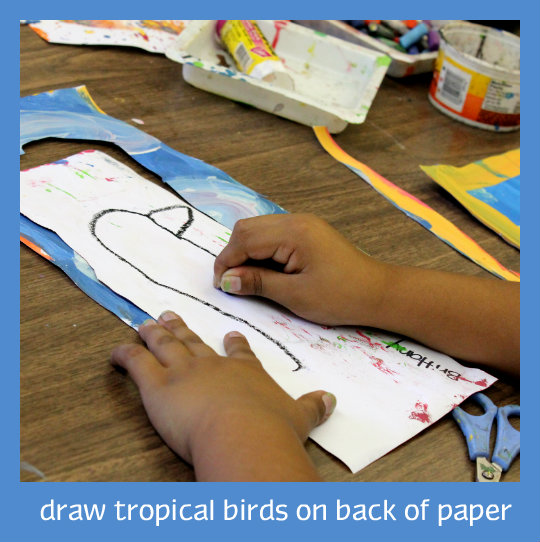 On the back of the colored painted paper, draw a tropical bird. My students use an oil pastel to encourage large drawings. Using a pencil sometimes encourages very tiny images! Follow this tutorial for drawing a bird.
Cut out bird and glue to green painted paper background. By sharing painted paper with others, the child will have more options for wings, beaks and background images.
Enjoy this creative, fun-filled project!
(originally published on Skip To My Lou)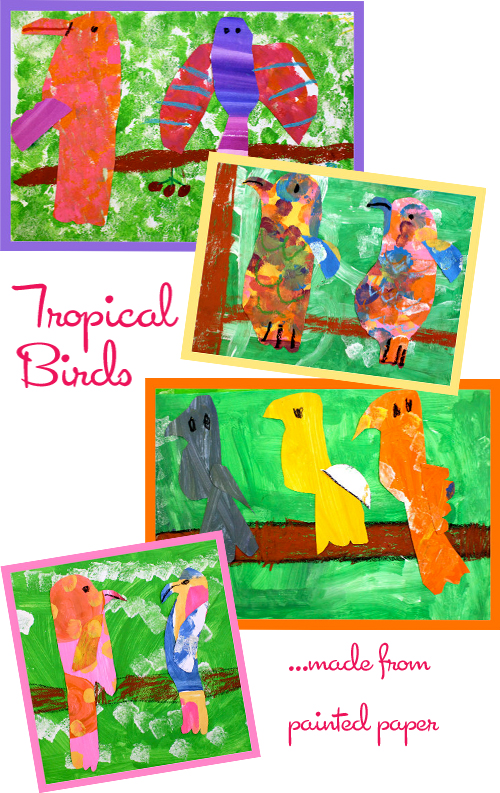 ---
Add this lesson to your tropical art activities! Download by clicking the yellow box below and we'll send you this free PDF on how to draw tropical leaves and flowers.