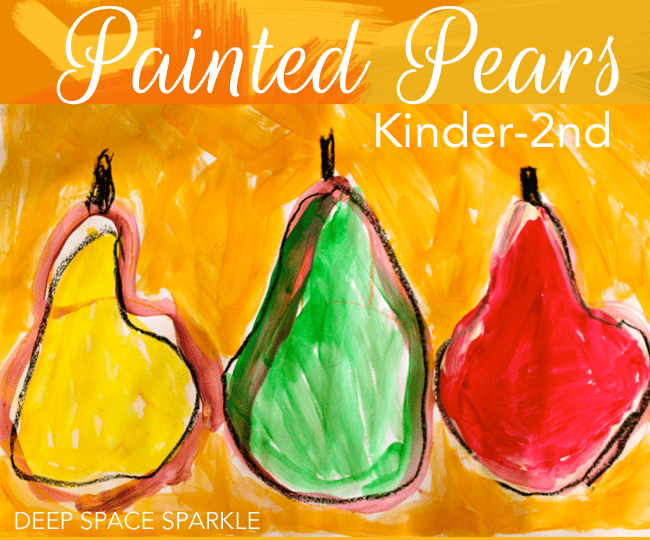 Are you in the mood for some warm weather colors? I thought so.  Although I LOVE the holiday colors and winter art projects, sometimes you need a change of scenery. My little Kinders created these amazing pear paintings in the fall using pre-mixed colors and inspiration from various artists. I researched pear still-life paintings and found a lovely Cézanne, a Van Gogh and a few pieces from new artists. I placed a color photocopy of the pear paintings on the white board and asked what colors the children saw in each painting. We saw pink, red, turquoise, gold, yellow, green, black, brown and even some muddy grey.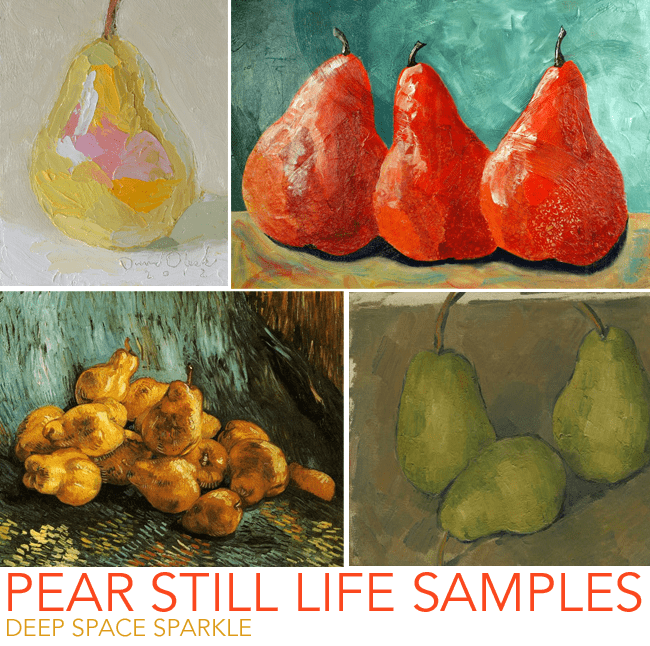 Then we looked at the shape of a pear starting with the big round bottom and moving up to the thin stem.
The composition was the most fun to talk about. The selected artist paintings all offered various compositions and color opportunities for my young group. We noticed that one painting had a single pear while another painting had many pears piled on top of one another. This type of discussion is great to have as it really helps a child reflect on his own work and empowers him to make choices. Which, for my first group of Kinders, is what I offered.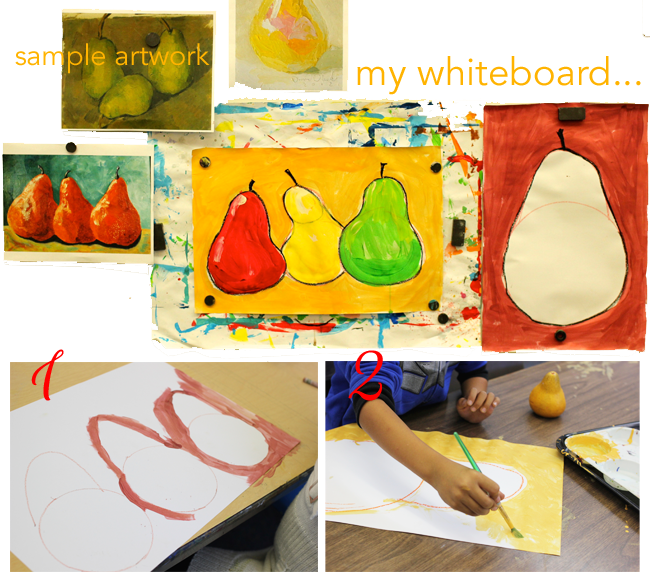 There are two ways to approach this lesson and I will talk about both ways and how the children responded to each set of instructions. But first, you'll need to gather some supplies:
12″ x 18″ white sulphite paper
Yellow or any light colored oil pastel or crayon
Yellow/golden liquid tempera paint (mix yellow tempera with a bit of white and a touch of orange paint. Mix)
Reddish-orange paint (mix red tempera with a touch of orange and a bit of white. Mix)
Lime green paint (Mix green tempera paint with lots of white and a bit of yellow)
White tempera paint
Medium round paint brushes and water
Black oil pastel
For my first class I was eager to see how the children processed the discussion part of the lesson.
How many pears would they choose to draw?
What colors would they use?
I began the lesson by showing the children how to draw a circle for the bottom of the pear and then drawing a little hill on top of the circle for the top of the pear (see image #1 above). Sounds great, right? Not so much. There were many strange looking knobby things protruding from the circles but I didn't say anything. I figured that by the time the children painted the background, the shape would be less severe. I was right.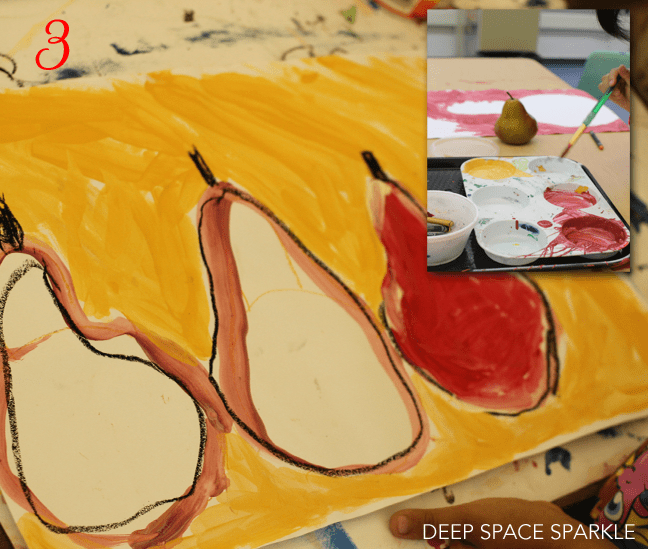 I asked the children to pick their favorite color from the paint palette to paint their background. We looked at the artist samples and noticed that many of the backgrounds were just one color or variations of one color. Then they could choose any color to paint the pears: green, red or yellow. If they choose to paint their one pear with the same color as their background, we adjusted by mixing another color into it to create a new color.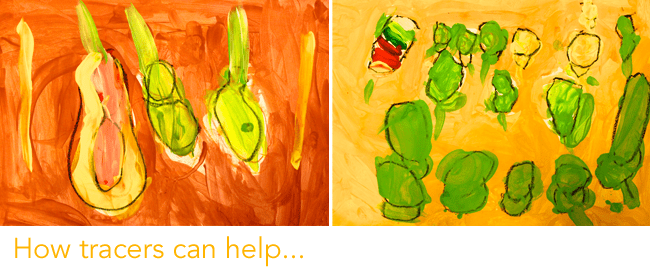 Having already taught one group of Kinders how to draw a pear using the shape method, I was to try something new with the second class. Using a medium plastic lid (multiple pears) or large paper plate (single pear) the children traced the lid to create the bottom circle of their pear.
This really seemed to help with the size. Instead of having dozens of tiny oddly shaped pears dancing around the paper (which is still pretty darn cute), the children now had larger pears which made the painting process so much easier.
This is worth saying again….the painting process is much, much easier for five and six-year olds when the shape is bigger rather than smaller. 
To finish off the project, use a black oil pastel to trace around the outside of the pear. If you have time, explain what a contour line is so that the children won't trace around the circle but instead will trace the pear shape as a whole. Most children understand this. Add a dark stem and a leaf if desired. I love how the children used their paints and brushes to add highlights with the white paint and to also add texture marked like the real artists did. Aren't these amazing? I think my Kinders are art geniuses.