Looking for a quick, theme-based October art lesson for Kinders? This adorable pumpkin art project teaches cutting and pasting skills as well as color mixing. Tina via "Artsy_T Flickr fame" created this lesson that has been enjoyed by many. This is my Kinder classes' version...
Drawing the Pumpkin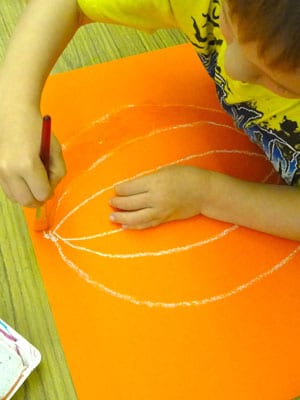 Hand out a sheet of 12″ x 18″ orange construction paper to each child. Using a white oil pastel, draw a basic pumpkin: big oval with lines arcing downwards from stem to bottom.
---
DOWNLOAD a How to Draw a Pumpkin Art Handout
*Click the yellow box below to enter your name and email for access to the drawing handout
Painting the Pumpkin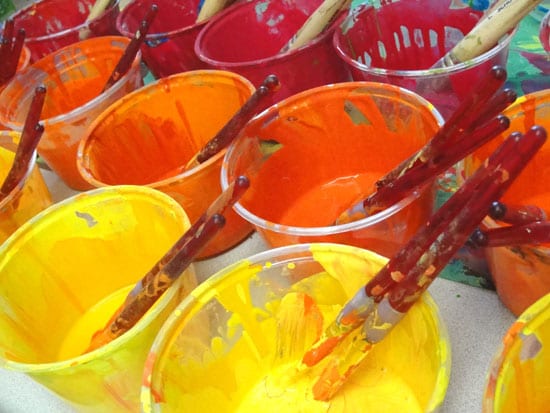 Set out three tubs of paint (either in plastic containers or in 6-well palettes). Place brushes in containers or set brushes on a tray. Show the kids how to mix the yellow, orange and red tempera paints together on the pumpkin. They can paint however much of the pumpkin as they want.
Cut out the Pumpkin & Add the Funny Face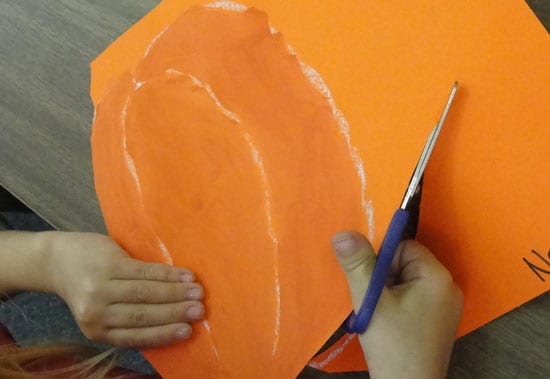 Once dry, cut out the pumpkin shape. Set aside. Give each student a 4″ x 9″ (approx.) piece of white and one piece (same size) or black construction paper. Fold white paper in half, draw an oval on one side and cut out. Glue eyes to pumpkin. Now draw a large mouth on the black paper and cut out. Glue mouth onto pumpkin. Cut two small circles from black paper and add to oval eyes. Now cut teeth from white paper. Add eyebrows and a nose if you like. Limit instruction as far as facial features go. The less teacher interference, the more fun it is!
Kindergarten Pumpkins!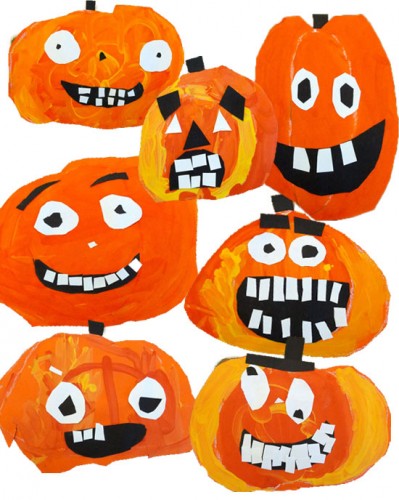 ---
ARE YOU A SPARKLER? These lessons and over 300 art lessons are available inside the Members Club. Access to videos, resources & trainings for one low monthly fee.
CLICK HERE TO SIGN UP FOR NOTIFICATION OF OUR NEXT ENROLLMENT