I had three Kinder classes one year with one of the classes being considered a Transitional Kinder combo. What does this mean?
In California, Transitional Kinders are children who are not yet 5 years old before September 1st. They may be enrolled in Kinder but it's likely they will take another year of Kinder before enrolling in 1st grade. I think I have that right. Basically, it means I have many sweet little 4 year olds in this class.
We've spent most of our art time getting to know the supplies, learning how to paint and practice holding scissors (this is the class who created the fab funny face pumpkins). I'm really proud of their development.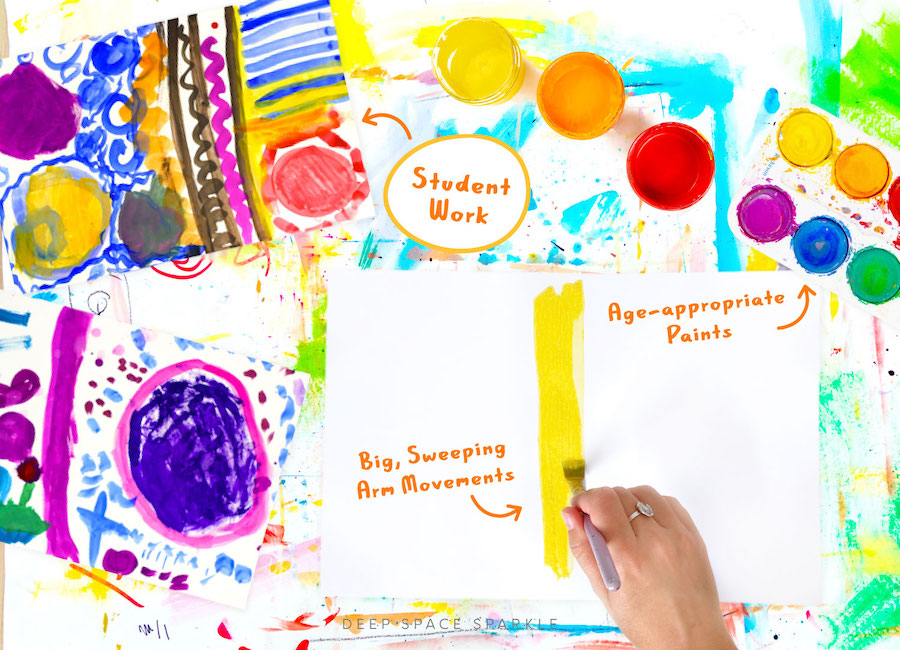 This is the fun part about teaching art; identifying what a class needs and developing art lessons just for them. This lesson's purpose is purely practice. I set out my palettes of puck/cake tempera paints, tubs of water and two size brushes: big and small. On sheets of paper, the children painted skinny lines and fat lines, curly marks and straight marks, circles, big circles and small dots. The idea was to create as many different shapes and lines with our brushes.
As you can see, many children experimented with the various lines but many stuck with picking a favorite color and swirling it around the middle of their paper. I loved both styles and it allowed me to see where each child was at in terms of painting development.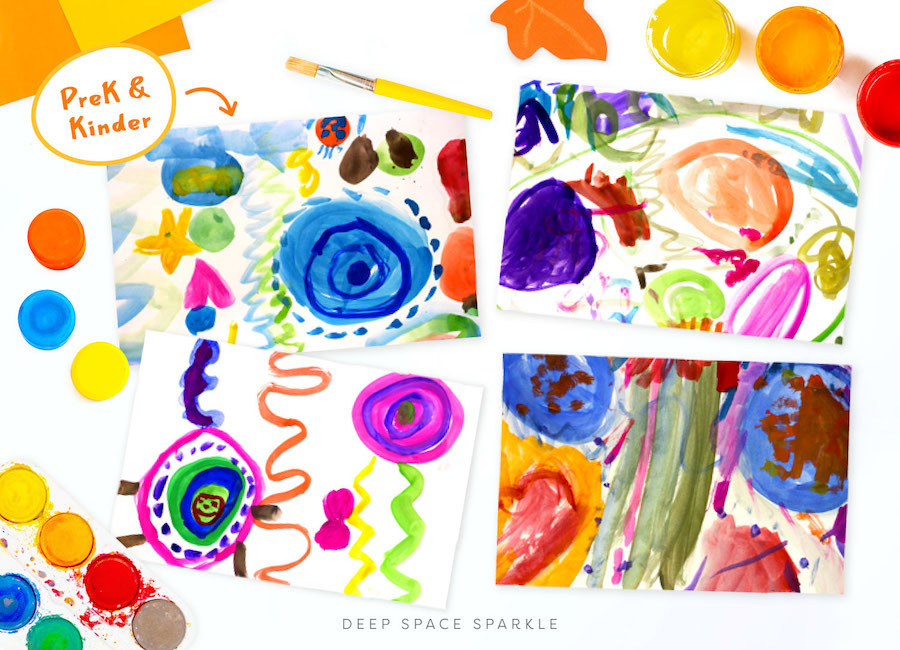 My Tips for Teaching Little Ones to Paint
– Use a good brush. I don't mean an expensive watercolor brush, but a plastic handle brush with smooth bristles. Even kids are sensitive to the experience of using a product that works well. Cheap, stiff brushes are not nearly as good for spreading paint.
– Teach children to use big, sweeping arm movements for broad paint strokes and then small movements for small strokes. Its good for children to experiment with the difference.
– For little kids, lay off the small watercolor pan paints that come in the trays. I like big, fat tempera cakes better.
– Do not fuss about paint colors mixing together in the palettes. It's not the end of the world. There will always be kids who don't clean their brushes well, will dip a blue-covered paint brush into a yellow tub of paint and not be aware of it. When kids get a bit older (end of Kinder and first grade) then you can start teaching paint manners. I do show some kids (the ones who get really upset with their paint partner for mixing paints) how to clean a dirty tempera cake with their brushes or even with a sponge. For the kid who can understand this, it is very empowering and it prevents lots of whining and tattling.
– Use age-appropriate products/paints: Liquid watercolors dispensed in a baby food jar with a single brush in each color, tempera cakes, liquid tempera squeezed into plastic tubs with single paint brushes in each container, 76 lb sulphite/smooth construction paper, and no pencils. Instead use oil pastels for the drawing. Why? Read this.
– Give PreK children lots of opportunity to free-paint. The more they practice on their own terms, the more they will discover.
– Be gentle with the amount of instruction you give to very little Kinders. Small steps, lots of encouragement and happy colors will inspire even the most art-adverse child.
What are your best tips for teaching little ones to paint?
Download our back to School Guide | Resources to help kickstart your art program.
It's a 3-part strategy on how to use the Elements of Arts when planning your art curriculum including ordering supplies, a grade level checklist for the scope and sequence of K-7 Elements of Art and What I'll Learn in Art Class posters.