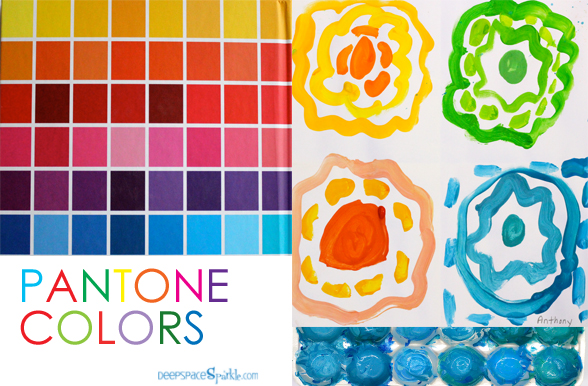 Color mixing is one of the most rewarding paint experiences in art class. Children love to squish, mingle and mix paint until there is nothing left but a big blob of muddy brown. We remedy that by teaching how to make secondary colors and that by adding white paint, they can achieve a myriad of shades.
Abrams Appleseed recently released a stunning picture book, Pantone Colors. Inside the dynamic cover reveals 9 wonderful colors and their glorious shades.
What a perfect aid for a paint lesson! My second graders learned a little bit about the art of selecting colors and wondered what it would be like to be a color selector at Pantone. The book is an exploration of colors and the children loved reading the different names associated with the colors. A few kids made up their own color names.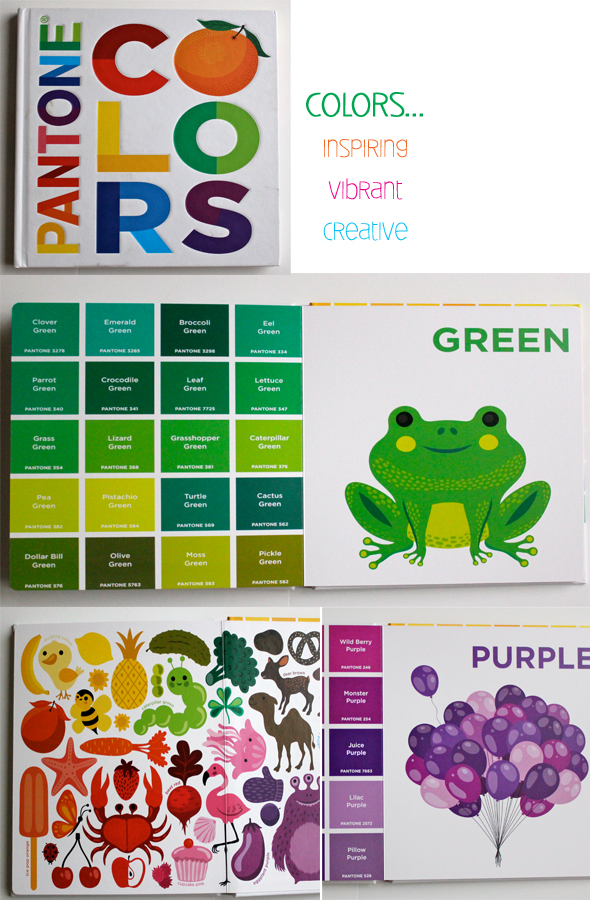 Creating Colors
There is no better way to teach color than to get messy with paint. I used tempera paints and put to use the dozens of styrofoam egg cartons on my shelf.
On each of six art tables, I set one egg carton filled with dollops of colored paint plus white. For example, on table #1, I filled a few "egg holes" with dark blue, light blue and white. On another table, I filled the carton with yellow, orange and white.
Children had the opportunity to mix their own colors using the colored paint, plus adding small bits of white. There was no exact science behind which colors I set out, but if you think about the ultimate goal of the project, it helps to define your palette choices.
For instance, in the "yellow" container, I poured yellow, white and orange paints with the hopes that the children would mix a bit of orange into the yellow to achieve different shades.

Making patterns
I cropped my standard 12″ x 18″ white paper into 12″ squares. The children folded their squares in half and then again to make 4 sections in which they could paint their patterns.
My instructions were to take their paper to a table (color) of their choice and paint a radial design in each quarter. The idea was to start with one color and paint a small design, then mix white into the same color and paint another design. Repeat the process until the quarter was filled with their design. When the quarter is filled, they take their paper and move onto their next table (color) of their choice. They can choose 4 tables.
These instructions are best demonstrated as the process is very visual. Many children will understand that each quarter should contain one color and their varying shades (as the book illustrates) but some children will not be able to help themselves and will add every color to every section.
And who can blame them? It's hard to limit yourself to one color palette!
Second Grade Paint Patterns
I think there are many future Pantone colorists in my art class and perhaps a few fabric designers! Aren't they beautiful?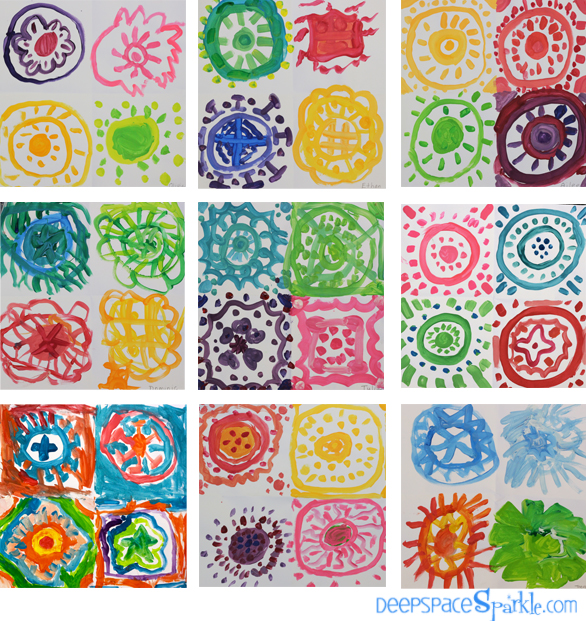 ---
ARE YOU A SPARKLER? Over 300 art lessons are available inside the Members Club. Access to videos, resources & trainings for one low monthly fee.
CLICK THE IMAGE TO SIGN UP FOR NOTIFICATION OF OUR NEXT ENROLLMENT