PAPER PLATE POINSETTIA HOLIDAY CRAFT
With Poinsettias undeniably in flavor for the holidays, this easy holiday craft for kids can vary in paint colors to compliment any season. I'll admit that creating these pink beauties filled my creativity bucket for the day. So grab some paint, a few paper plates from your pantry and crank up the holiday tunes. I guarantee, you'll enjoy this as much as your kids!
This project is perfect for those days during the holiday season when you need a fun activity for your festival of lights unit or holiday unit.
Watch the step-by-step tutorial video below:
Download the December Freebie packet below for easy step-by-step instruction on this project:
Picture Book Recommendation
The Legend of the Poinsettia by Tomie DePaola
This book is set in a small village in Mexico and is a retelling of a traditional folk tale. It does have strong religious content so it may not be appropriate for your class. Each teacher can determine whether it is suitable for his or her classroom.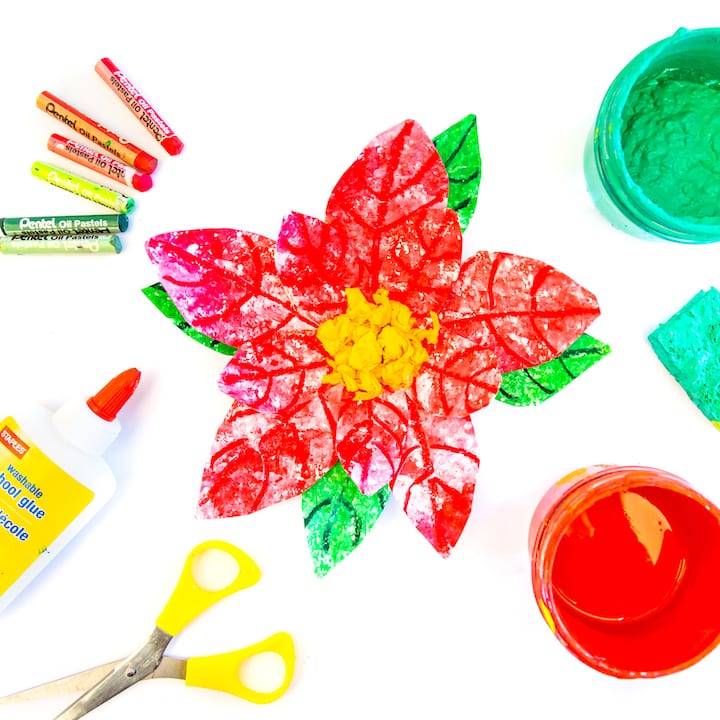 HERE'S WHAT YOU'LL NEED:
– 10″, 9″ & 6″ plate (exact size is not as important as 3 different sizes)
– Red, white, green and yellow liquid tempera paint
– Gold metallic paint (optional)
– Small kitchen sponges (cut a regular sponge into smaller rectangles
– Red, white and green oil pastels
– Paint brushes
– Yellow tissues paper
– Scissors
– Pencil
– Small plastic cup or lid
– White school glue
Don't be alarmed by the extensive supply list. Most everything can be found in your art pantry. I find tempera paints are best but if you have craft acrylic paints (the kind you find in craft stores) then you are great. Curious what the difference is between tempera paint and acrylic paint? Here's a video showing what I discovered: Acrylic vs Tempera Paint.
HOW TO MAKE THE POINSETTIA: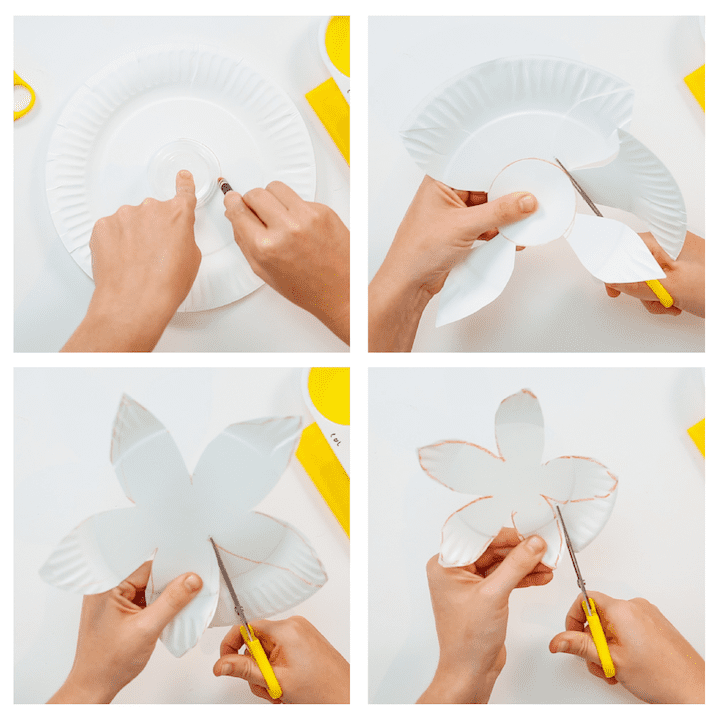 Each student receives 3 paper plates. I use the most inexpensive brand that has not printing on it. It doesn't matter the size of the plants, but it does help to have 3 different sizes: small, medium and large.
Place a small condiment cup or circle template in the middle of the LARGEST PLATE. Draw a circle.
Starting at the outside edge of the plate, cut a leaf shape towards the center circle. Do not cut through the circle.
For younger kids, it may be helpful to draw a flower pattern. Older kids will be fine eye-balling a leaf shape.
The leaf shapes do not have to be perfect and in fact, are more appealing if they are irregular.
Repeat steps for all 3 plates. The largest plate will be the outer green leaves. The medium plate is for the large petals and the small plate is for the smaller petals.
PAINTING THE PLATES: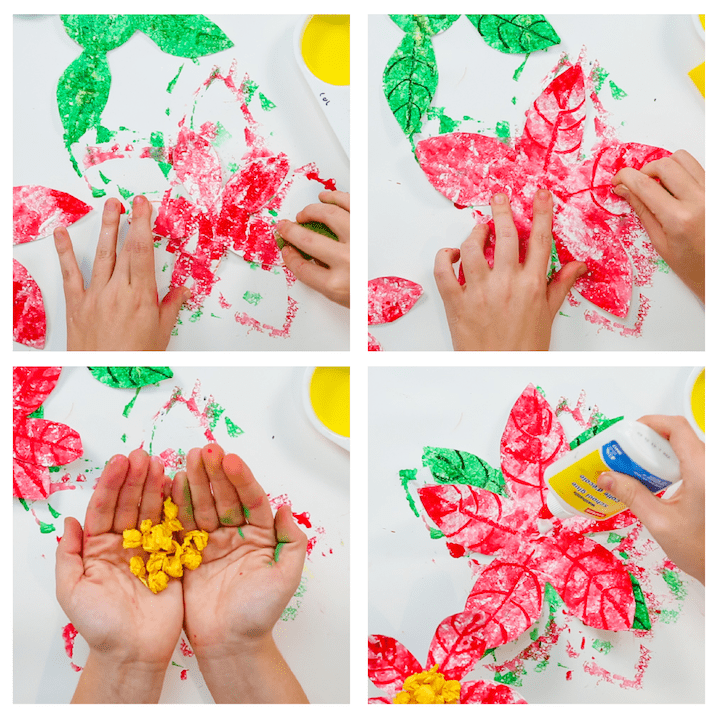 Use the sponges and paint to sponge paint the green onto the large plate, and a combination of red and white paint on the two other plates.
The gold metallic paint can be mixed in to create a glimmer effect.
When dry (about 1 hour) use the oil pastels to draw veins and stems.
Use small tissue paper wadded into small balls to act as seeds. Or use glitter foam sheets.
Glue the three layers together.
As the glue dries, the paper leaves will curl.
THE SECRET TO THIS PROJECT:
The secret to this project is not any special technique but rather the result of buying the most inexpensive paper plates. The paper plates curl when the paint dries adding a lovely quality to the plate. Cool, right?
Click the yellow box below to DOWNLOAD the free PDF on Paper Plate Poinsettia. Add your name and email and we'll send it straight to you!
Give this lesson a try, I'd love to see what you'd do!