Cutting and pasting is a big deal in Kindergarten. Learning how to manipulate paper into shapes and then into a picture is an even bigger deal. It doesn't matter what the subject is: a house, a sailboat or skyscrapers, the technique is the same.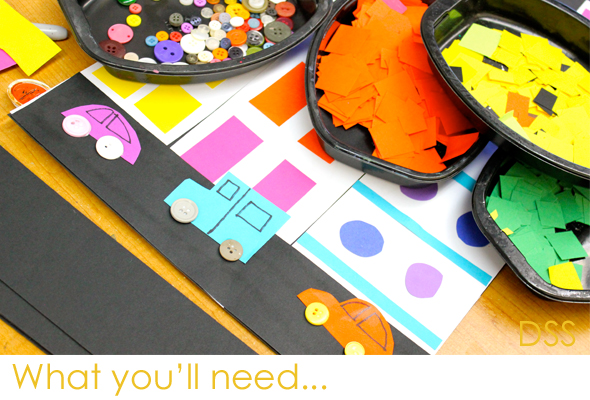 Start by giving each student a sheet of 12″ x 18″ black sulphite paper, a sheet of 12″ x 18″ white sulphite paper, a bowl of scissors, some school glue (or a glue stick) and some colorful paper scraps.
The first step involves talking about a skyscraper. I have the most wonderful book that I bought at a book sale Skyscrapers: A History of the World's Most Extraordinary Buildings
. Although the text is detailed, the photographs are a wonderful resource for the kids. The  book is tall and lends itself well to the lesson.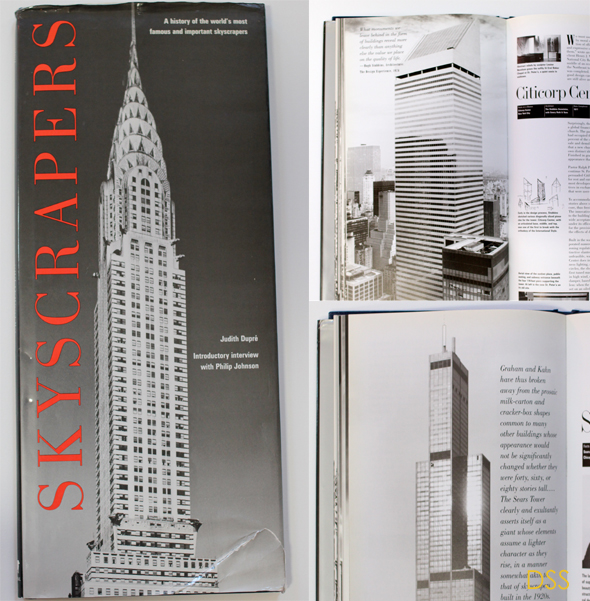 I already spoke about the loveliness of The Shape of My Heart
 and like I said in my review, there are many art projects other than Valentine's Day in which to use this book as a great visual resource. This is one such lesson.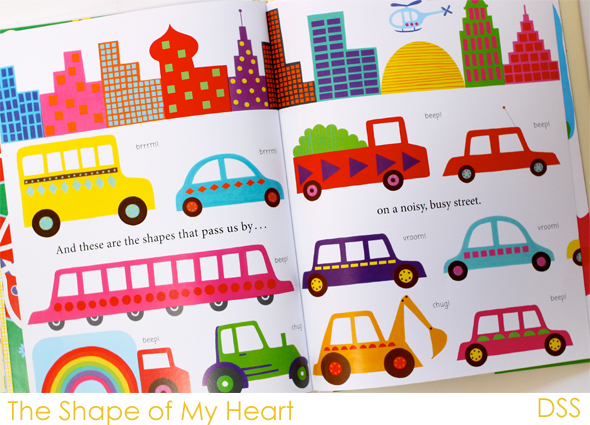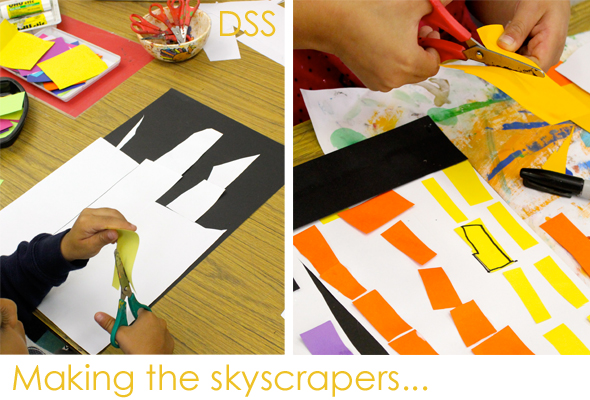 To make the white skyscrapers, the children cut their white paper into 3-4 sections lengthwise on the paper. Then, they alter the tops of the resulting rectangles by cutting out towers, adding a slanted roofline or just making the rectangle shorter than the others. Glue the rectangles (skyscrapers) to the black paper, leaving a strip of black paper at the bottom. The edges of the rectangles will be choppy, but don't worry about it. If you were doing this lesson with older children, they could use a ruler to make the skyscraper sides straight, but for 5 year olds, this is not important.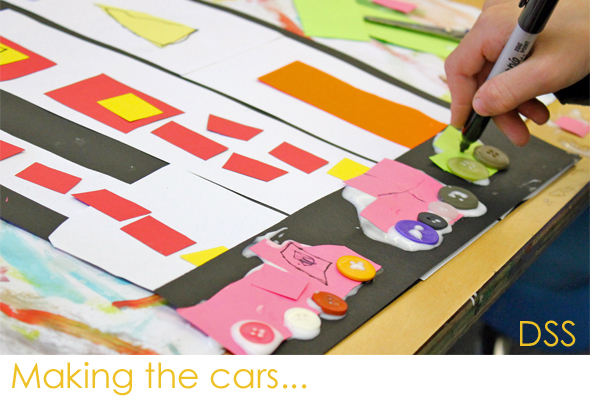 The younger the child, the harder this next task is to accomplish: making windows and doors. I demonstrate how to cut small squares and rectangles, using different colored pieces of paper, but if a child only has enough stamina to complete one or two of the buildings, that is a success. Don't underestimate the concentration needed by these little ones to cut the dozens of windows necessary to fill a skyscraper.
Once windows and doors are glued on, children can start making cars. I draw a few shapes on the white board, but mainly I stress that any shape is fine. To make wheels, I don't subject the children to cutting tiny paper circles (they would revolt) but instead place a small container of buttons on each table. The buttons make lovely wheels. To add details, use a black marker.
Didn't they do a lovely job?