Matryoshka dolls are wooden nesting dolls originating from Russia. They are handcrafted by folk artists and often feature a woman wearing a traditional Russian dress and scarf. Many dolls seen today can carry many themes ranging from political leaders to cartoon characters. For my second grade students, these nesting dolls are the perfect vehicle for a lesson in line and pattern.

Supplies
2 sheets of 12″ x 18″ white paper
Black waterproof marker
Colored broad tip markers
Scissors and glue
Tempera paints (I used cakes for this lessons)
Big tip brushes
Drawing the Matryoshka
I used templates to trace the outside line for the Matryoshka. I found a simple pattern online and used it as a guide. Of course, you needn't use a template but the focus on this lesson is developing patterns and creating a warm/cool background, so I didn't mind the creative interference.


The fun part of this lesson is teaching the children how to place the graduating sizes of doll templates on top of one another and knowing which template to trace all the way around. Ideally, the smallest template should go in front and the largest in back. It's a real trick making sure you don't trace all the way around the largest template. I was pleased that almost every child grasped this concept. Progress!!! Some children used a round container to draw the face while others drew freehand. Either way is fine.


I handed out a sheet that gave some ideas for patterns. I demonstrated on the whiteboard how to connect the lines from one side of the doll to the other and to make their lines purposeful instead of scribbling.
Once all the patterns are complete, cut out the contour line of the dolls.
The background

On a separate piece of white paper, paint either warm or cool color stripes. I've been focusing many of my beginning lessons on warm and cool colors and have a color wheel on my white board for easy reference.
I think it's tricky for many kids to identify warm vs cool colors, so the more we practice and incorporate into art lessons, the better it is for them. You could abandon this step all together and place your cut-out matryoshka on some colored background paper. It would be equally as beautiful.
Putting it all together

It's okay to have lots of white paper showing. Children needn't color in every single element. Sometimes it's more effective if they don't.
Second Grade Matryoshka Dolls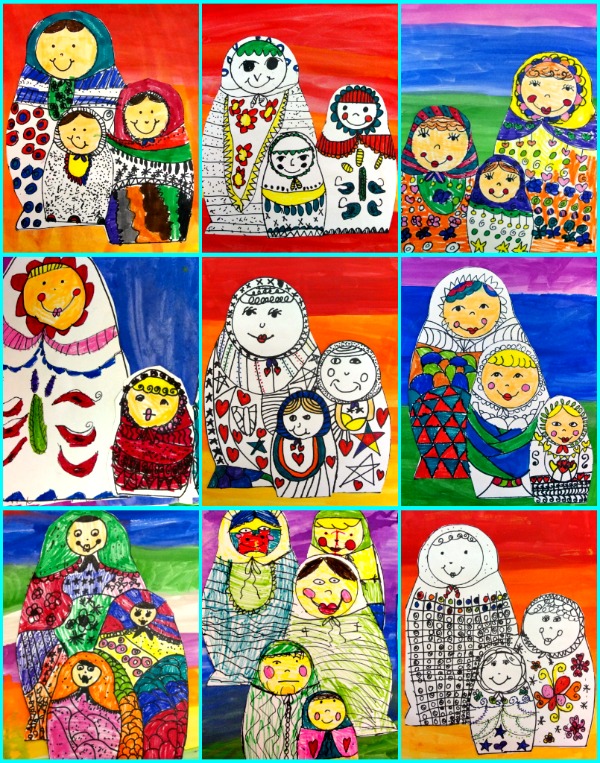 Enjoy!