PAUL KLEE ART LESSON
Paul Klee has quickly become one of my favorite artists to showcase in my art room. Purchasing The Cat and the Bird
 by Geraldine Elschner and Peggy Nille is a big reason for this excitement. It's so much easier holding up an exquisitely illustrated picture book than coming up with my own powerpoint or dry explanation of an artist.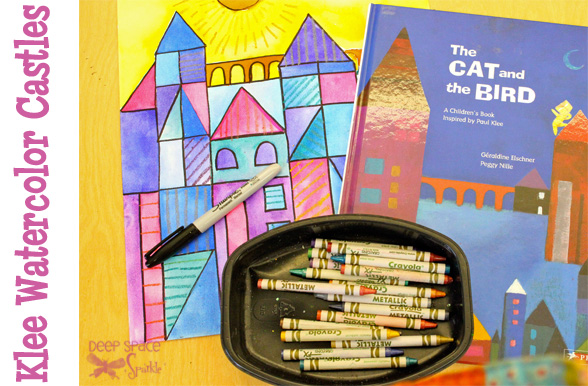 Although the story is best for children ages 5-8 (and is the most perfect companion book to Klee's Cat and Bird painting), I emphasized the warm and cool castle drawings in the book for my fifth grade students (10-11 years).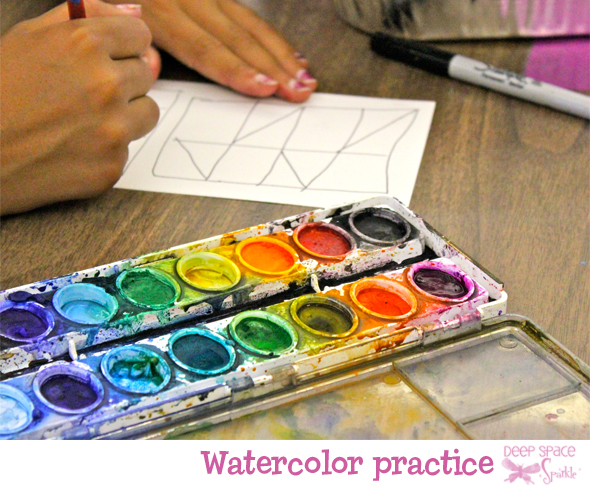 After thumbing through the illustrations (I didn't read the story to this age group), I brought out some of Klee's works and spoke about warm and cool colors. I passed out watercolor paints, scraps of watercolor paper and a waterproof marker. The students practiced drawing quick rectangular shapes and then painted warm or cool colors into those shapes. It's tricky painting small areas and it takes a lot of practice to do well. I don't often do a watercolor lesson with a pen drawing as it's very hard to contain the watercolors. That's why I use oil pastel in most lessons. It's way easier for children to be "successful".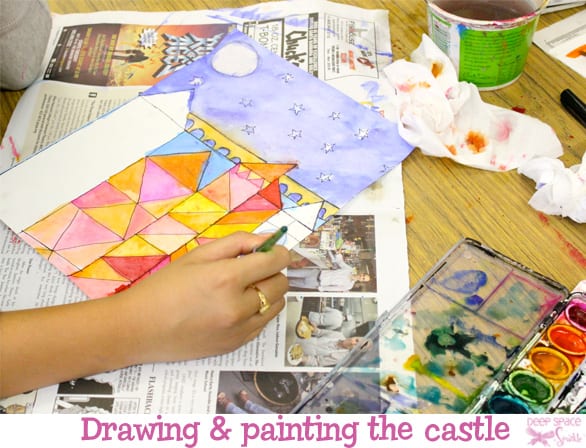 After the practice session, the children were given a 9 x 12 sheet of 90 lb watercolor paper and a thin-tip waterproof black pen. Starting from the bottom of the paper, they drew tall structures topped with triangle roofs. I used cardboard templates to assist with drawing the rectangular shapes. I prefer templates to rulers as I don't want the children measuring and getting to caught up in making things perfect. Once the structures were in place, the children drew a moon or sun freehand.
Using trays of watercolor paint, the children painted their structures with cool colors. Was this easy? No. My students still have a really hard time distinguishing warm and cool colors or at least they find it hard to stick with a color group. I don't blame them. It takes discipline. I don't see a problem with allowing the children to use their own color choices unless you needed to grade a child's ability to distinguish between warm and cool colors.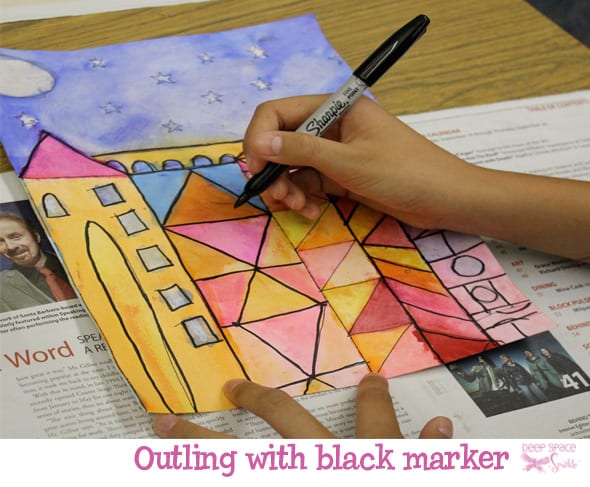 It is important to note that after the watercolor application, I had hoped to be finished with this project but as the children were handing me back their "finished" artwork, I knew that the project needed one more step to complete their Paul Klee art….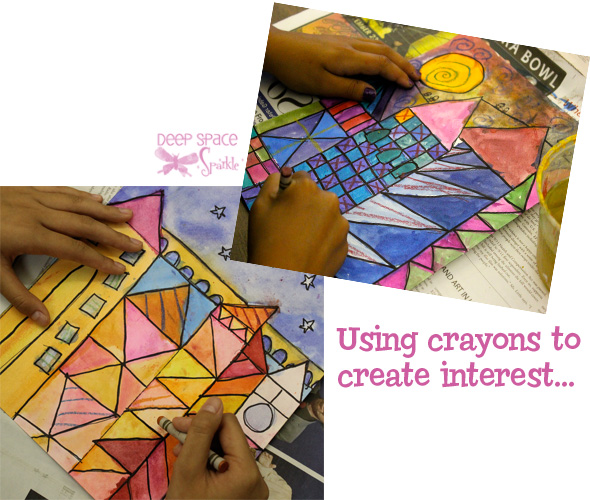 Although the students followed my project instructions, I sensed that they really didn't enjoy this project or that they didn't particularly like the outcome of their efforts. To remedy this, I decided that a stronger outline and a few patterns inside the structures would make the project more appealing. I set trays of Crayola Metallic crayons and thick waterproof Sharpie markers on each table and demonstrated how to trace over the marker lines and add interesting details with the crayons. After the children completed this last step, the project went from ho-hum to wow! I could see how this extra step made the art process fun for this group of kids.
Didn't they do an amazing job on their Paul Klee art?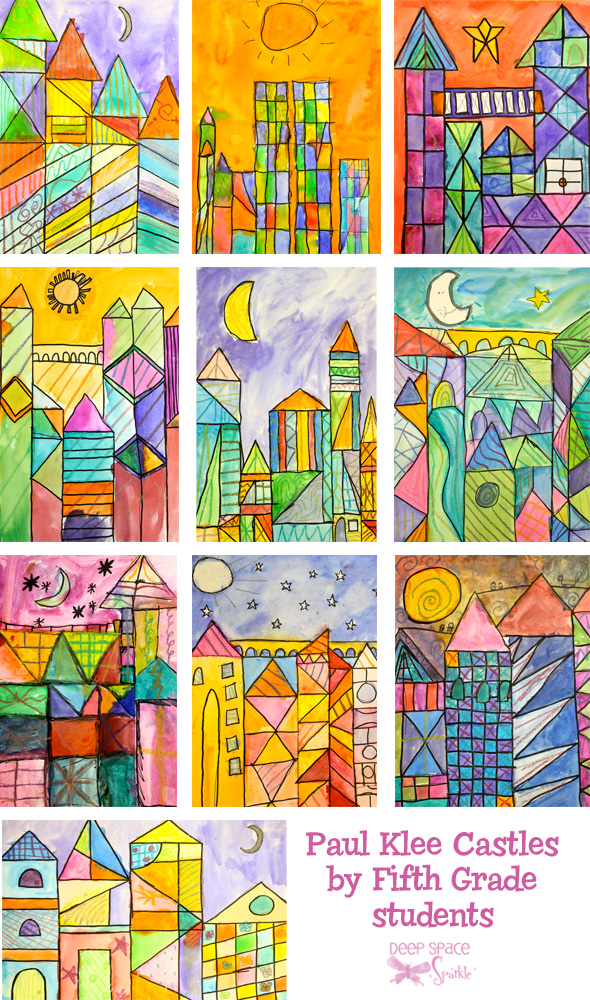 Total class time: 2 1/2 50-minute classes.
For more Paul Klee art lessons, check out our shop HERE for the Paul Klee Artist Bundle