Peacocks are truly glorious. I saw one roaming around on a recent trip to Maui. Just sauntering along…not a care in the world. I experimented a bit with this lesson before introducing it to my first grade classes. I tried cutting the peacock out (reinforces cutting skills) but this would involve an additional step of gluing the peacock onto another sheet of paper.
Instead, I painted the peacock onto a large sheet of paper. The large paper size was a big thrill for the kids (18″ x 24″) but truly, I think the project would be equally as impressive and fun for the kids with a smaller sized paper.
Here's what you need…
Black Oil Pastel
18″ x 24″ Construction Paper (I used green)
Gold, bronze, blue and red metallic liquid tempera paint (use metallic oil pastels or even metallic crayons for the same effect…or perhaps foil wrapping paper.)
Green, light blue and navy blue liquid tempera paint
Scrap piece of white paper
Brushes and damp sponges
Drawing the Peacock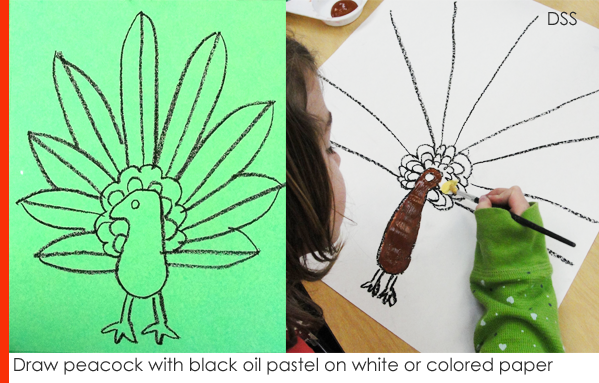 Using the black oil pastel, begin by drawing a dot or small circle near the bottom of the paper. This will be the eye. Here's a trick for good eye placement: set your hand flat on the bottom of the paper with your thumb touching the bottom edge. Then, where your pinky touches the paper, draw a dot for the eye.
Draw a body around the eye. Add legs. Add bumps behind the body and finally, add big, big feathers extending all the way to the outside edges of the paper.
Painting the Peacock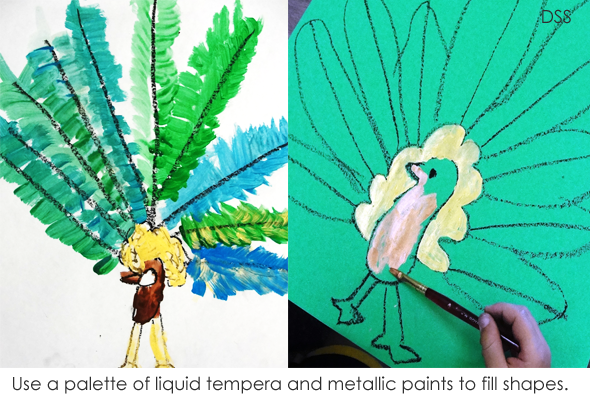 Paint the body with one color of metallic paint and the bumpy feathers another color.
Paint the long feathers using one or two colors (i.e. light blue and green). Then, with the third color, paint the veins of the feathers. Since the paint is wet, the blues and greens will blend together creating beautiful turquoises and deep shades.
Adding the "Eyes"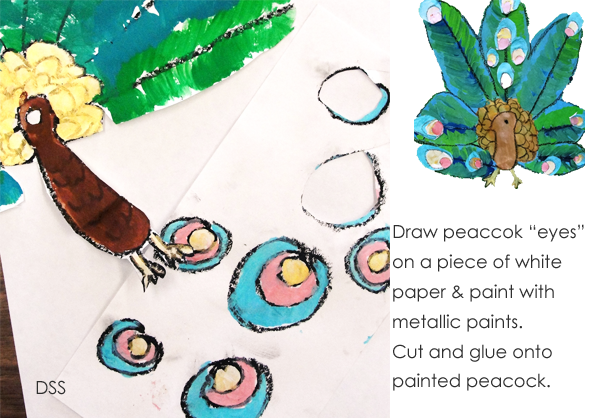 Using a scrap piece of white paper, draw a bunch of concentric circles using black oil pastels. Paint the circles with red and blue metallic paint. Cut out and paste on peacock.
First Graders proudly displayed their beautiful peacocks…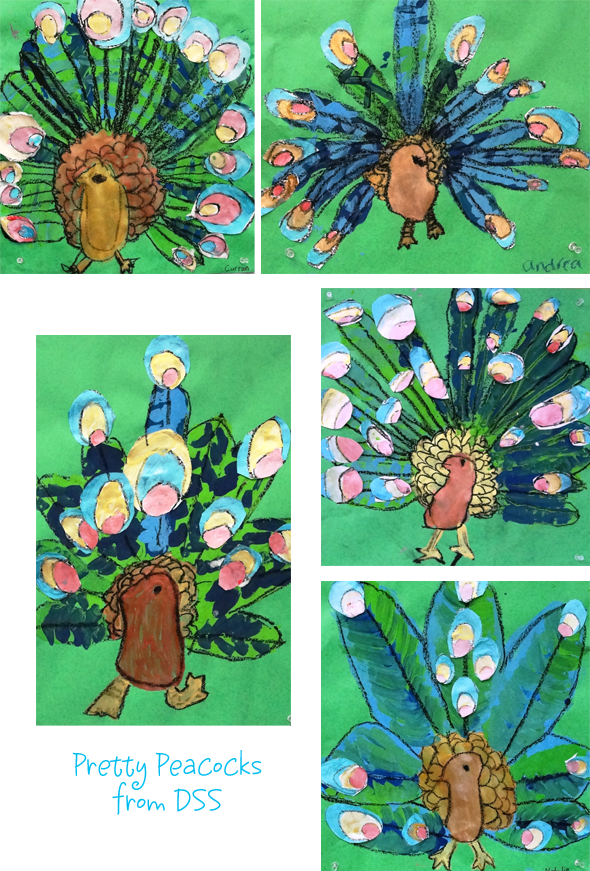 ---
ARE YOU A SPARKLER? These lessons and over 300 art lessons are available inside the Members Club. Access to videos, resources & trainings for one low monthly fee.
CLICK THE IMAGE TO SIGN UP FOR NOTIFICATION OF OUR NEXT ENROLLMENT