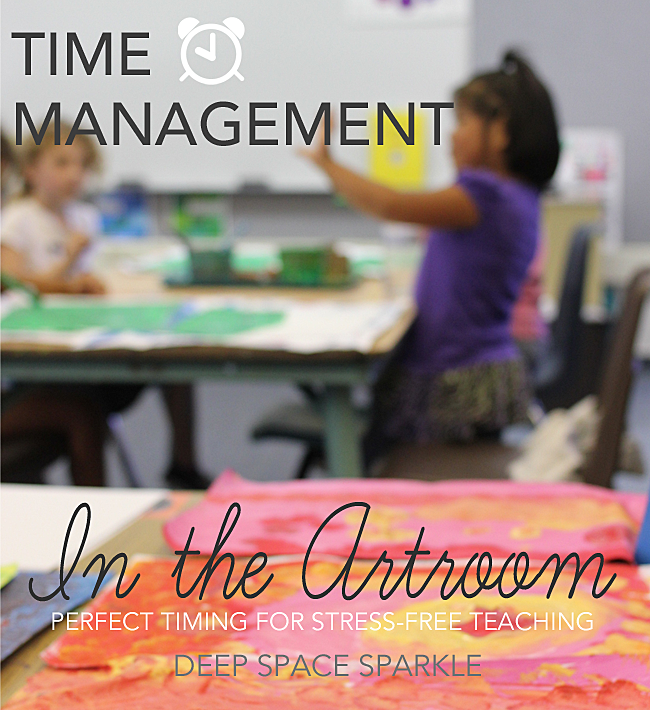 It's the question everyone wonders about. How do you teach an art lesson so every child finishes at the same time?
Can it be done? Not really, but you can create a classroom so that everyone is working.
Children process information at different rates and children work at different speeds. This is true for adults and so it must be true for children. Intellectually we know this yet we still yearn for art room nirvana. This is the time of year that I experiment with my lesson delivery and timing plus learn to adjust to each class's needs. It's also the time when I'm the least effective with managing a timeline. And this is okay. I need to get to know who the kids are, if as a collective group they can work independently without chaos or if they need a bit more structure. I can have multiple classes within each grade level and I will treat the timing differently with each class.
Here are the things I think about and assess:
Are the majority of the kids in the class able to follow multi-step instruction? This may take a lesson or two to determine.
Yes: I do a demo at the beginning of the class that lasts between 7-10 minutes. This usually covers all the steps needed for the first part of a 2-session project or all the steps for a 1-session project.
No: Divide the demo into two sections, one at the beginning of the class and one at the middle. Or if the group really lacks in focus, I slow it way down and just do one slightly longer but easier demo. Going slower is often far less stressful for both the kids and the teacher. Put on some calming music and just let art unfold.
Are there many distractions during class? This can include late arrivals from inclusion student groups, pull-outs, or teacher/aid switches.
Yes: There is not much you can do with a school schedule that is designed to help each child reach his/her potential. For many students art isn't the most important subject. Don't take offense to this. There are some very real and hard challenges for kids in school and getting to art class on time might not be on the top of the list. Don't take this personally, just do the best you can. Welcome the student as if they were exactly on time but don't start the lesson demo from the beginning. If a child is consistently being pulled out for testing, don't make it his fault. I used to get a little huffy because I knew I would have to re-teach the lesson over again or I would feel badly because I wouldn't be able to give this child the extra attention he would need to finish a project. Then one day, I let it go. I allowed the student to re-enter the classroom without commotion. As soon as he sat down at his desk, his table-mates got him caught up with the lesson.  Most kids are truly kind and tolerant if you allow them to be.
No: The majority of my classes (⅔) don't have any major disruptions due to special schedules, so I make sure I remain grateful!
 A Typical Art Class Timeline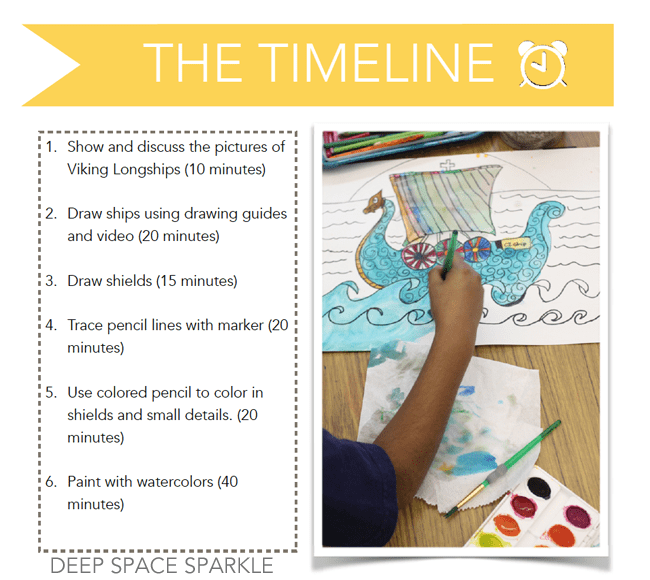 Before teaching any lesson, I generally have an idea of how long a lesson will take an average student. There will always be students who rush through the steps and some who will take forever. It's not my place to judge or change a child's natural behavior but I can offer suggestions. Although it's probably best to err on the side of caution, you don't always have to assume that a child is happy finishing in lightening speed. He just may not think he has it in him to do a good job.
If you have the opportunity (which I hope you do!), sit down with the fast worker and talk about ways he can add detail. You may approach this by demonstrating a cool technique that you didn't show the rest of the class, or bring out a different art supply to add an extra element…basically anything to get the child to slow down and consider what more he could do.
In the above lesson, Viking Longships (available inside The Sparklers Club), some of my students rushed through the painting of the water. I brought out some chalk and showed them how to add value to the waves and shadows long the hull. They loved this and worked a bit harder.
Free-Choice Art Time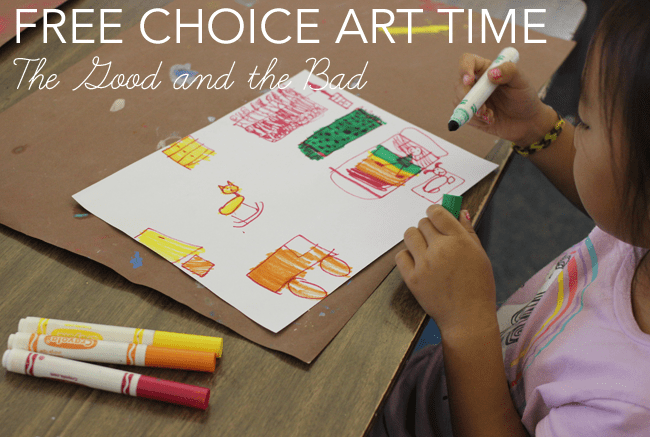 I have a station set up in one corner of the art room for free-choice art time. Kids can grab one piece of paper, a few markers and draw whatever they like. At times, some kids can't wait to get to the "free choice" station and this leaves me wondering if the featured art project was engaging enough.
For the on-task students who use their time effectively, the free choice time is their version of downtime. They can write a letter to their friend, invent the latest quiz for lunchtime entertainment or simply practice drawing something they like.
Kinders usually repeat the very same lesson over and over again. If the art project was learning to draw a pig, they will use their free-choice time to draw a pig.
On the other hand, free-choice time can be a reason to rush through a piece of art. To combat this, I usually ask a child to show me his work and tell me what they like and ask question just to get them thinking about their piece. Often a child will come to the conclusion that his piece isn't done and will go back to their table to finish. This happens more often than not, so give it a try if you suspect a kid is just rushing through to get to free-choice.
This year, my group of Kinders need a bit more time processing through multi-step projects. Instead of having the children go to the free choice table after they finish step one, I ask them to sit on the carpet and look through one of my art books. I have some pretty cool books in the front of my classroom for this and I have noticed a far calmer transition into the second step of a lesson.
The Benefits of Portfolios

At the beginning of the year, I make an art portfolio for each student. Of course, they can do it themselves. Basically, the portfolio is just a piece of large paper folded in half. I put their name, teacher's name and grade level on the upper right corner.
After each class, I put the art work in their portfolio. When a student has a few minutes at the end of the class, they can get their portfolio and start any unfinished work. I shouldn't make it sounds this simple. You have to plan. Early in the school year, I did a series of post about which projects to start the school year off with. (You can find the series here.) I always suggest starting with a line drawing or something a child can continue working on. Line drawings are hard to complete in one class time. And since they only require a black pen, completing a line drawing is the perfect project to work on if there is extra time at the end of a class.
Directed Line Drawings
I love directed line drawings. They have many benefits: develop listening skills, enrich vocabulary, teach shapes and relationships, and on and on. Students love them too. But of course, they can be a bit contrived. But everything in moderation, right?
As far as keeping timing under control, directed line drawings can't be beat. If you teach the lesson well, meaning provide easy to understand steps and samples, the kids will be enraptured.
This type of lesson keeps everyone on the same page. They're moving at the same pace…some kids wait a bit for others to catch up, but basically the class stays together. Once the drawings are done, I like to set out paints or other coloring materials on another day.
Making a clean break is lesson steps means that everyone is at the same place the next time you see them. It might help you to teach a few directed line drawings to get the rhythm of the class and to see how much time children need.
Here are a few Directed Line Drawings that work really well:
How to Draw a Pig Koi Fish Painting for Upper Grades
What does your timeline look like? Do you struggle with getting kids to finish at once? 
---
New to teaching art in the classroom? Download my free classroom art teachers toolkit by clicking the yellow box below!