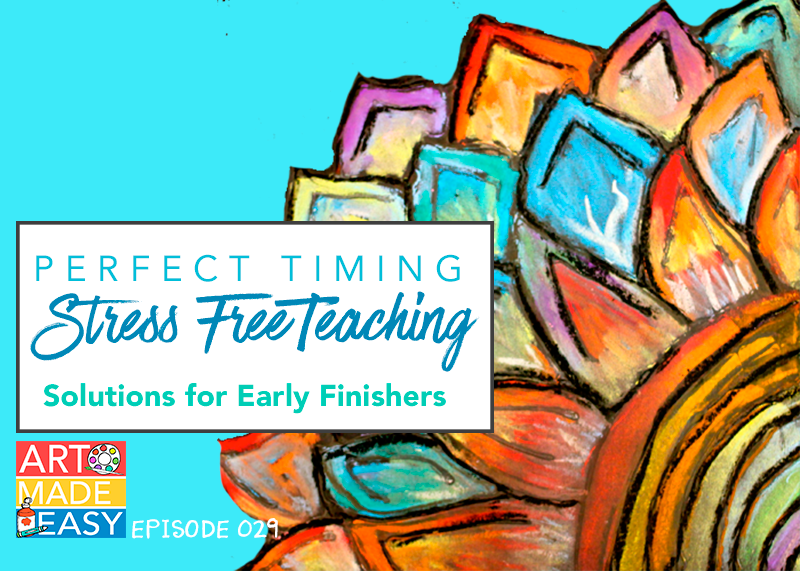 Do you get frustrated when your students rush to finish a project to work on free drawing or a coloring sheet?
Do you find you are constantly being challenge to find solutions for early finishers?
In this episode of Art Made Easy, I walk you through strategies to help your students finish an art project during the scheduled time plus tips to help you assess your lesson timelines, free choice activities and grade-level projects.
---
IN THIS EPISODE YOU'LL LEARN: 
Why you really need to step back and look at the reasons why timing is problematic in the first place
What to expect when kids begin art projects
How providing predictability in what your children can expect in the art room can go a long way in gauging how long it will take them to do a certain task
How demonstrations can be used before, and during a lesson, to grow the listening and attention skills of your students
Why your reaction matters
The benefits of sticking to a lesson that was tested for that grade level
Why setting up as many limitations as possible for the "perfectionist" student is the best thing you can do
How to use free choice time effectively
Why portfolios can be a good alternative to free choice
The benefits of directed line drawings and how they can be used to help get a handle on how long children are able to work on a project
Patty's strategies and script for teaching a direct drawing
---
Subscribe to Art Made Easy and receive new episodes directly on your phone via your podcast Ap. 
Note: If you have an iPhone, subscribe in iTunes. If you have an Android phone, subscribe in Stitcher.


---
SHOW NOTES
Draw & Paint a ¾ View Snowman Art Project
How to Draw a Snowman without using Circles Art Project
AME 025: All About Guided Drawings
All About Free-Choice Art Time