"PETUNIA" PAINTING PROJECT FOR KIDS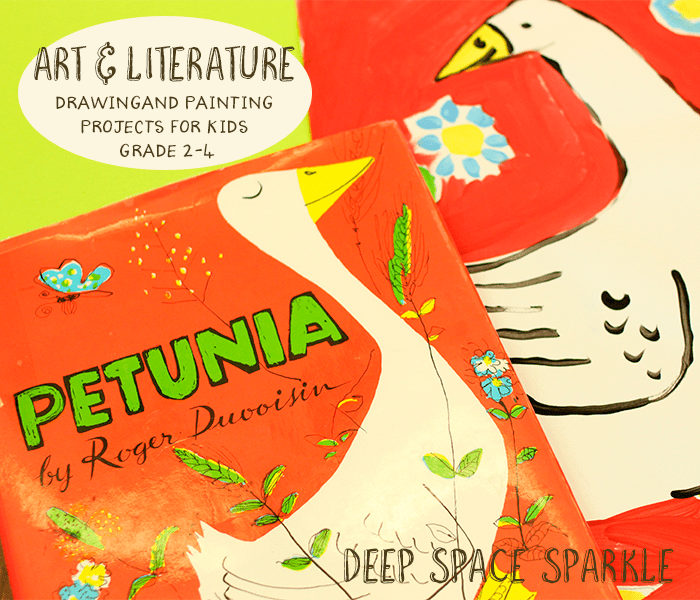 Incorporating literature into art projects remains my favorite type of lesson.  Last year, I introduced Petunia
 to my third grade students. Using a painting project technique that I call smoothing, my students sketched a goose with pencil then  painted with happy colors, just like the book.
Don't have the book? You can download this delightful video found on YouTube:
WHAT YOU'LL NEED:
12″ x 18″ white sulphite paper
Pencil and Eraser
Red, yellow, white, blue, green and black liquid tempera paint (I use Crayola)
I medium tip round brush
1 small tip round brush (for outlining)
Black marker, black crayon or lack oil pastel as optional outing supplies.
DRAWING
I photocopied a few pages from the book and placed on the children's tables. Using observation techniques, the kids practiced drawing their own Petunia. I encouraged them to make a dot near the top of the paper and one near the bottom. The dots provided guidelines for where to start the head and where to place the feet. This ensures the goose will be drawn large enough to fill most of the paper.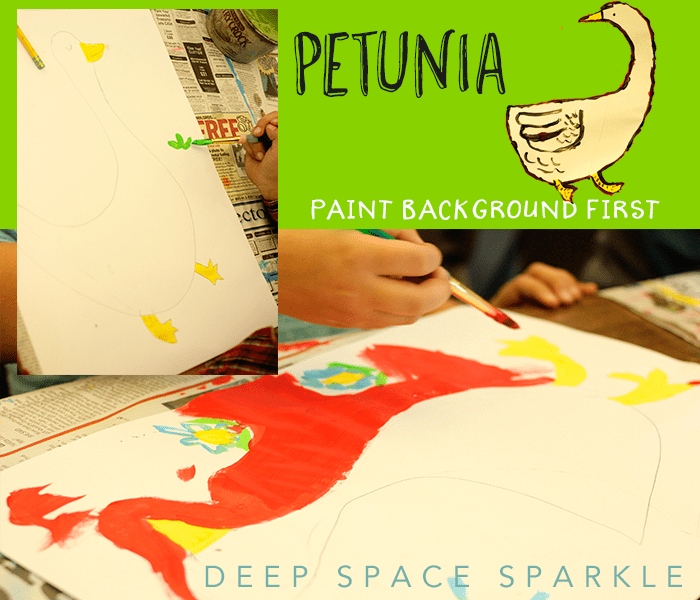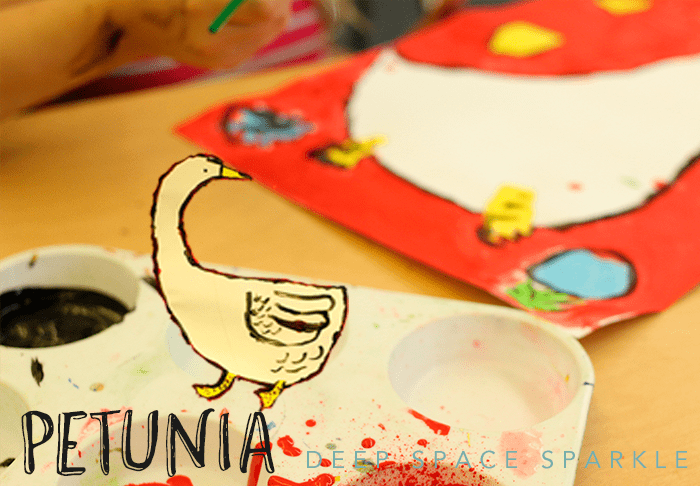 PAINTING
Once the drawing was complete, children dipped a medium paint brush in the red paint and painted sections of the background paper. We used the smoothing technique to achieve a smooth paint finish. The children carefully painted around Petunia and the spring flowers.
After the background was complete, the children painted the flowers and leaves with a collection of green, yellow and blue paint mixed with small amounts of white. This created TINTS and resembled the illustrations found in the book.
OUTLINING
Once the paint is dry, children can use a small pointed brush dipped in watered-down black paint to outline Petunia. Notice how the children didn't paint Petunia white? The white paper offered enough contrast so that painting the goose white seemed unnecessary. Although, children can paint their goose if they wish.
If you don't like to use black paint to outline, you can use a thick black marker or even a crayon. Experiment and see what medium works best for you.