Picasso faces are a fun way for students to experiment with color, shapes and patterns. Depending on how much time you have with your students, you may choose one Picasso face project over the other.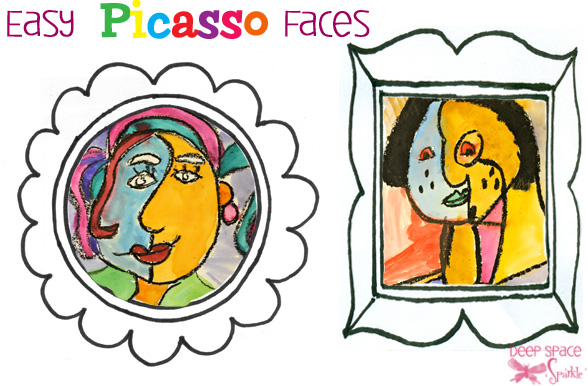 Everyone is looking for a quick and easy art lesson that children can complete in under 45 minutes. This oil pastel and watercolor painting fits the bill! The supplies are simple: 9 x 12′ 90 lb watercolor paper, black oil pastel and liquid or pan watercolor paints. Start by showing how to draw a simple "Picasso" cubist face. I did a similar lesson with older children and I used this drawing technique. Allow about 15 minutes for the drawing, stressing bigger shapes and strong lines. I have many Picasso samples on the white board for inspiration.
The oil pastel, if applied heavily, will act as a barrier to the liquid watercolors, creating small areas in which the watercolor can pool. So technically, this isn't really a resist technique. Use a small piece of watercolor paper so that you can be sure to finish on time and don't worry about oil pastel smudges. Most paint colors will hide fingerprints beautifully!
Enjoy!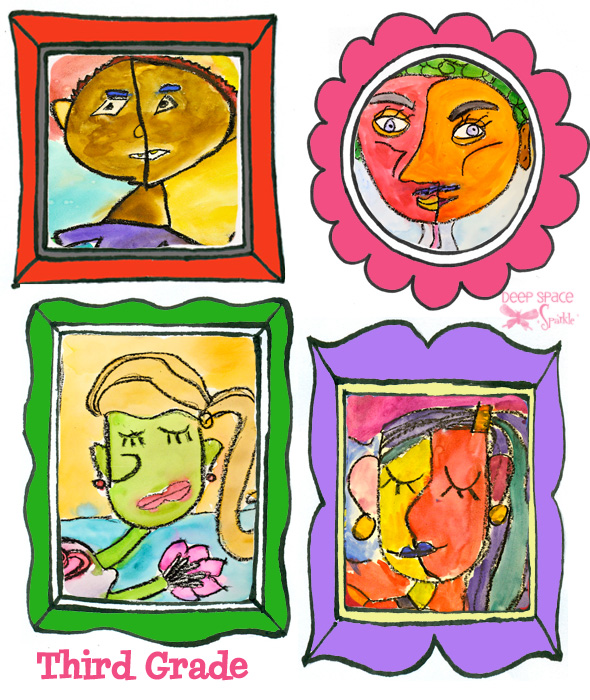 ---
Picasso Faces with Tempera Paint
This lesson is a fun substitute to regular portraits. First, the kids looked at pictures of Picasso's portraits (Portrait of Marie-Therese and Portrait of Dora Maar) and studied the shapes and patterns Picasso used. They loved Picasso's way of drawing the facial features.
Then, following a directed-line drawing the kids drew a head, neck, body and hair with a black oil pastel on white construction paper. Using colorful tempera paints, the children painted the different sections of their portraits, making sure they used two colors for their face.
After the paint dried, they cut around the black line and used Mod-Podge to apply the face to a colored piece of construction paper. To use the Mod-Podge correctly,  brush a small amount on the construction paper first and then apply the face. Adhere with another layer of Mod-Podge.
Set aside to dry.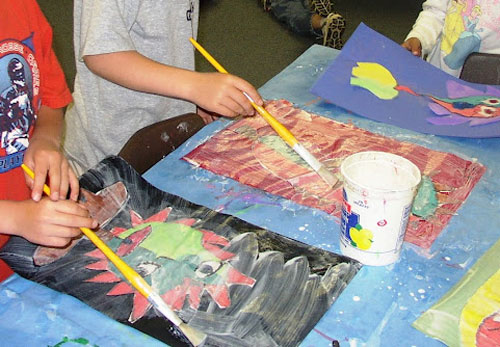 Making the facial features
The next class, each child received a scrap piece of white paper to make Picasso-style eyes and mouths. They colored them in with oil pastels, cut them out and pasted them onto their face with Mod-Podge.
I encouraged the children to think where Picasso might place his eyes, nose and mouth. The last step, the children used oil pastel to trace over their lines and add details like eyelashes.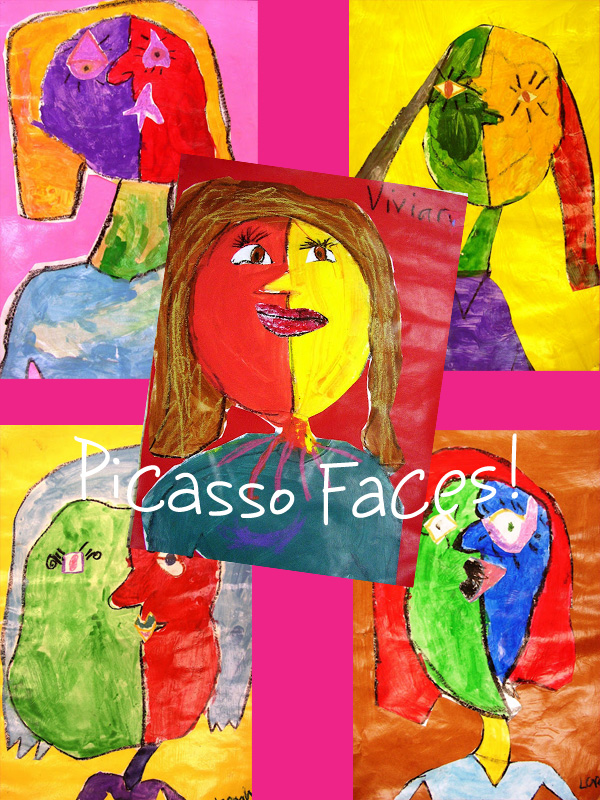 ---
Find these complete art lessons with rubrics and more inside the Pablo Picasso Art Bundle in the Sparklers Club. Click here to learn more about joining the membership.