At the request of one of my Kinder teachers (who showed me a very cute ceramic cat and bird inspiration piece), I created a seemingly simple pinch pot animals lesson for my 3 Kinder Classes. My goal was to teach a basic clay pinch pot to my Kinders but create three different animals: a cat, a bird and a mouse.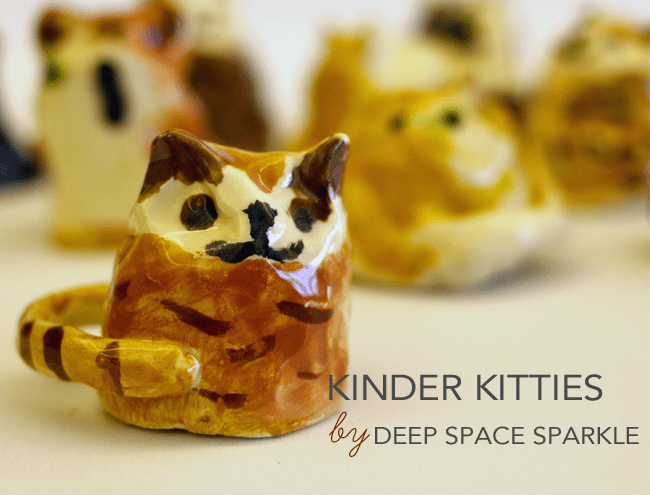 Here are the two inspiration pieces…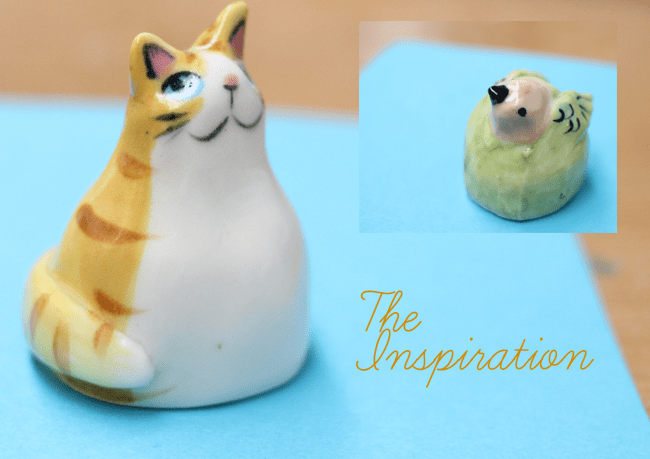 Pretty cute, right?
I thought so, too.
Basically, I figured that each child would need just a small amount of clay, form it into a pinch pot, pull two little ears and then scratch-attach a tail. Truth is, that's a tall order for 5-year olds who have never worked with clay before. But I pressed on…
Step One: Pinch Pot Animals

Most every kids was able to successfully create a pinch pot. Make sure your clay is soft so their little hands can manipulate the clay easily.
I tell the children to smooth out the bumps and wrinkles by pretending to pet the kitty (or bird or mouse). This seem to work and the children were becoming quite emotionally attached to their pets.
Step Two: Pulling Ears and Beaks
Pulling clay to form tiny ears and beaks proved to be the most difficult part of the building process. It might be easier to actually scratch-attach the ears and beaks but breakage seemed likely. Most kids were able to form ears but beaks were slightly harder.
Step Three: Adding Tails, Wings and Mice Ears
To add a tail to the cat, my first group used a coil method to create a snake. I'm not going to lie. Most kids needed help guaging the size of the coil. We used the flat end of a wooden dowel to poke a hole in the cat's behind and we stuck the tail inside. Moistening it with some water helped keep the tail from slipping out. Then the kids wrapped the tail around the cat's body so it would break off.
For the bird, the little wings were created by rolling out a small amount of clay, flattening it into a small cookie (think Thin Mints) and cutting the flattened circle in half. By smoothing out the edges with a wet finger, the children were all able to create wings. They attached the wings to the body using the scratch-attach method.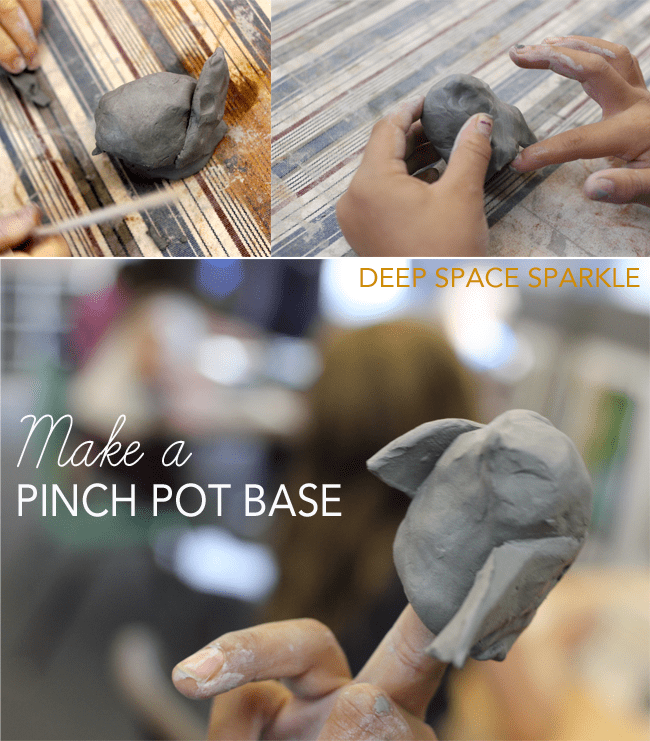 After the pinch pot animals dried (about one week), I fired them to Cone 05.
Step Four: Applying Underglaze
I was smart about selecting colors for the cats and the mouse. I kept it real simple and offered just black, brown and golden yellow for the cats and black, grey and pink for the mice.
I wasn't so smart for the birds. I offered far too many choices for the birds and like most Kinders, then used every color. In the end, it was hard to distinguish the birds body, face and wings because they were so small and multi-colored!
It's important to find the smallest brush in your art room so that whiskers can be added to the little noses. We used the back of our brushes dipped in black paint to make the eyes.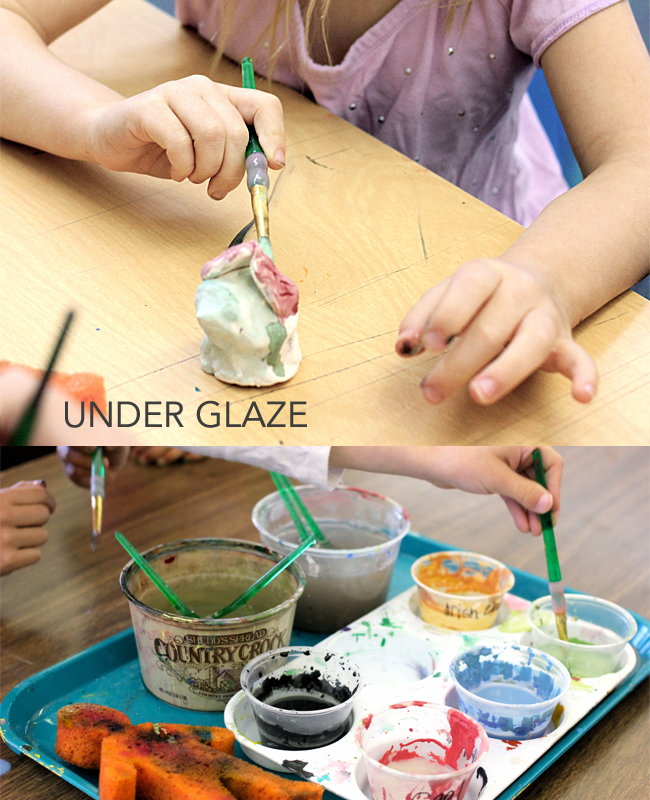 Step Five: Glaze
Applying the glaze is easy. I use Duncan Dipping glaze and usually do it myself after the kids leave for home.
Here are the little mice and the colorful birds…cute, huh?
This lesson took 40 minutes to build the clay and 20 minutes to paint.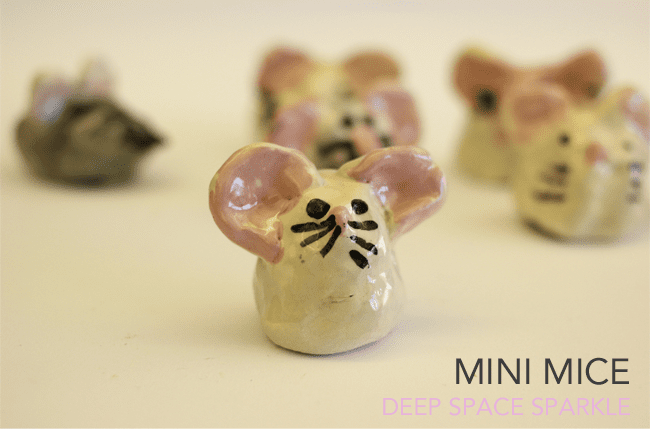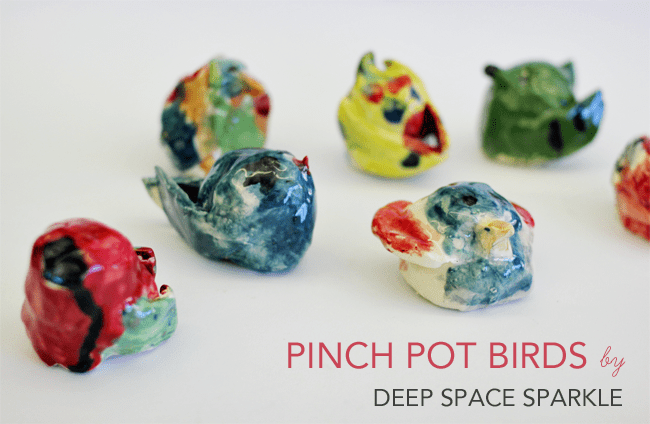 ---
Want a free download to another Deep Space Sparkle ceramic lesson? Click the yellow download button below and we'll send you a PDF lesson plan on how to make a ceramic snowman! Or click HERE to be taken to more clay art projects.