Teachers are known for being proficient planners and if you're anything like me you love opening up a fresh planner.
But if those blank pages start taunting you to fill them and you just don't know where to start, I'm here to offer a few guiding questions and practical steps to get you started.
Here are some guideline to follow as you start untangling the matrix of possible art lessons to use, assessing the standards you have to meet and your ensuring that your goals of providing an art experience that keeps a spring in your step, results in a happy art experience.
Download the 2023 Calendar below to get planning! (NOTE: We recommend downloading the freebie using Chrome or Safari)
TEACH WITH YOUR PASSIONS IN MIND
Guiding Question: What type of projects excite you?
Why is this important? It's simple. Your students will pick up on your energy if you are excited. It may seem a bit woo-woo but if you ever had to teach a lesson you weren't thrilled with, chances are, your students weren't thrilled either.
And while your students won't connect every single project they create, they will most likely give it a try if they trust you.
Practical Step: Keep a collection of lessons that interest you; organized by their grade level. Use whatever system works for you: Pinterest boards, printed or digital lesson plans in folders, etc. You may not use every lesson, and that's okay. What matters is having a plan for where you will store the ideas and inspiration that excite you.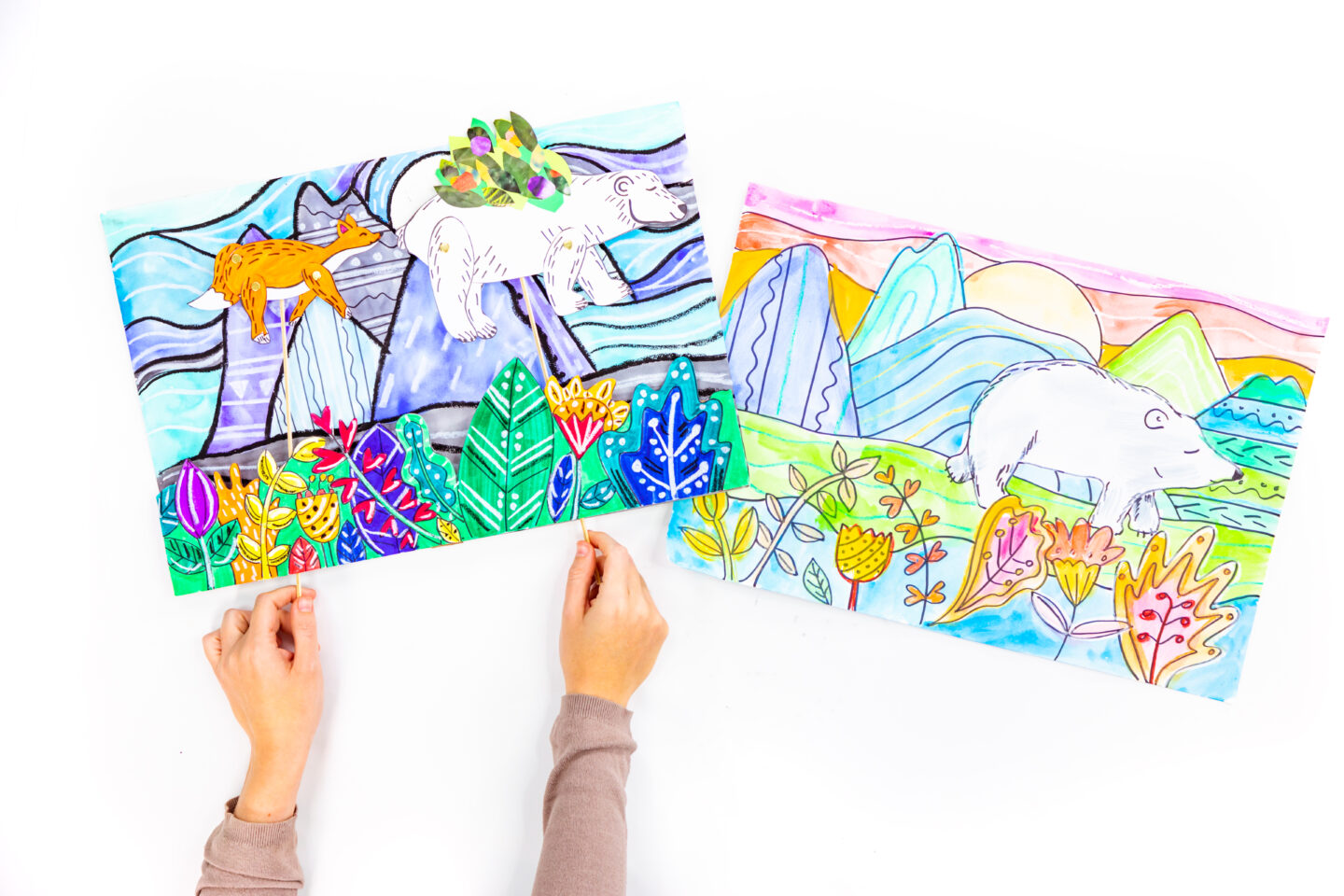 IDENTIFY YOUR ART STANDARDS
Guiding question: What are the national, state and district standards that you follow for knowing which art concepts to teach to which grades?
Why? We're teaching our students to value art, to be able to appreciate it, understand it, as well as being able to express themselves through it. We want to give them a well-rounded art education. Here's a great post about de-mystifying art standards.
Practical Step: Look at the yearly standards for each grade level and divide them into quarters or semesters so that they are less overwhelming and more spread out. For example, your list of Quarter 1 concepts for Kindergarten may include: line, basic geometric shapes, Piet Mondrian and the season of fall. Now it seems like a list you can work with, right?

MATCH ART LESSONS WITH STANDARDS
Guiding Question: Which of the projects that I'm excited about fit an art standard I need to teach?
Why? A lesson doesn't need to be absolutely spot on to teach a specific art concept or standard. You get the choice to emphasize a variety of standards when you are teaching a lesson. If you need a lesson on line and are excited about a crocodile project you saw inside The Sparklers Club lesson library, emphasize to students the different types of lines they are using to draw their crocodile. It doesn't have to be complicated!
Practical Step: From your list of standards for each grade level, plug in lessons from the collection of lessons that you've saved. Once a lesson meets a standard, cross the standard of the list. If you exhaust your list of favorite lessons and still have standards to meet, leave that lesson spot open. Go back to step one and find lessons that excite you and see if they can be the missing piece in your curriculum puzzle.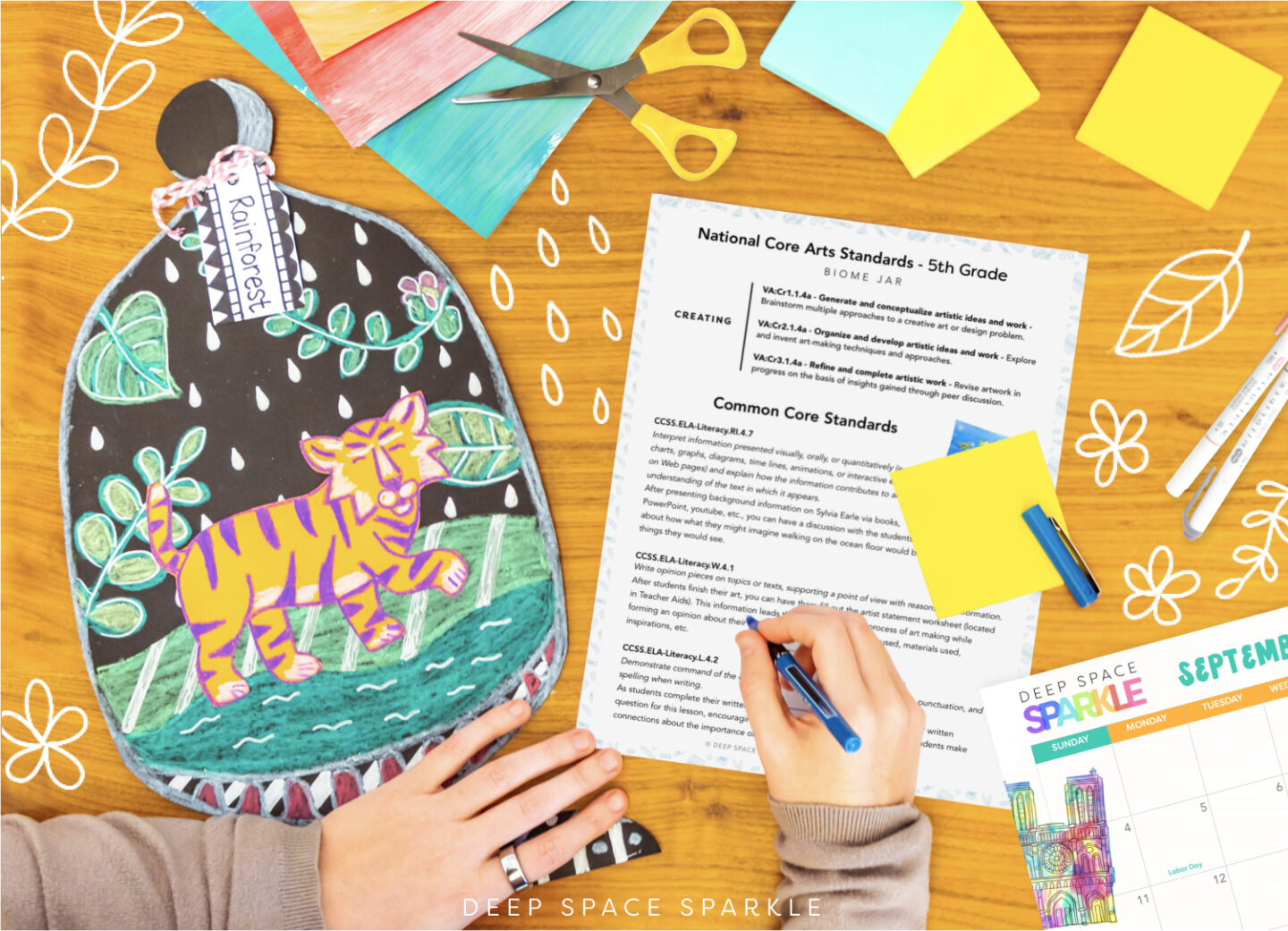 BE FLEXIBLE
Guiding Question: What if my plan gets messed up?
Why? Snow days, sick days, assemblies and fire drills will be quick to throw off your perfectly designed curriculum. Not to mention seeing the new Sparklers Club bundle for the month and obsessing over how you could squeeze a few of the lessons into your art program this week. It's okay to swap out lessons, rearrange your plan and double-check that you are still meeting your standards. As a teacher, you know that planning on flexibility will serve you well.
Practical Step: See that beautiful, shiny plan you just created for your year in art? Nice job! Isn't it a relief to have a plan? Whew! Enjoy your year in art!
Want in-depth lessons with accompanying standards and assessments? The Sparklers' Club has thousands of fully standardized lesson plans to make curriculum planning effortless. Join the waitlist for the Sparklers Club!