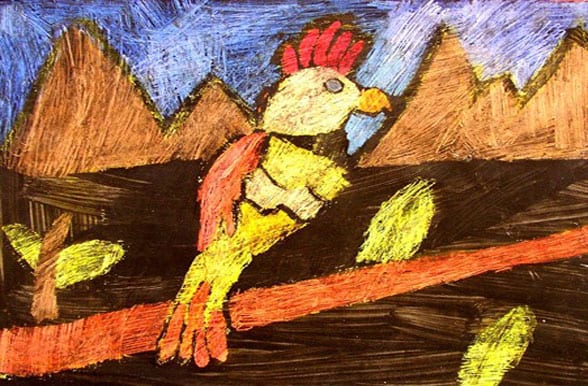 I think the process of creating this rainforest batik art is quite magical but unfortunately it has a low success rate. By that I mean, students are usually frustrated or bored with the lengthy process (about 3-4, 50-minute sessions).
Basically, the idea is to draw a picture (in this case, rainforest) with a light colored chalk. Then, color between the lines with oil pastel. The trick is to color deeply making sure no white paper remains. After the entire picture is filled with color, paint piece with black tempera paint. After the paint dries, scratch off with a wooden dowel, popsicle stick or even a coin for the batik portion.
Sounds easy enough, right?
First of all, it's very important that the children draw the picture large. Small details don't cut it here. They must press quite hard with their oil pastels to achieve a rich color so that the tempera paint will scratch off easily. The paint ultimately sticks to all places where the oil pastel doesn't cover. So the chalk lines must be thick to provide that high contrast look.
The children certainly love the idea of painting over their picture with black paint (and yes, we tried washing the paint off with water, but that's a whole other story) but it never quite works out well for everybody. Perhaps it's the grade level. Most of the time, the drawing is indistinguishable or the children tire of scratching off the paint or the children scratch so randomly that the paper is just one big mess and then they're annoyed that a perfectly good drawing went bad…I could go on and on.
I've done this lesson a half dozen times with my fourth grade students. And in most cases, I say I won't do it again. But I always do. Have you tried it? What were your thoughts? A Yay or Nay?
Fourth Grade Efforts…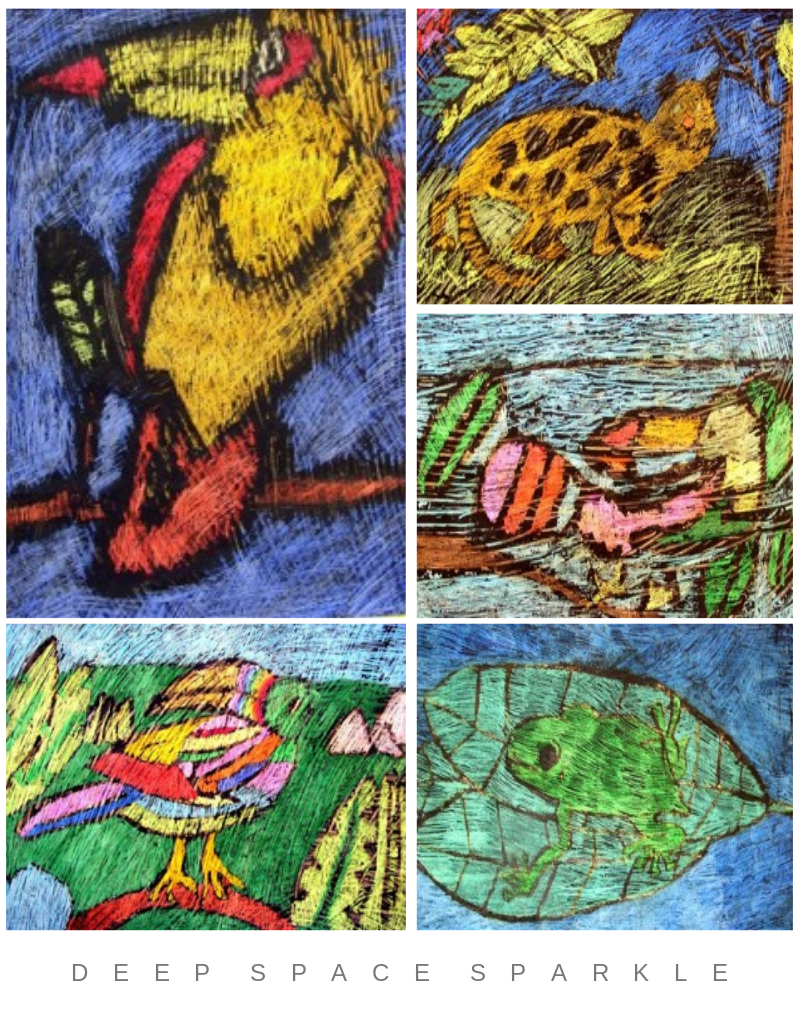 ---
ARE YOU A SPARKLER? Over 300 art lessons are available inside the Members Club. Access to videos, resources & trainings for one low monthly fee.
CLICK THE IMAGE TO SIGN UP FOR NOTIFICATION OF OUR NEXT ENROLLMENT