I've been collecting odds and ends for this project for some time now. Things like concentrated juice can toppers, plastic strawberry baskets, bottle caps, soda can tabs, old buttons, scraps of shiny paper, old aluminum foil, etc.
Even the paper is recycled. The cardboard backing is the cardboard used to wrap newsprint in. Our local newspaper gives this stuff away, so even though it's a bit bulky to store, it makes for good backings with projects like this one. The robots are made from corrugated boxes. One peek in our recycling dumpster and I picked enough boxes to supply 60 kinders with enough robot body parts for ten years!
The Background
Set out a few tubs of tempera paint, brushes, foam rollers, texture items and let the kids paint their cardboard backings. If you don't have heavy paper, regular construction paper is fine. It'll wrinkle a lot but you can put in under some heavy books after they are dry to flatten them out.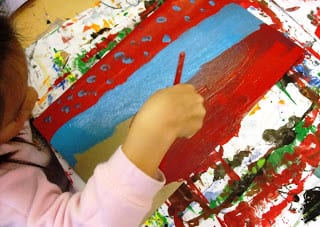 I had some small cups in my art room and used them to make rings on the paper. Simple dip cup into white tempera paint and dot the page as you like.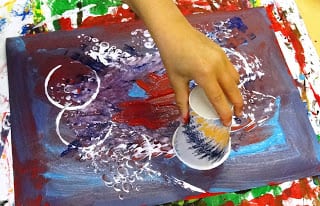 The Robot
With the background paper set aside (but not far away), set out a tray of corrugated cardboard pieces. I pre-cut squares, rectangles and a few triangles. Make sure there are different sizes available. Have the children set and glue their robot to the background paper as they make it.
If you made the background paper first and let it dry, you're smarter than me. I did most of this project in one class and with the cheap cardboard edges curling and robot parts not sticking, it was quite a challenge!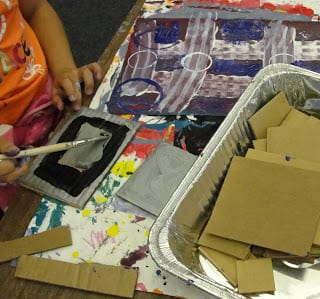 At the end of the day, most children had all their body parts glued to the paper. If some parts don't stick right away, don't worry. The paint will adhere it well enough.
After everything is dry, set a tray of oil pastels, old paper trimmings, and recycled materials on the table. Resist the urge to demonstrate this step. You don't want to influence their imagination! Simple suggest that that they can decorate their robots any way they wish.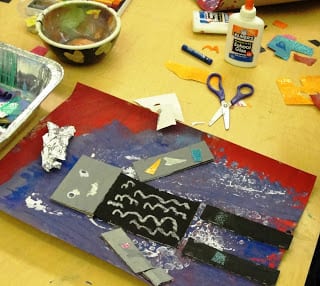 After the robots looked almost completed, I offered "googly" eyes to the children to put on their robots. Most accepted and were pleased with how their little friend developed.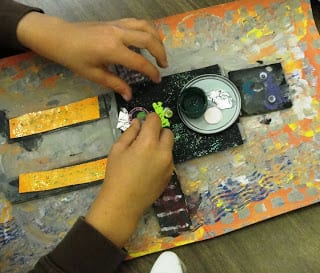 Kinder Robots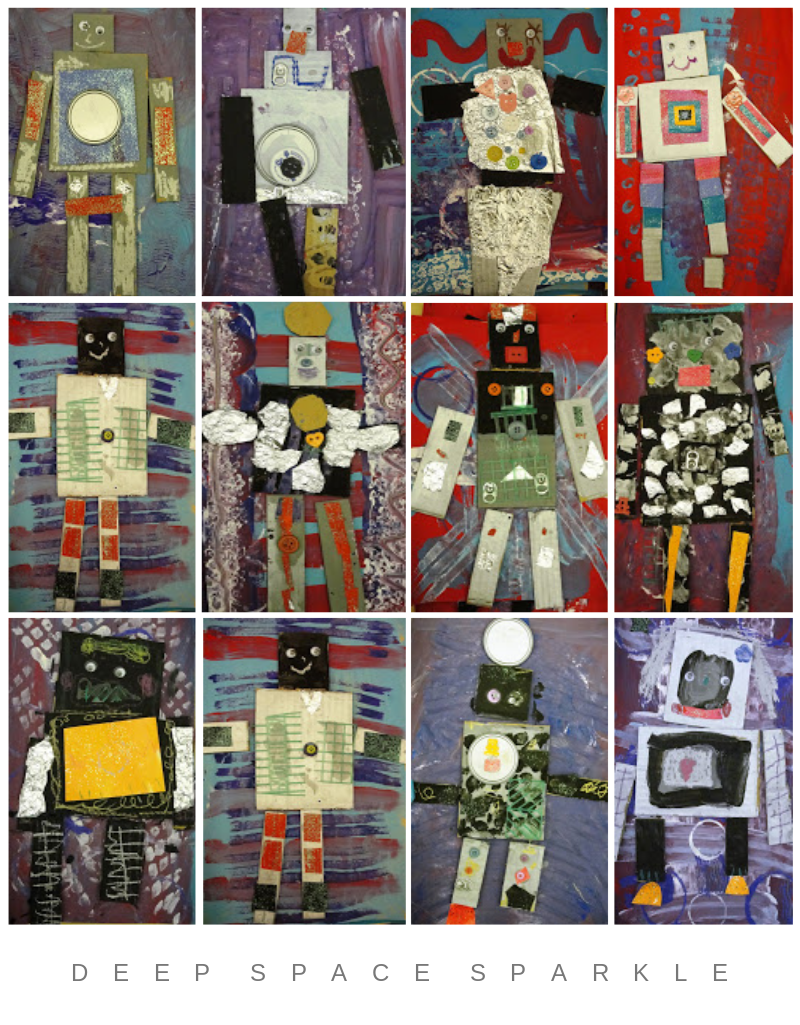 ---
Download our free Robot Idea Sheet for more fun robot inspiration!