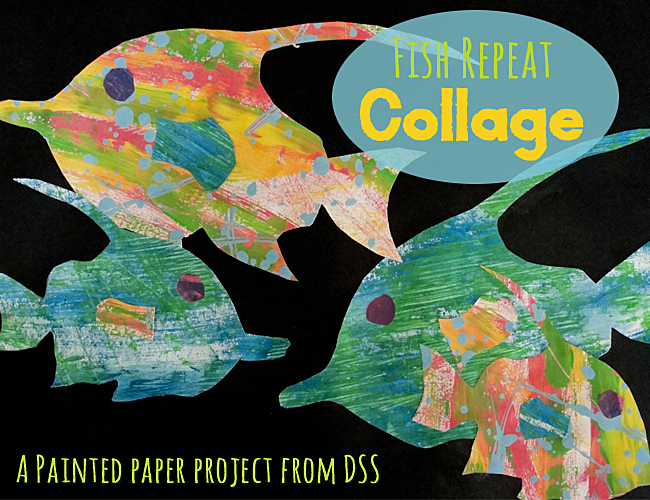 Kids love painting paper. Place a piece of white paper and a few tubs of paint on a table and watch 'em go at it. Pure joy. If you think Kinders love this technique, watch your fifth graders. They go all out. This is also a great lessons for teaching about patterns, design and repetition.
Making the Painted Paper
Give each student two pieces of white sulphite paper and place 3-4 tubs of liquid tempera paints (reds, blues, greens, yellows…mix it up) on each table. Place brushes in the paint tubs. I suggested creating two coordinating sheets of paper, explaining that one paper will be used for the bodies and the other paper will be used for details. Well, the kids barley listened and came up with their own agenda. Honestly? It worked out much better.
With younger grades, I usually set out plastic scrapers and sponge rollers, but for the older kids, I wanted them to think a little deeper with their painted paper designs. Giving just a few brushes, the kids spread the paint with a dry brush, splattered and created patterns with the end of the brush. The effects were unique to each child.
More instructions for How to Make Painted Paper
Prep/Clean-up tips
I get that making painted paper can be messy, so here are a few tips to make your life easier:
Schedule back-to-back classes for painted paper. The room is already messy and filled with paint, so clean-up between classes isn't as necessary.

Place big brushes in each color (2-3 paint brushes in each tub of paint). That's alot of brushes, but it eliminates having to place containers of water on the table.
Fill a large bucket with water and place near the sink. Ask children at the end of the painting project to place brushes in the water. This will make cleaning the brushes easier at the end of the day.
Children should add names to artwork with an oil pastel before painting. Don't use pencil as it will likely be covered up by paint.
Drawing the Fish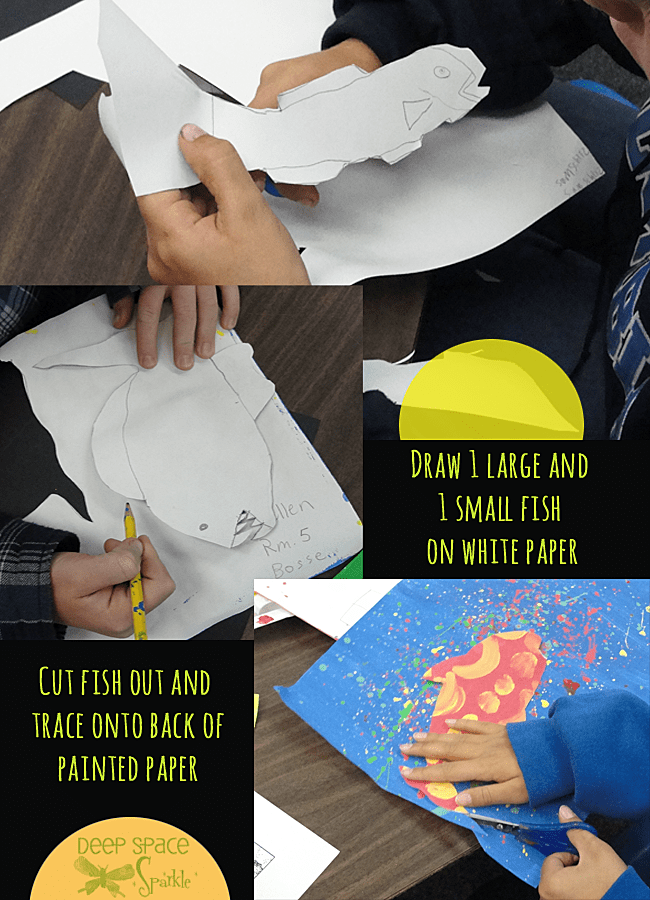 While the painted paper dries, draw one or two fish (silhouettes only) on the back of a white piece of paper. Suggest that the fish should be one species but two sizes. Cut out fish shapes and trace onto painted paper.  Cut out along the contour line.
Making the Repeat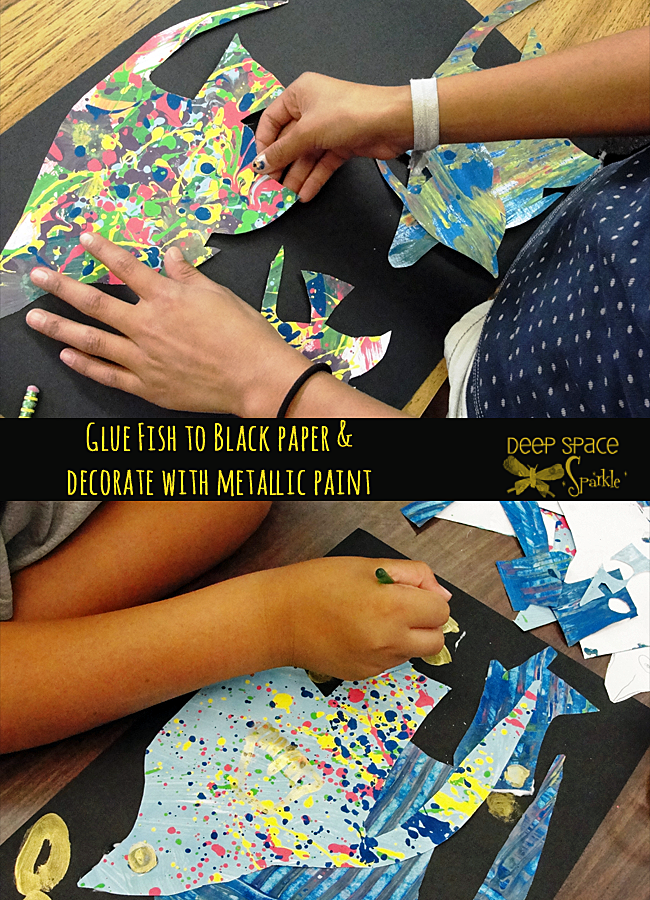 Cut out as many fish as you can fit on the painted paper (alternating painted paper choices) and adding fins, tails, decorations, etc. Arrange fish on a sheet of black construction paper.
Use metallic paint to add bubbles, scales and other embellishments. if you don't have metallic paint, use oil pastels, gel pens, crayons, even glitter.
Fifth grade fish repeat designs….