My Kinder students created adorable kinder portraits with an added twist…crowns! It gave me the opportunity to break out my jars of glitter and allow my smallest students to express themselves through line and color (and a bit of sparkle!)
Drawing the Portraits
The process is pretty simple and requires few art supplies. Give each student a piece of white regular drawing paper (Sulphite Construction paper) and a pre-cut crown.
Note: I used the crown templates from my Art and Literature Art Lesson Plan booklet but you can create your own or have the children draw their own crowns directly onto their paper. I will say this: if you are short on time ( I have 35 minutes for kinder art), consider a template. It provides a great starting point for children.
If they all have the same sized-crowns, it makes drawing the face a bit easier. Also, in this particular kinder class, there are a few challenging (yet quite adorable!) children who would be overwhelmed without a starting point. Just something to think about and do what's best for your students. Anyway…back to the fun stuff…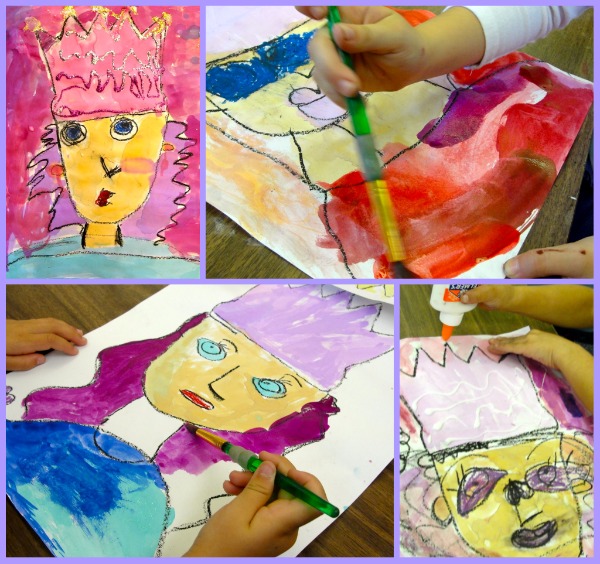 Set a tray of oil pastels and a few crown templates. Trace the crown near the top of the paper. Draw a big letter "U" under the crown. Start at the bottom left corner of the crown, make a big U up to the bottom right side of the crown. This is why I love the templates…everyone now has a good size face!
Continue drawing facial features, neck, shoulders and hair. I demonstrate how to draw these things but mostly I allow the children to create their own face. There is something about kinder lines that are so adorable; you just don't want to tamper with their innocence!
Painting and Adding Glitter
Set a palette of tempera paints on the tables (I'm using the tempera cakes at the moment and LOVE them) and of course, water and brushes. Paint the whole piece. I try to encourage the children to choose different colors for the hair, crown and background, but well, sometimes a kid really gets into a color choice and they paint everything that one color. Again, it's Kinder and cute, so enjoy it!
After everything is painted, it's time for the GLITTER!!! (I use Spectra Glitter) Demonstrate how to "draw" with glue, making lines, shapes, etc. After they apply the glue to their crowns, they walk over to the glitter table where we sprinkle away. I usually do the sprinkling but they chose the colors and where they should go.
That's it! Glittered Kinder Royalty!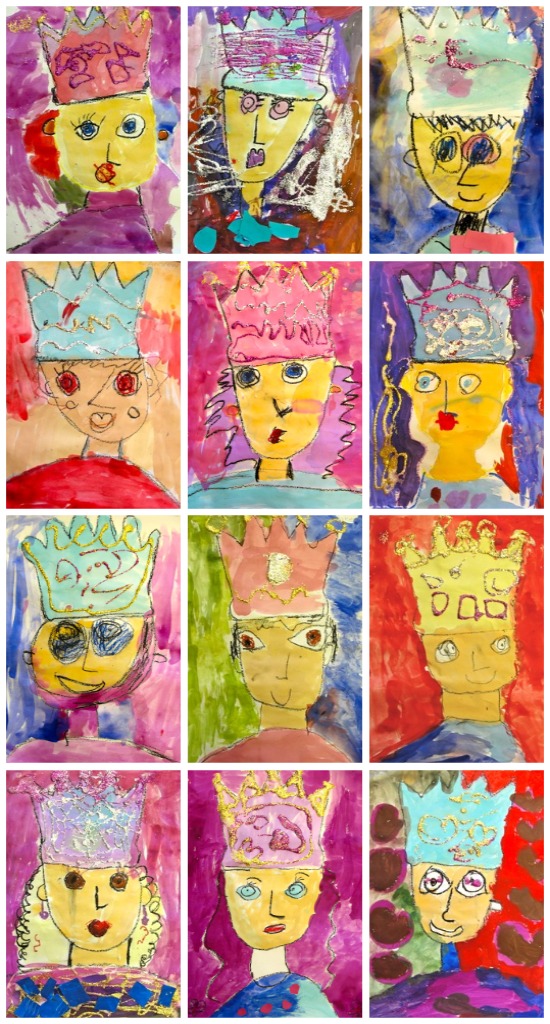 ---
DOWNLOAD A FREE ART RESOURCE: THE SCOPING & SEQUENCING OF PORTRAIT MAKING
---
ARE YOU A SPARKLER? These lessons and over 300 art lessons are available inside the Members Club. Access to videos, resources & trainings for one low monthly fee.
CLICK THE IMAGE TO SIGN UP FOR NOTIFICATION OF OUR NEXT ENROLLMENT