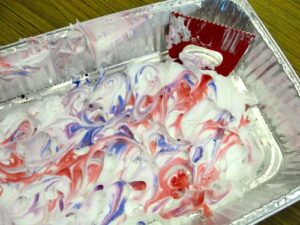 I've been seeing some art lessons lately that feature shaving cream as a suspension for watercolor paints. This type of printing project looks like a good deal of fun and to be honest, was curious to see how it would turn out. I read a few basic instructions but essentially, the idea is to fill a tray (I used large aluminum foil trays) with shaving cream and squirt dribbles of liquid watercolor paints onto the surface. The watercolor is then stirred into the shaving cream to achieve swirls of color. By placing a piece of paper directly on top of the shaving cream and pressing down slightly, the watercolor paint, in it's suspended form, stains the paper. The result is a pretty cool piece of paper.
My plan was to have each of my four kinder classes create their own "swirls" and then place their paper on top of the swirls to create the desired effect. This would be the background of a project I would later do.
I placed two trays on each of my five tables. Yup. 10 trays. 4 kids at a table.  I proceeded to fill the bottoms of each tray with shaving cream.  This is where my planning fell through. By the fifth can, I had only filled 3/4 of my trays. I had 3 cans left. This project uses ALOT of shaving cream. I had to use all of my alotted shaving cream for just one class. Putting aside my concerns for what the next class of kinders would do, I placed small containers of liquid watercolors on each table. My goal was to have the children drop the watercolors into the shaving cream, then swirl away. Nice idea in theory but truthfully, by the time the kids dropped in their watercolor selection, swirled with spoons and then dropped their paper into the foamy mess, all I could think about was that in 2 minutes, I was going to have twenty kids holding up foam-laden paper. Then what? Yikes. Quick thinking alowed me to set up a "wipe-off" station. I personally scraped off each paper, found a dry spot to add their names and called it a day. We didn't even get to the second part of the lesson. I generally don't panic, but I was seriously sweating here.
One rule of thumb I have for teaching art to kinders is that one must always be in control ( emotionally, organizationally, etc.) Anyone who teachers kinder art knows this. One unsure moment and bam! Chaos!
This is a great project for young kids but for art teachers in a classroom setting, the logistics can get a bit out of control.  Older kids would be fine. This one class achieved some pretty cool paper, but the problem was that I had planned for all four of my kinders to do the same lesson. Now I had no shaving cream left, and quite frankly, a really messy art room.
But we're art teachers because we're creative thinkers so I wiped down the tables, placed a stack of white paper on one of my back tables and when the next group lined up at the door, I had my plan.
The second group didn't bother with the watercolor or the swirling. They simply advanced to step three and placed their papers on top of the shaving cream. Proceeding to the "wipe-off" table, we cleaned their paper and then the kids did free-choice until everyone completed their paper. This took about ten minutes. I allowed for about 5 minutes for clean-up and then we simple began part tow of our lesson: the drawings.
Two classes worked on beautiful red cardinals and the other one worked on winter trees. By the fourth class, I abandoned the shaving cream and substituted black paper for our snowmen. That lesson was featured here!
Worth it? Not really. I used up way too much of my precious liquid watercolors. I didn't try using tempera paint or food coloring, but I heard it could work.This would make a great project if you had small classes, or worked with just a few children. It also would work if you used small pieces of paper and created only a few trays of cream. But it was fun and the classroom teachers and I laughed quite a bit at the mess.
Have you tried shaving cream art? Thumbs up or just not worth it? Weigh in and let's here it!