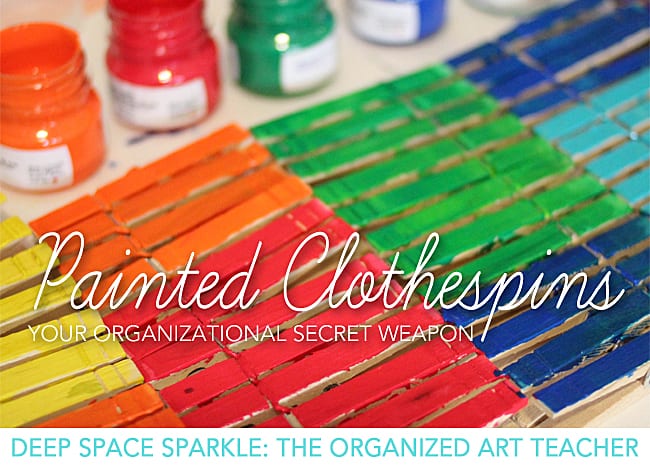 During my second round of facilitating my Teaching Art 101 e-course, a group of us were discussing organization in the art room. Just like most of the class participants, I struggled with sorting piles and piles of artwork.
One gal piped up and said she used ordinary clothespins clipped to stacks of art projects to help separate classes. Isn't that genius? Maybe you heard of this tip before or maybe you learned it from her, but whoever thought of this idea deserves a medal.
But lazy me didn't implement the clothespins until this Fall. I vowed I would be more organized this year so I got out this great little mini-set of acrylic paints that I received from a vendor at the NAEA convention and painted my collection of clothes pins. I used 7 different colors for seven grade levels.
Once dry, I placed the bunch in a tray along with a sharpie marker and set beside my drying racks in the art room. I tacked up a clothes line to the wall and clipped colored clothespins to the string. When a group of paintings were placed on the drying rack, I wrote the name of the teacher plus grade level on the clothespin and then clipped the pin to the bottom of the stack. This way when I have two or more classes creating the same projects, I won't get confused as to which painting belongs to which class. It does help to stack the artwork on separate racks. I have 4 small racks in my art room and each class takes up one rack plus a bit of overflow.
It's the overflow that always causes me sorting problems. So this is where I add most of the pins.
Have you tried clothespins in your classroom? How do you use them? Share your ideas!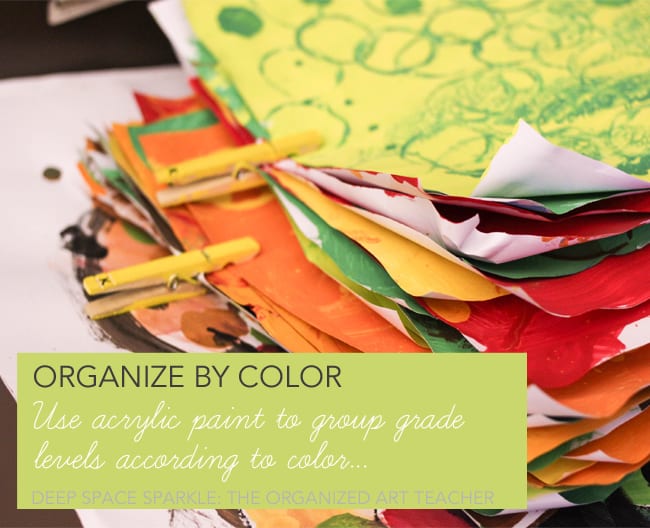 ---
New to teaching art in the classroom? Download my free classroom art teachers toolkit by clicking the yellow box below!