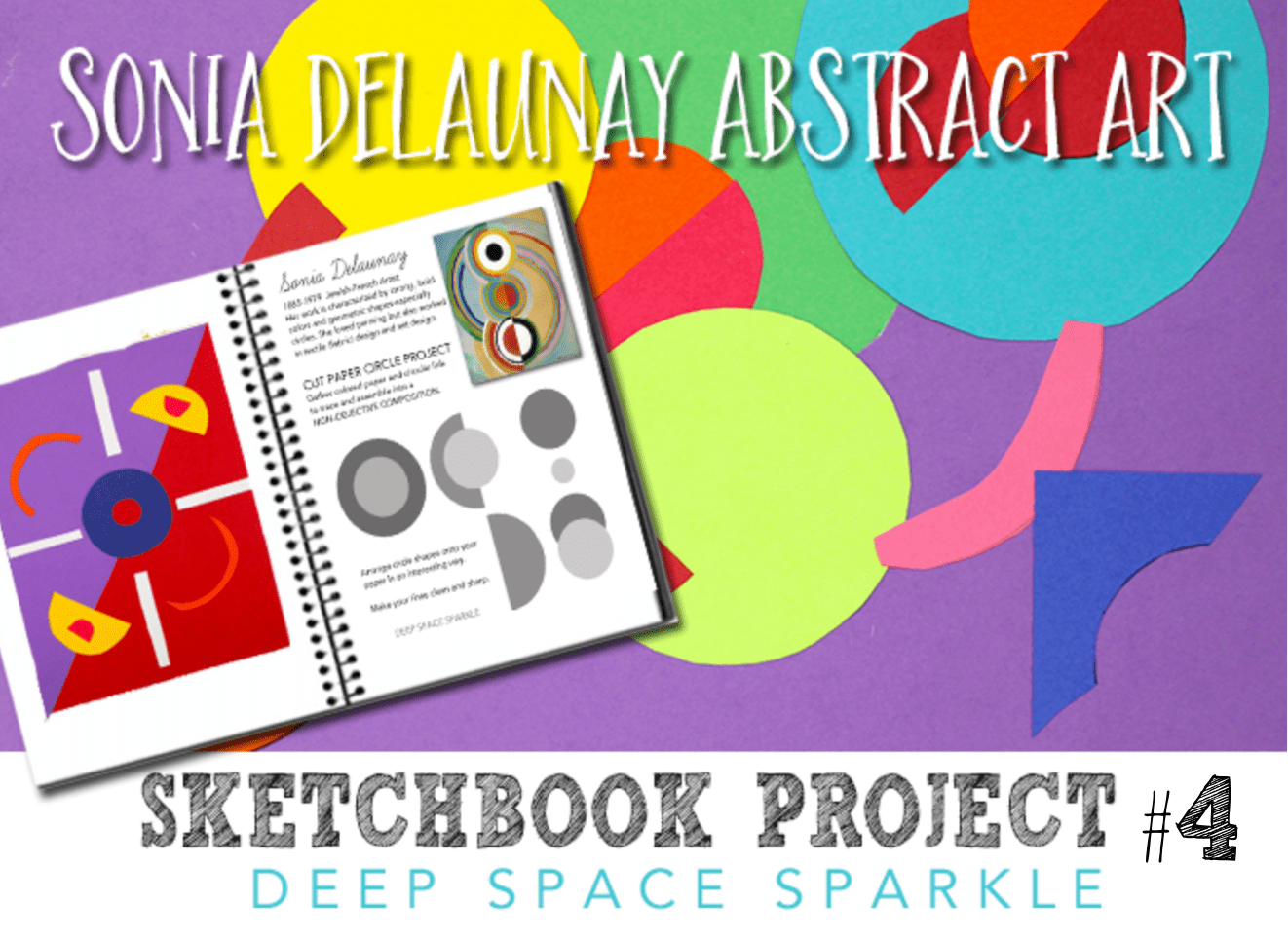 The Sketchbook Project is a record of how my sixth grade students used sketchbooks during their art class to record art information and create projects. Learn how I used sketchbooks instead of individual sheets of paper to teach art & creativity.
Week Three: Atmospheric Perspective
This Week: Sonia Delaunay Abstract Art
All the kids in my sixth grade classes were caught up with previous projects so I was excited to introduce another concept and artist to the Sketchbook project.
This week we learned a bit about artist Sonia Delaunay.
Here's What You'll Need:
8" x 11" colored paper (I used a pack of multi-colored card stock)
Scrap colored paper (about 4" x 4")
Pencil
Plastic cups of various sizes or various circle templates
Scissors
Glue stick
---
Sonia Delaunay along with her husband Robert Delaunay cofounded an art movement called Orphism. Strong colors and geometric shapes defined this movement. My class looked at a few of these pieces of art and examined the colors she used and how she arranged the shapes.
THE PROCESSS
Leaving the kids to their own devices, I offered pencils, plastic cups, scissors and colored paper and allowed the kids to proceed at their own pace. Many kids delved deep into creating concentric circles and layered paper on paper. Some cut one circle and deemed done with the project.
This is where the Sketchbook Project gets interesting.
When do you let a child create art to his own liking and when do you encourage the process by creating boundaries?
I feel strongly that in order to bring out the best work in some kids, you need to create boundaries. Often children will stop or quit working on a piece because it feels uncomfortable. They may not like where it's going. They may not completely understand what they are supposed to do. They may not understand how to proceed when there is no set path.
This is completely normal. I'm not sure it's realistic for art educators to expect all children to create independently without a road map. For these kids, I sit down with them.
We pick some colors. We trace and cut a few shapes. We play with arrangement. Then I leave. See what they do on their own.
Often times, it's enough to get them started.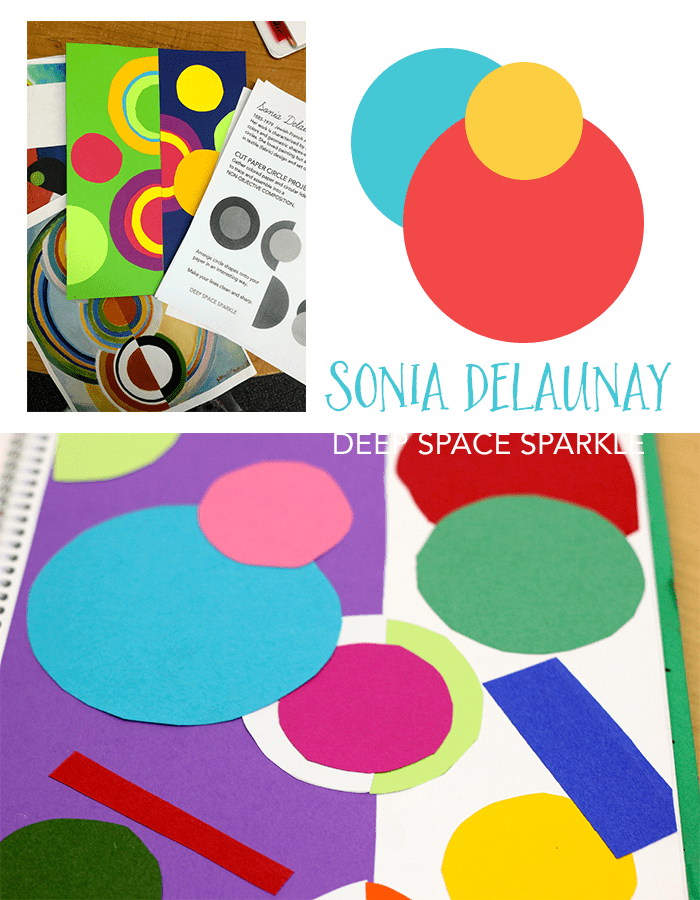 Even though this project looks easy, it requires a lot of cutting. Try to remember that kids in grade 6 are still only eleven years old and are still learning how to cut well. Really. It's not that easy for many kids. I find it helpful to have a collection of adult scissors on hand as many eleven year old boys are pretty big with large hands.
I love the color composition of these pieces. We only spent one class on these projects (50 minutes) so many kids didn't complete their projects when I took these pictures.
A realistic time frame would be two, 50-minute classes.
---
SIXTH GRADE STUDENT GALLERY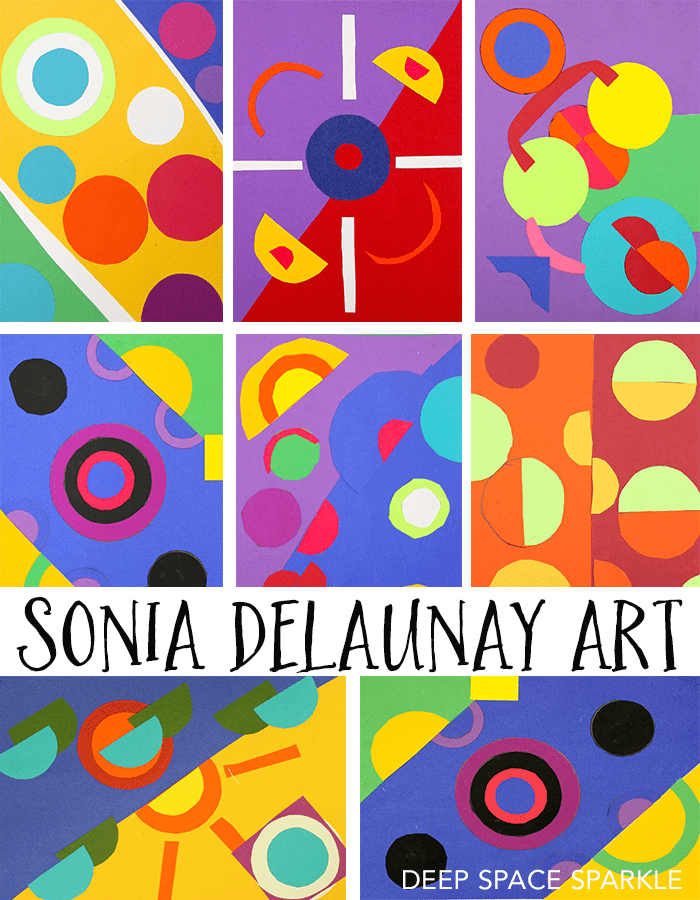 Missed the last installments of the Sketchbook project?
Intro #1: The Sketchbook Project: The Beginning
Week #2: The Sketchbook Project: Creating Value + Free Worksheet
Week #3: Atmospheric Perspective + Free Worksheet
Week #4: Tree Line Drawings
Week #5 Expressive Self-Portraits
---
Do you have any tips on how to teach PAPER CUTTING? It's not easy for most 11 and 12 year olds so I'd love to read your tricks. Leave a comment below.