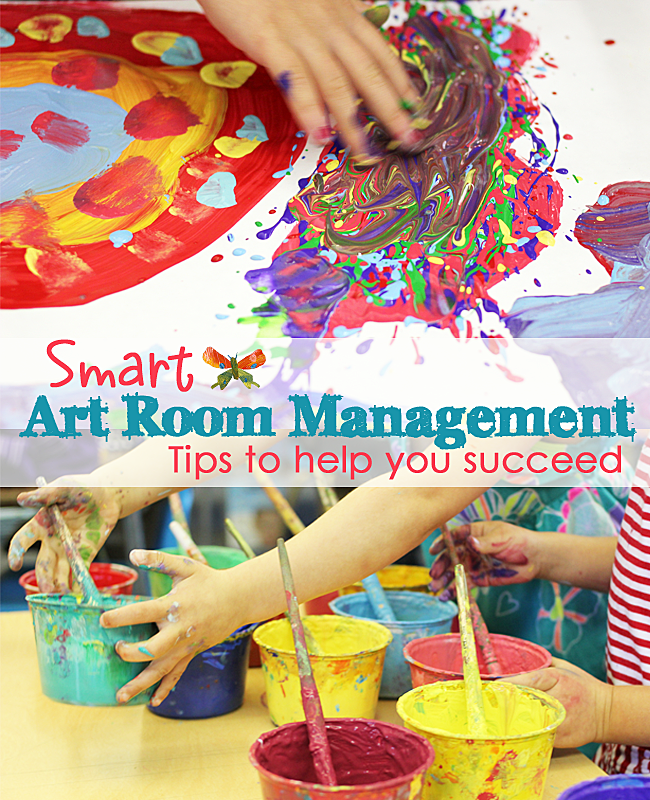 CLASSROOM MANAGEMENT TIPS & STRATEGIES
We all long for the ultimate art room experience: a classroom full of respectful students and hitting the sweet spot between artistic expression and a controlled environment. Can this happen on a regular basis? If you asked me on Monday, I would have said absolutely, but after a few high-energy classes yesterday that left me a bit drained, I'm here to say that classroom management is an on-going pursuit.
But there is help.
I'm a big fan of Michael Linsin and his website, Smart Classroom Management. His no-nonsense approach to classroom management is not only appealing to me, it really seems to works. What I love is his practical advice for interacting with children without the complicated rewards systems that people like me find hard to remember and keep track of.
I emailed Michael and asked if he would answer a few questions that I've been wondering about. As an art specialist, I feel I have a unique set of classroom concerns. Here's what we talked about….
---
Patty: Can you tell me a little about your background and your blog, Smart Classroom Management?
Michael: My first inkling that I might want to become a teacher was in high school. I worked at a sports camp during summers and had just about the best time of my life. When I eventually became a teacher, I was able to put my finger on what I enjoyed so much about working with children. It was the relationships and my role in affecting their behavior. I became fascinated with classroom management and creating a learning environment that caused students to want to behave.
I've spent much of my career both as a classroom teacher and a PE specialist testing and honing the classroom management skills I needed to take any group of students, no matter how unruly, and transform them into my dream class. I started the blog about five years ago to share the principles, strategies, and solutions I learned along the way. I now consider helping teachers create their own dream class to be my life's work.

Patty: Art teachers have an interesting job. They see many classes per day, often with little transition time and with varying dynamics within each class. Is there a one-size-fits-all approach to managing multiple classes?

Michael: I think the core principles of effective classroom management, when applied faithfully, will work for anyone regardless of your personality type, how many classes you teach, or who shows up on your roster. That isn't to say, however, that the exact same approach would work for both classroom teachers and specialists. There are differences between the two.
Although the Smart Classroom Management philosophy of creating a classroom your students look forward to (combined with faithful adherence to a classroom management plan) would be the same, some of the strategies and methods to get there may look different. I'm currently at work addressing those differences in a new book specifically for art, music, and PE teachers. If all goes well, it should be ready in late spring/early summer.

Patty: Many art teachers struggle with finding the balance between a calm yet inspired flow of art-making and chaos. How does an art teacher allow for a creative environment (which is often characterized as standing up, moving around the classroom to select art materials and interacting with others) without it becoming chaotic?

Michael: The key is to picture precisely what you want your class to look like—behavior, noise level, movement, etc. Chaos isn't an option, so what is the best, most optimum environment that allows for the greatest artistic expression? Once you're able to visualize what that is, you must teach it to your students in the form of routines. Anything and everything you repeat from one week to the next—which is what creates the smooth, efficient, and peaceful feel and flow to your classroom—can and should be made into a routine.
Routines are a cornerstone of effective classroom management, but most teachers don't teach them thoroughly enough or with as much detail as is needed. To create the calm, inspired environment you're looking for you must show your students in a highly detailed way exactly what you want, from how they sit while working to how they ask a question to how they get up to choose materials. It takes time, but here's the thing: Done right, you only have to teach routines once, and in the long run you save weeks of learning time and a mountain of headaches. There is a lot more on this topic, which you can find in the SCM archive.

Patty: What's your opinion on using music in the classroom during work time?
Michael: I like it, and I think it helps creativity—but only in well-run, well-behaved classrooms. Otherwise, it can be just another layer of noise. I use it as much as I can while teaching my own classes. I also listen to music when I write. I do, however, think it should be instrumental and low enough in volume that it adds only a small element to the creative environment.

Patty: I'm not a fan of using visual aids or devices to reinforce my expectations because they don't feel natural to me, but many art teachers love them. What are your favorite classroom management tools? (devices, charts, etc).
Michael: I don't use them. That isn't to say that they can't be helpful, depending on what they are. But for me, and for what I recommend, I like to keep it simple and doable. For many teachers, part of the reason why they struggle with classroom management is because they've made it too burdensome and too involved with the many incentive programs, charts, contracts, strategies, etc. The power to create the class you want comes from your relationship with and to your students and your ability to create a learning experience they look forward to.
Patty: What's the best way to get a student from talking while you are presenting instructions to the class?
Michael: You absolutely need a rule that enforces the practice of hand-raising. If you don't have one as part of your classroom management plan, you'll be frequently interrupted—which is grossly unfair to the rest of your students. It's also remarkably frustrating and stressful and will severely weaken both your ability to inspire your students and the effectiveness of your lessons. Along with your routines, this is something you would teach thoroughly during the first two or three weeks of the school year.

Patty: How do you feel about seating/table assignments?
Michael: Although I believe seating should be assigned, I don't think where regular education students sit is terribly important. I think it's fine to sit a particularly difficult student with those you feel would encourage acceptable behavior. I do it myself, but it's not something that in the long run will make a big difference. I place it in the same category of things teachers tend to spend a lot of time on that in the end has little to do with effective classroom management.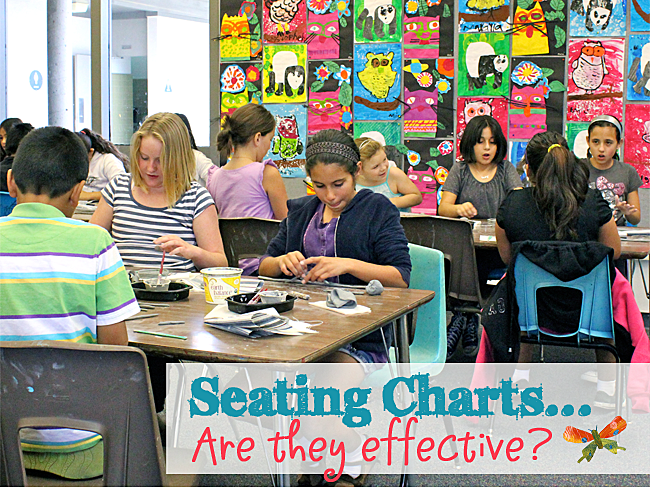 Patty: Okay, big one here…I find that classroom management becomes easier if you truly know why you are teaching. My purpose and fondness for teaching grounds my interaction with my students. If I'm frazzled because of an external issue, it often reveals itself in the classroom and makes for a stressful class. If I'm completely in synch with my students, the classroom experience is positive for everyone. How does a teacher let go of outside issues in order to focus on the students?
Michael: Yes, so true. This is a huge factor. One of the biggest causes of misbehavior is excitability—which your students will either bring with them to your class or be created by you and the tension you bring to your lessons. Either way, your calm presence and focus on the subject matter you're passionate about is the antidote. A simple thing you can do is to make sure you're prepared. If you're rushing around or stressed out, then your students will pick up on it and start climbing the walls as result.
Another easy technique, used by Olympic and professional athletes, is to simply decide before your students arrive for the day that no matter what happens, you will not lose your calm composure—internally or externally. A herd of buffaloes could stampede through your classroom, but you will remain as peaceful as a mountain lake. And you know what? You will. It seems unlikely, but it's remarkably effective.
As a PE teacher I've noticed that some classrooms, week after week, arrive for their hour with me unable to sit or stand still or focus on me long enough to give a short preview of the lesson. I'll meet them outside of the PE room, which I do for all my classes (and recommend you do the same), and for the first minute or so I won't say a word. I'll just stand calmly and breathe, letting them pick up on my easy presence. Soon, they begin to relax. Their shoulders drop. There heads stop swiveling. I can feel the energy in the air change. When I do speak it's in a soft and soothing voice. By the time we enter the room their excitability is gone.


Patty: Many art classes are combination classes with homeroom classes mixed with inclusion children and their aids. Sometimes, an inclusion child will cause a disruption that many art teachers find hard to handle and manage. What advice would you give teachers who are in this situation?
Michael: The key is not so much the inclusion student, but the rest of your class. When they (the rest of your students) are well behaved and attentive, any disruption will be isolated—and not so much of a disruption. This underscores how critical it is to have spot-on classroom management skills. Everything is easier as a result.
Also, similar to the question above, your calm presence makes a monumental difference not only with the inclusion student, which can be substantial, but also with how well the rest of your class responds to disruptions. If they see you carrying on normally and speaking as calmly and confidently as ever, they won't give an occasional, or even frequent, disruption a second thought. It's only really a disruption if you let it affect you and your instruction.
---
Thank you so much, Michael! I love your answer to my last question. It's so true that disruption can be an isolated experience and that children really do handle this well. I saw this play out on Tuesday in my art class and after reading your perspective, it allowed me to consider the situation differently.
I hope you all head on over to Michael's amazing site. Its is dense with information (but no pretty pictures!) and I know you will find the solution to your classroom issues.
Now it's your turn art teachers….what's your biggest management issue?
---
New to teaching art in the classroom? Download my free classroom art teachers toolkit by clicking the yellow box below!