Romero Britto and art class go together like Spring Lamb and fresh mint. Britto's iconic pop art style, bright colors and inspiring patterns allow for endless possibilities when it comes to creating your own pop art inspired art.
This lesson combines Britto's colorful style with a 4-leaf clover starter. Kids learn to draw a 4-leaf clover, and add their own Britto-inspired patterns and colors. All you have to do is photocopy the handouts, grab some colored markers and start drawing!
Here's what you'll need:
– Romero Britto Lucky Clover free download (see below)
– White cardstock or heavy weight paper
– Colored broad tip markers like Crayola or Faber-Castell
– Black broad tip marker (I used a Sharpie pen)
What the Facebook Live tutorial here:
DRAWING THE CLOVER
On a sheet of 8 x 11 white cardstock (the heavy weight paper that you can find at office supply stores), draw a border with the black marker. This isn't a necessary step but it helps contain the patterns.
Draw a small circle in the center of the paper. From the circle, draw 4 hearty-shaped leaves.
On the background or "behind" the clover, draw patterns in the style of Britto. Show a few of Romero Britto's art and encourage the children to observe the way Britto divided up the art. Look at the way he used intersecting lines, patterns, shapes and markings to create operate spaces within his art.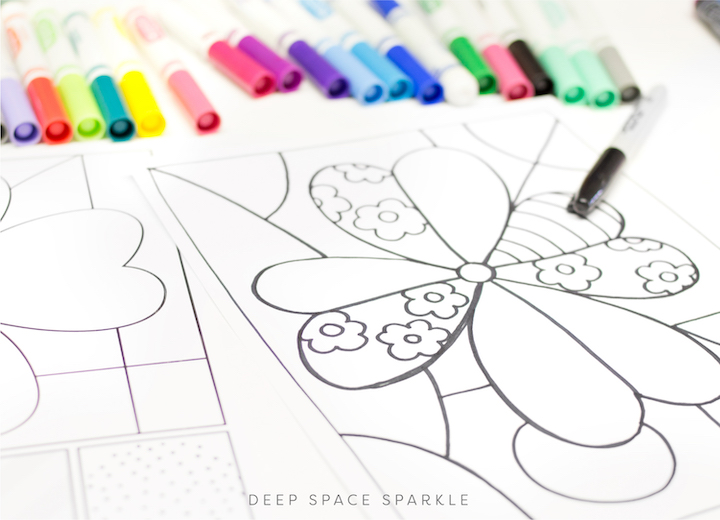 Once the black outline is completed, put aside the black marker and select you color palette.
COLORING THE ART
Color the 4-leaf clover with a selection of green markers.
Pairing affordable children's markers with smooth card stock allows the color to sit on top of the paper long enough to color evenly. Some papers, like all-purpose drawing papers, absorb the markers more than necessary.
Color light colors first and try to select the largest empty space for the light colors. It takes longer to color and requires more marker coverage for big areas to look complete. Using a light color really helps mask the imperfections of coloring with markers.
Big areas also benefit from keeping the background white and adding color through patterns.
Use a step-by-step approach when coloring shapes. I like to outline the shape first and then starting at one end, slowly color as if climbing down a set of stairs.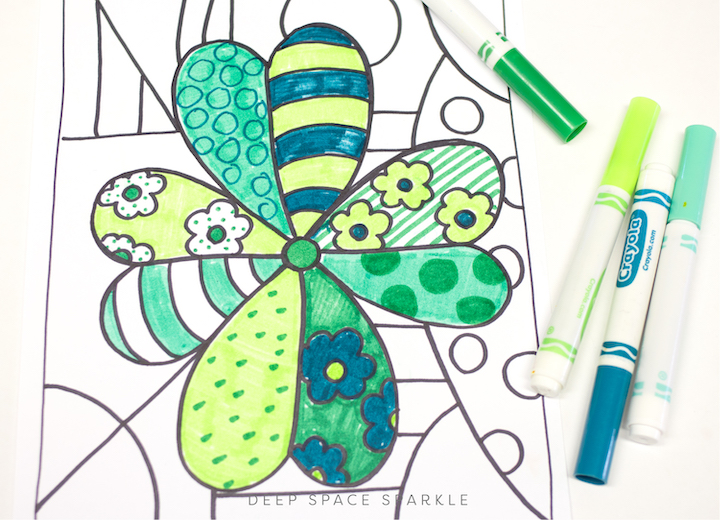 SELECTING THE BACKGROUND COLORS
After the clover is colored, select a color palette to complement the green. The goal is for the clover to POP. Selecting green hues for just the clover allows the clover to stand out against whatever color a child uses for the background.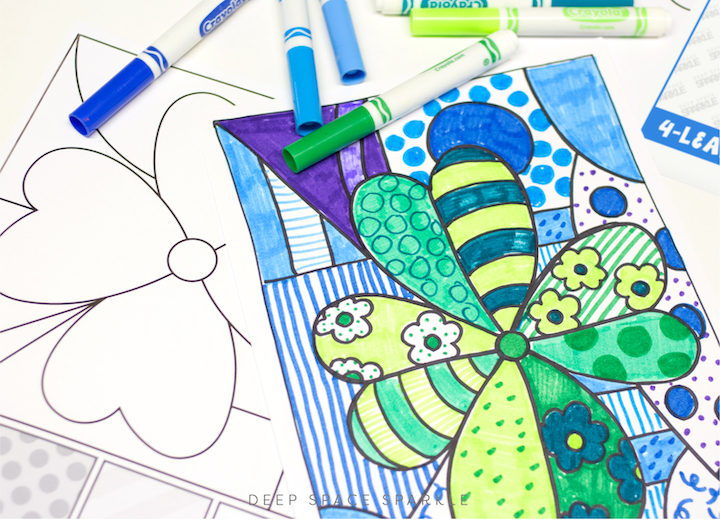 DOWNLOAD THE DRAWING GUIDE
Click the yellow box below, enter your name and email and we'll email your PDF. Tip: make sure to check your spam/junk folder. Sometimes, it can take a few minutes, so be patient.
For more marker tips, watch this video here.