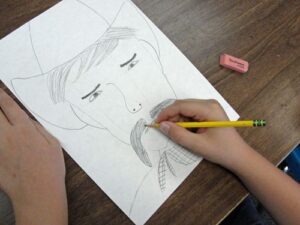 I received this question via email today and thought my answer, plus any comments from readers, might help Megan out. Here is her question:
Hi Patty,
First I want to thank you for sharing all of your ideas! As a new teacher, with so much to learn and a lot of other things to juggle, it's nice to try things out that I know have worked in the past.   I noticed that you had written about using pencils in the Cardinal lesson like it was a rare thing.  Do you not let your students use pencils to draw?  Do you have them draw right away using markers/crayons?  Does this work out better? I give my students pencils and erasers (they have them in a bin at their tables)  I do noticed that some students erase A LOT and don't have the confidence in drawing, they always are asking for help or for me to do it for them (which I wont do)…but I am wondering if they didn't have the option to erase would they not ask for help as much or "re-do" their work as much… hmmm?
Thanks for your input! You're great! 🙂
Megan Lesser, Schnecksville Elementary School, PA
Megan,
You aren't the only one who has asked this question. Anyone who follows my blog or has purchased any of my art lesson booklets, knows that I have a theory about pencils.
It's been my experience, that given the opportunity to work with pencils, the project will take A LONG TIME. For little ones, the pencil lead is just so tiny that tiny drawings are often the result. Usually not what I'm going for. For older kids, they know they can erase pencil, so they do. Again and again and again.
For most of my lessons, and assuming that the project involves drawing, I use oil pastels or markers.
My reason is simple: it encourages kids to draw big.
If the kids make mistakes, recovering from the mistake is a huge part of my art class. Mistakes are either fixed or ignored. Tempera paint hides most mistakes. If a line is drawn where it shouldn't be and paint won't cover it up, then the kids are encouraged to brainstorm on how that one wayward line can evolve into part of the artwork. It usually does and the artist feels empowered.
For black markers, mistakes are covered in much the same way.
But I have to stress that I'm very specific which art project calls for oil pastel and which ones are more suited to markers. I almost always specify in my posts or tutorials. But here is my general rule of thumb: oil pastel (or crayon) for large subjects and markers for line drawings with details.
WHEN PENCILS ARE NECESSARY…
I do use pencil in projects in which fine details are encouraged. My 6th graders have been working on a pen and watercolor painting of "Painted Ladies". The details in the architecture plus my technique for drawing the house involves pencils first, tracing and much erasing. Needless to say, this lesson takes a long time. But it's worth it.
It's also important to note, that I am an illustrator and spend a lot of time teaching my students how to draw. I show them how to look at an object and simplify the drawing process and most importantly, how to cover up "mistakes". I'm good at that!
I hope this helps, Megan. Other art teachers might have a completely different take on pencils. Hopefully, they will weigh in!