This lesson is part math, part magic and all art! Students fold a piece of paper in half, draw on one side and press to create a symmetrical butterfly.
If you have time, it's wonderful to cut out the butterfly and add glue lines along parts of the butterfly and then sprinkle with glitter. I have done this in the past but strangely enough, I have no photographic records!
For this lesson you will need a white 12″ x 18″ sheet of paper, a black or dark oil pastel, pictures of butterflies, and watercolor paints. For the background, you will need scissors, glue and colored paper.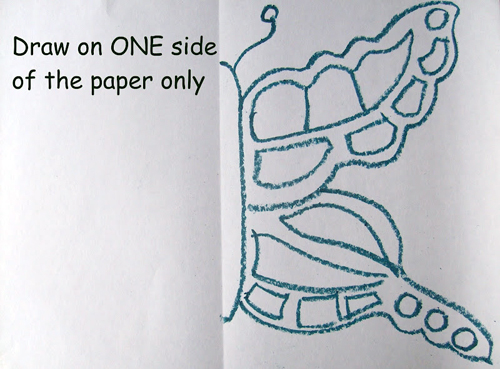 Students fold their paper in half (width wise), then open up paper and flatten. Draw one half of a butterfly.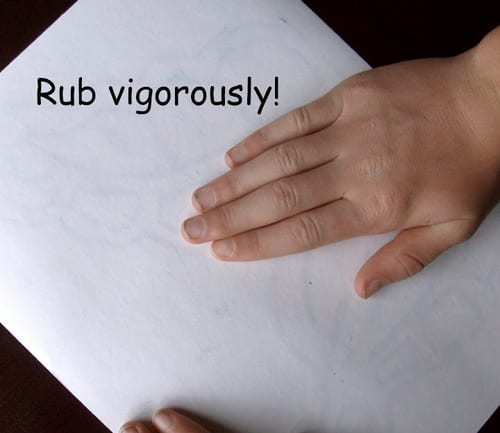 After drawing half the butterfly, fold the paper in half and rub vigorously.  The oil pastel will transfer onto the other half of the paper. It's important to use a dark color oil pastel that is creamy, not brittle, otherwise, the pastel will not transfer properly. Also, make sure the kids generate a little heat! This aids in the transferring of the oil pastel.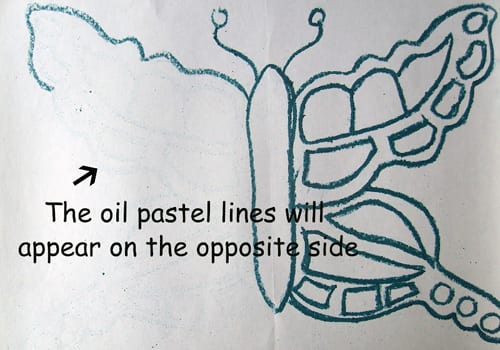 Open up the paper and you will see the lines appear on the other side of the paper. They will be faint. Trace over the lines to create a perfect symmetrical butterfly! Paint the butterfly with watercolor paints. Cake or liquid is fine but since you aren't using watercolor paper, liquid watercolors tend to be too wet. Stress how important it is to keep the colors the same on both sides of the butterfly.
If desired, cut out the butterfly and glue onto a colored piece of construction paper.