Create a Christmas tree that reinforces my favorite art concept: symmetry. Folding a piece of paper and snipping away to create an incredible shape is always a HUGE hit with the kids.
And it's also a great opportunity to help children develop critical thinking skills. Cutting on the correct side of the paper (the fold) isn't as intuitive as you might think.
This holiday project combines symmetry on two levels: the tree and the ornaments.
For younger students, making round ornaments with a circle tracer might be a great adaptation. Older kids will love crafting their own ornament shapes from folded paper.
Watch this process video to see how it's done:
Click the box below to DOWNLOAD a Holiday Ornaments drawing guide to use for your Christmas tree.
WHAT YOU'LL NEED:
4″ x 6″ scraps of colored or glitter paper for ornaments
3″ x 3″ black paper for tree pot
Colored oil pastel or crayon for drawing (I'd recommend pencils only for kids 10+ because younger children tend to draw too small with them)
Construction paper crayons for details
STEP 1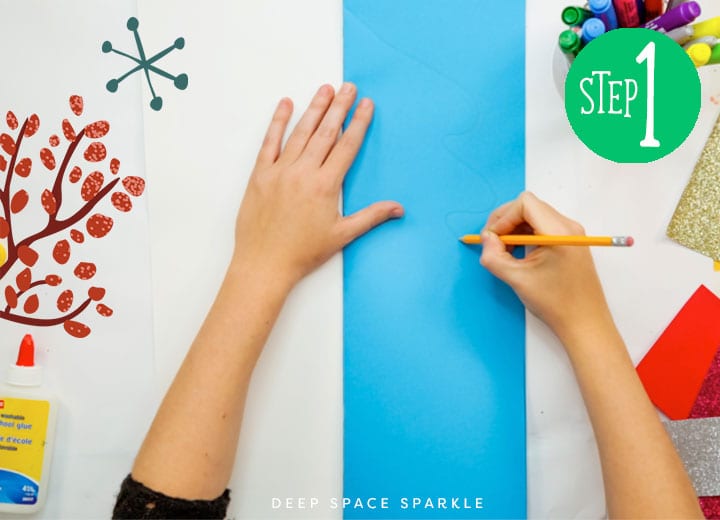 Fold colored paper in half. Place crayon on the top of folded paper right on the fold line.
Draw a tree shape down the side of the paper considering that an evergreen tree is smaller at the top and wider at the base (triangle).
Add a small rectangle for there tree trunk.
STEP 2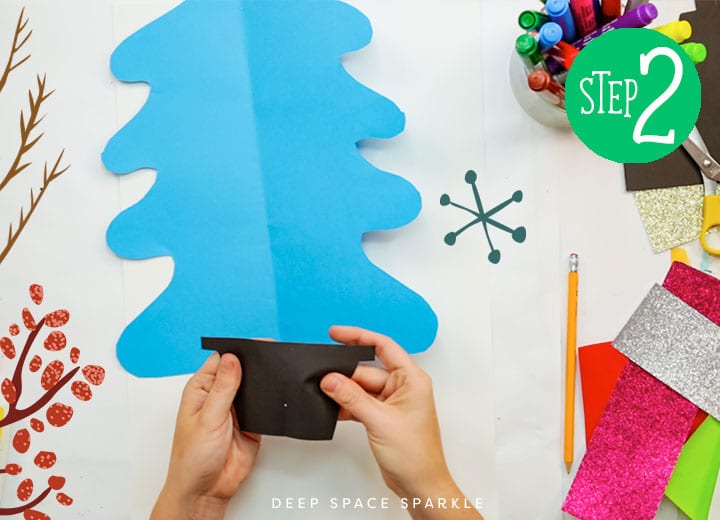 Fold the black paper in half and draw a trapezoid shape for the tree stand/pot.
Glue tree and pot to back of an additional sheet of white paper or just the pot to the tree (without a background paper)
STEP 3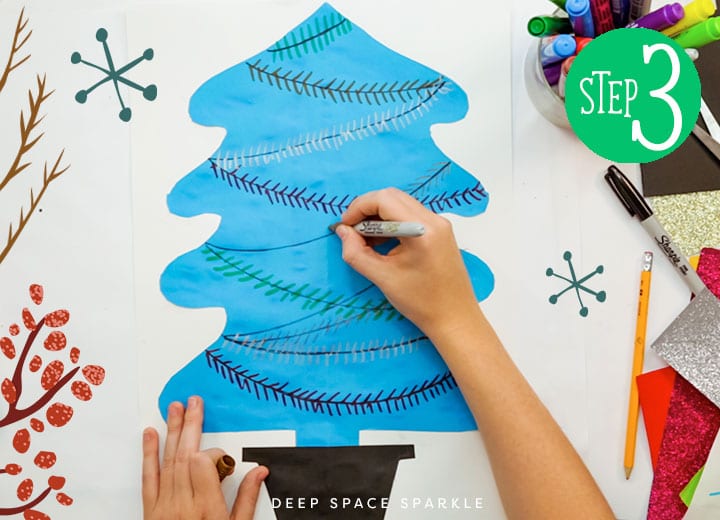 With a criss-cross motion, draw lines with either a colored, black or even metallic marker or oil pastel over the tree.
Fill lines with short strokes for the "tinsel".
Use construction paper crayons to add "lights" to swags.
STEP 4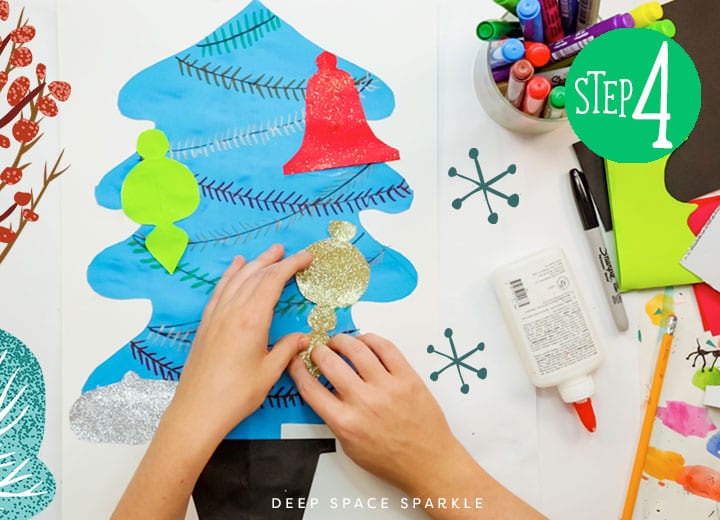 Offer children a selection of colored papers. Refer to the drawing handout for some ornament shapes. Fold papers in half and cut out desired ornament shape.
Glue onto tree.
Optional: if you are a fan of glitter (me!) then this is a wonderful opportunity to add some sparkle to this colorful tree.
How to add glitter without making too much of a mess:
Kids can use white school glue to any area of the tree (the line of tinsel is a great start).
Then, have them walk back to a special "glitter" table where an adult or anointed "Glitter Queen" will sprinkle a section of one or two glitter colors over the glue.
Resist the urge to offer more than 2 colors or children will be stymied with a very difficult decision.
Comment below how this project worked for you!