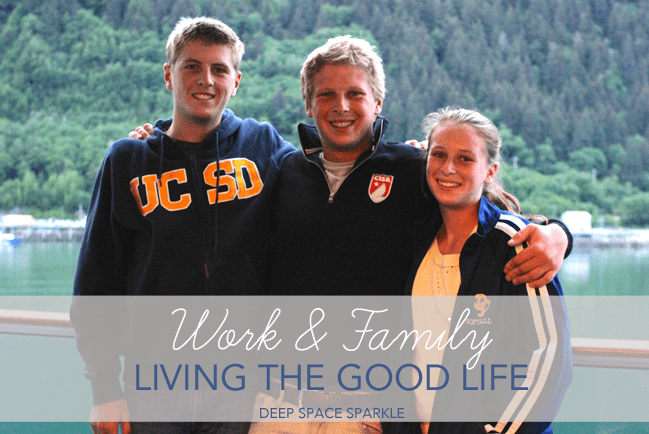 I received this question yesterday and it stuck with me. Some questions I answer back right away especially if it's an easy answer regarding art supplies or an art lesson, but life questions make me think.
SO HERE IS THE QUESTION:
"…I'm going into my 14th year teaching. Except this year, I have a 6, 4 and 1 year old. Teaching (to my high standard) and parenting (most important job in the world) seems almost impossible. Can I do it? How did you do it? So beautifully, I might add. Any tips for the art teacher moms? Let me know? Thanks for sharing all your great inspiration, and very real helpful tips."
It's a pretty universal question isn't it? How do you excel at both motherhood and career? Just the other day I met with a friend and she was expressing how hard it was to work full time and get home to prepare meals and drive her kids around to activities. Her kids are in their late teens so in case you think it gets easier, maybe it doesn't. So that is the question. Does it ever get easier? Better? More manageable?
It depends.
A LITTLE BACKSTORY FIRST…
Although I'm honored that I was asked this question, I have to say that I've never been in this reader's shoes. When my children were 6, 4 and 1, I was a stay-at-home mom with a small part-time business and volunteer activities, but not a full-time job.
I loved many parts of raising kids; going to the park without feeling like I was losing my mind, playing legos, building forts, cooking and general house-wife stuff. I became quite good at some of these things which helped balance what I was horrible at: cleaning and paying bills comes to mind first. My kids would give you a very long list of what I was horrible at but to that, I laugh.
It really helps to acknowledge what you are good at and for the extra grunge work and stuff you suck at, find a way to get it done without doing it yourself. This becomes more important if you work outside the home because you can't do it all well. And do you really need to?
It wasn't until my youngest went to Kindergarten that I started to work outside the home. So you see, I had a very easy life before work became a constant. Many stay-at-home moms might object to this; that staying home is very real and hard work. I agree, but I felt so lucky to do it that I was never able to relate to that perspective.
Perspective is such a wonderful thing. Whenever I feel bad, overwhelmed, unsure, frustrated or just plain crappy, I try to switch perspectives. There is always someone in a worse situation. This is a universal truth. Just try it. Spend 3 minutes in your car in the grocery store parking lot and watch people before you go shopping…really watch people for just a few minutes and you'll see how hard people's lives can be. Sometimes, it can be very humbling.
So here's my advice (for what it's worth)
Enjoy (or at least accept) the moments when you are with your kids and when you are at work. When you are with your kids, be there in the moment for all its drudgery or joy. Try not to think about work. It will be there soon enough. When you are at work, trust your kids are where they should be and that you are, too. Enjoy your students, your co-workers and keep ignited all the reasons why you became an art teacher. Be that when you are at work.
Learn to say NO. For the love of all things good, start saying no to things you don't want to do. No one will judge you. In fact, no one will care. Say yes to what really inspires you and makes a difference (in whatever way) in your life. Saying no doesn't involve caring less about things, it just means that your time is limited and so is your energy. Reserve those two precious things for what you wish to do.
Here are some things you can say no to without the world falling apart:
Birthday parties: You do not need to give your child an extravagant birthday party every year. If you do give your child a birthday party every year, it's okay that just one friend is invited. Trust me on this. Birthday parties have been the biggest source of stress for almost every one of my friends during the school years. Start a shift now and everyone will be grateful.
PTA/Volunteer duties: I was PTA President and sat on almost every board imaginable at school. I was in the Junior League, too. Although is true that you will be judged for not volunteering, it'll be short-lived. Someone else will volunteer in your place. If you wish to volunteer, pick one small thing and stick with it for as long as you feel comfortable. Never make the assumption that no one else can do it, so you must. It might feel strange and even a bit hurtful that you can so easily be replaced, but you can.
Exclusive Pre-schools. I'm going out on a limb here, but be careful about selecting pre-schools programs. Make sure your pre-school is there to educate/care for your children and not there to solicit help for the yearly extravaganza fundraiser. In other words, not a social club. This is okay if you truly have the time to volunteer and need the social outlet but if you are a working mom, this may not be the case.
Read Don Miguel Ruiz's The Four Agreements

I'm not a religious person but I am passionate about seeking ways to live a full, rich and purposeful life. This book is a gem. You see, the secret to being happy is not following a checklist like the one I just gave you, but truly understanding how peaceful and lovely life can be when you maintain a certain outlook or perspective. Reading this book helps you see this. Basically, it is broken down into 4 main philosophies:
1. Be Impeccable With Your Word: Speak with integrity. Say only what you mean. Avoid using the word to speak against yourself or to gossip about others. Use the power of your word in the direction of truth and love.
Quite honestly, this might be the hardest for women, because, well, we are gossipers at heart. Heck, there are even studies that prove gossiping leads to a healthy life. Truth is, life would be so much easier for all of us, if we tried really hard to say nice things to everyone. That's what we tell our kids right?
Speaking with integrity also means being careful when you vent on public boards or even in the teacher's lounge because doing so generally comes back to haunt you. And if it doesn't, the negative energy will follow you around. And you don't want that following you.
2. Don't Take Anything Personally: Nothing others do is because of you. What others say and do is a projection of their own reality, their own dream. When you are immune to the opinions and actions of others, you wonít be the victim of needless suffering.
This is the most profound agreements for many women (and less for men) because we generally take everything personally. Remember what I said about saying no to birthday parties or volunteering for the cake walk? Reverse it. If someone says no to you, don't take it personally. Respect it and move on. If the custodian can't unload your art supplies until after lunch, accept that she is busy and move on or do it yourself. If a teacher is late dropping kids off to your class, don't take it personally. It's not about you. Adjust and move on. If an art teacher in your school district steals your fab art project, act in favor of abundance rather than indignation. It's just so much easier.
3. Don't Make Assumptions: Find the courage to ask questions and to express what you really want. Communicate with others as clearly as you can to avoid misunderstandings, sadness and drama. With just this one agreement, you can completely transform your life.
This for me is very close to #3 but that's because I'm still learning this one. I make assumptions ALL THE TIME. I bet you do, too. Making assumptions is not the same as trusting your instincts, it's assuming something that may not be true but believing it is.
As art teachers we might make the assumption that because we got less space for our art show this year, we are not valued. It might just be the result of heavy compromising and responding to many needs–not just your own. Or if a teacher ask us to create a banner/poster/mural for Back-To-School-Night, don't assume that the teacher thinks that the art teacher has more time, they might just assume that you would enjoy it. The assumptions on both ends can create stress.
4. Always Do Your Best: Your best is going to change from moment to moment; it will be different when you are healthy as opposed to sick. Under any circumstance, simply do your best, and you will avoid self-judgment, self-abuse and regret.
I understand and practice this daily but it has taken me years to cultivate. I know what I do well and what I love to do. It just so happens that it is the same thing: teaching, cooking, creating, reading. I do many things well and most are very trivial things. My interests don't change the world, I live a modest life and I'm very happy. Can't get any better than that.
If you don't know what your best is, read. My girlfriends used to hate it when I would respond with a book title after they asked me a question, but think about it. There are so many great thinkers in the world, so many ways to live, and learning about these lives is only a book away!
MY FAVORITE BOOKS FOR GOOD LIFE INSPIRATION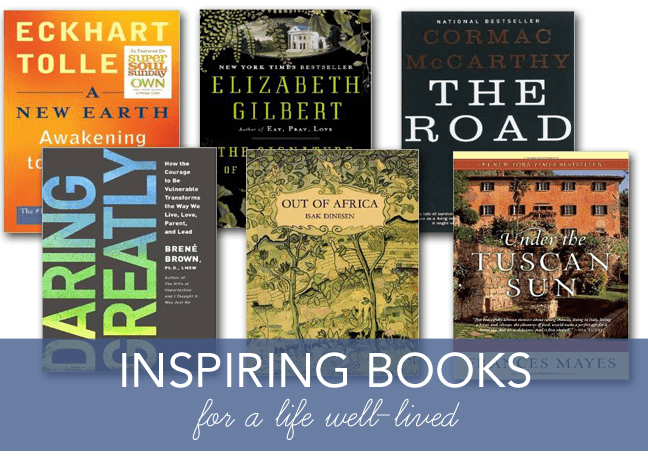 A New Earth by Eckhart Tolle
I bought this book in 2008 when Oprah was doing her live podcast on the book. I pretty much do whatever Oprah tells me to so I bought the book. I set it down after the first chapter not to be reopened until 2012. You are either going to get this book or not. If you do, it will transform how you see everything. If the book is a struggle, try listening to Oprah's podcasts on the book.
Daring Greatly by Brené Brown
This is a relatively new book and is for anyone who isn't quite at peace with themselves or is holding onto something. It's a bit hard to read because you don't want to admit she is talking about you, but she is.
Out of Africa by Isak Dinesen
The book is a collection of stories that Karen Blixen wrote when she returned to Denmark after her experiences in Kenya. I will admit to skipping over some chapters but she writes so beautifully and with such strength of character. The movie is my all-time favorite. The tale of a women struggling against and then accepting her world is truly a metaphor for life. I love every inch of dialogue in the movie and it encourages me to accept and be strong no matter what.
The Road by Cormac McCarthy
Okay. This was and is the most depressing book I have ever read. The sadness in this book has never left me and whenever I feel life is bad, the characters come back to haunt me. A glimpse of what life could be like if all went horribly wrong.
The Signature of All Things by Elizabeth Gilbert
Just read this book this weekend and by golly, I think it might be one of my all-time favorites. Not a fan of Eat, Pray, Love, I ignored the public praise of this book because of the author's history. Oh my goodness. This is the most beautifully written book I've read in a very long time. I don't know how she did it. The theme is absolutely wonderful and is so inspiring. If this book doesn't say everything about the meaning of life, I don't know of one that does.
Under the Tuscan Sun by Frances Mayes
Okay, I know. A totally sappy book about love and finding oneself, but I love it. Moving past life's failures and turning them into a life you love is a favorite theme of mine and I love reading about people who achieve transformation. We all have it in us, it's just a shift in perspective away.
If you reached the end of this post, then you are a patient person. I will admit that the pursuit of happiness and living a well-lived life is my favorite subject and isn't that what the reader is asking? It's never about tips, tricks or what works; it's always about your perspective and what you chose to focus on.
Can you help this reader? Do you have any advice or an experience to share? I would love to read what you have to say.
Patty
---
Download our free management, set-up, drawing & painting guide, to help you teach art from your home!